In this article
Comments
In the Author Dashboard we provide a tab specifically for community related content like Comments, Reviews, and Polls.
Under the comments section in the community section, you can find all comments on all chapters sorted by latest comments.

From here, it is possible to quickly execute comment-related functions like replying or giving reputation. If it is unwanted content, you can also decide to remove the comment. More on Moderation Tools here.
Authors are able to moderate their own comment section. It serves as a solution for authors to improve their own experience on the platform without needing staff intervention whenever something unwanted appears in their comment section. Simply follow the comment to where it is in the fiction page.

The screenshot above shows the 2 available options for authors, Lock and Delete.
The lock function makes it so that the comment, and any replies to this comment, will not be able to be replied to anymore. This should effectively stop comment chains that went out of hand without requiring further action. When this option is used, it is indicated by a small lock under the profile picture of participants in this discussion.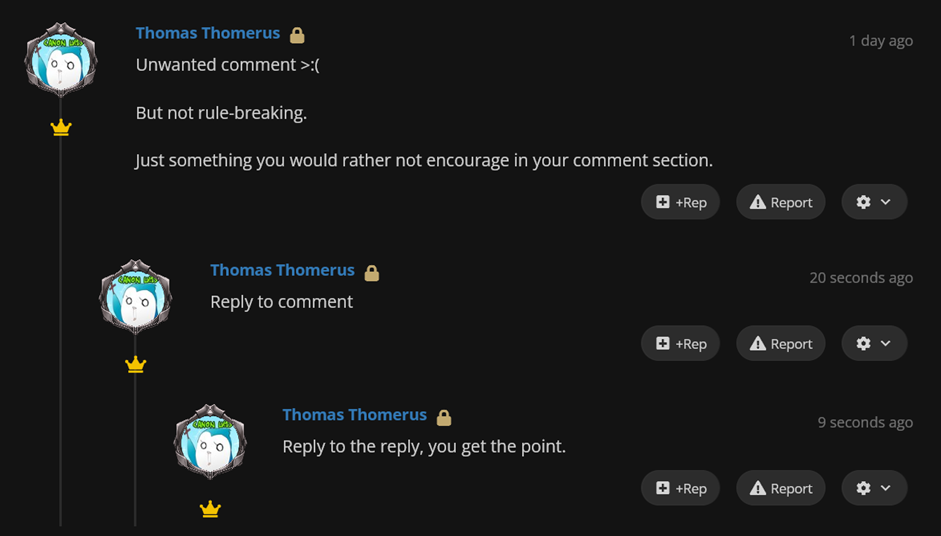 In this screenshot it is also visible that the reply option has been removed from any comment in the chain.
The final option is the Delete option. If you feel a comment and associated chain are not worth keeping for whatever reason, it is possible for you to delete them. This will delete the comment chain for everyone else that views the chapter. The comment will remain visible for the author, but with a red accent color.

Replies also get hidden and deleted recursively.
The author holds the right to delete any comment from their chapter page without giving a reason. No rules are attached to deleting comments, but if you feel something is more severe than usual, you can report the comment for staff intervention, which could include disciplinary actions against the user that you reported.
Comments that you have locked or deleted can also be unlocked and restored from the same cog menu should this be appropriate.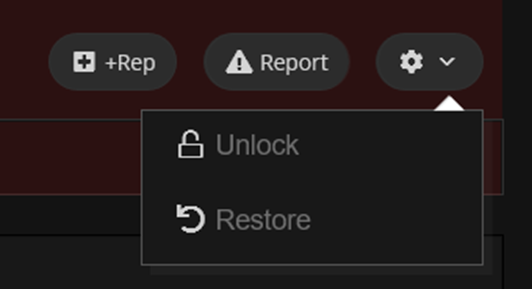 In the author dashboard, under settings, then edit. You will be able to update your Cover, Fiction Title, Primary Language, Synopsis, Genres, Tags, Content Warning, and the option to Enable the suggestion helper.
If you want to get grammatical and typo corrections from your readers, this feature is for you! You can enable Reader Suggestions in the Fiction Settings on the very bottom.

Once you enable this, readers can highlight any text in your fiction's chapters for quick corrections.

They can quickly type in their edits, which is then added to their comment box. The feature is on a toggle so if you do not want these corrections or find them bothersome, you can simply leave it off or disable later on.
Authors Premium users also have the option to enlist help of collaborators for moderating their fiction comments.
Read more about this here: Collaborators.