In this article
Submitting a novel
This is how you can submit your novel
Register for an account on Royal Road if you have not already. This can be easily done from our Welcome page or by clicking the "Login" button in the top right corner and selecting "Create an account" at the bottom of the login form.
Once you log in, click Write on the navigation bar, which will take you to the Author Dashboard.
Click [Add New] or jump to New Fiction Submission
Fill in the Title and Description. Select the genres and additional tags. Fill in your first chapter's title and the content of your first chapter. Expanded detail on this can be read in the next section.
Note: Please do not include links for donations, Patreon accounts, or shortened links to other sites such as Discord servers in your Description.
Note: if you do not select fanfiction for stories based on others' work or do not choose the Content Warnings appropriate for your story, the submission will be rejected.
Upload a cover image that is 400x600 pixels or larger (this is optional)
Click Submit
All new submissions are manually checked for appropriate tagging and plagiarism, so expect it to take between 12-24 hours for a submission to be approved. Please be patient. Make sure to follow our rules to not get rejected after waiting. For more details on this, continue reading the following section.
Once your fiction has been approved, you can find it by clicking [Write] on the navigation bar
Then click your fiction Cover to get to the [Fiction Dashboard], [page], and [Add Chapter] button.
Please note that when submitting a fiction the first real chapter will have to be provided. This is so that we can check and or predict if the fiction contains themes we do not allow on the site, and to see if the work has been plagiarized. During submission, no author notes or polls are allowed. These can be added after the fiction is approved. Read more about our verification process here.
The rest of this document describes step 4 in more detail.
When creating a fiction for the first time, the available author tools are limited and there are a few steps to follow before your story becomes available for readers to read and for you to expand on.
To submit a fiction on Royal Road, you need to go to the Author Dashboard then Submissions.
On Royal Road, we allow covers up to a size of 400x600 pixels. If you do not have a cover in this exact resolution or aspect ratio, do not worry. There is a cropping tool available after uploading an image, this will make sure a cover will have the correct aspect ratio for a fiction cover.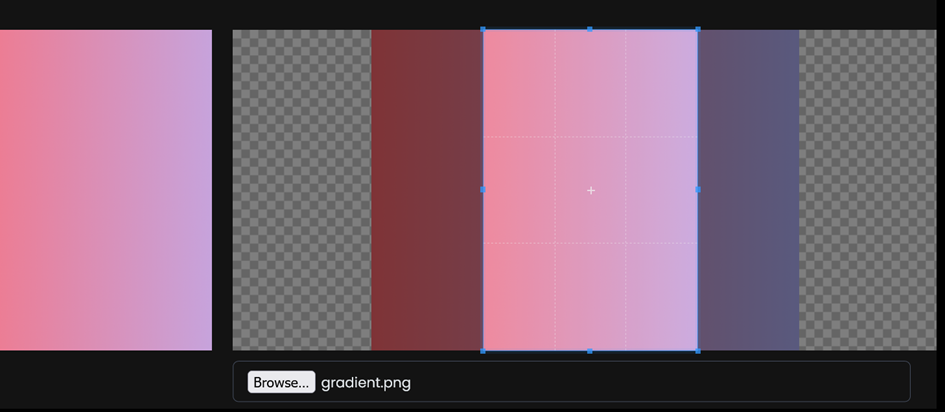 Be sure to follow the cover art copyright rules. In short: make sure you have permission from the artist to use the artwork for this purpose if using a cover not created by you yourself.
Cover arts are also subject to our mature content rules. Nudity in an erotic form is not allowed in covers together with other explicit scenes. Do not submit cover art that provide a real world social, religious, or political commentary.
You are not required to upload a cover art. If no cover is uploaded when creating a fiction, the default fiction cover will be used.
The Title of your fiction can be whatever you want as long as it does not insult anyone nor includes swear or curse words or otherwise illegal content. But, you must avoid using unique characters that makes it difficult to search for your novel.
The synopsis will serve as a small introduction to the fiction, give some information, and make a potential reader want to read your fiction. We require this part to be at least 50 characters long, and it cannot be added later. We believe that any fiction submitted on the platform should at least have a proper synopsis.
The synopsis may not include swearing, political remarks, sexual content, or illegal content.
Tags on Royal Road are there to show potential readers what your fiction contains, or what it does not contain. It helps with searchability and classification for recommendations as well. While you are free to tag your fiction the way you want, we do recommend and expect it to be mostly accurate.
A fiction will need at least 1 genre in order to be submitted but up to 4 can be selected. The genres will be shown before the more specific tags in listings, rankings, and on the fiction page itself. These give a very general idea of what a reader can expect to find in a fiction.
To read the description of every genre and tag, you can check this post <link>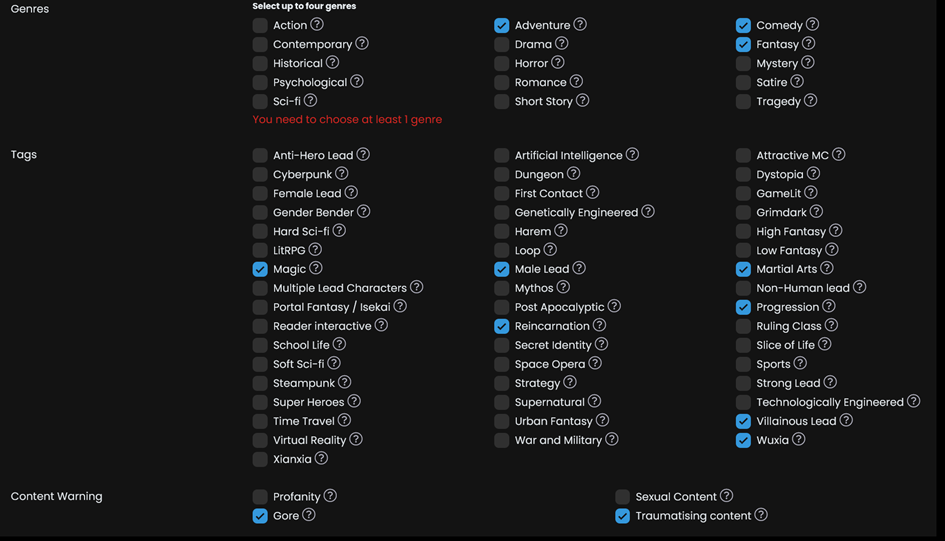 Unlike Genres and Tags, we do actively check for correct use of content warnings.
If your fiction has even one scene where any of the content warnings would apply, they need to be applied to the fiction. If insufficient content warnings are found during submission, it will be rejected with the request to correctly tag your fiction.
Profanity
Excessive or obscene swearing and cursing.
Gore
Descriptive violence or gore, with vivid details of mutilated bodies or similar, potentially disturbing content.
Sexual Content
Explicit sexual content, descriptive sex scenes.
Traumatizing Content
Moral values are present that are questionable by society and might cause a twisted sense of the world or mental trauma in underage or morally unstable people.
The last option is the Fanfiction tag. If your story uses the world, system, or characters of someone else, it will need to be tagged as fanfiction.
Certain restrictions apply to fanfictions, such as their inability to buy internal advertisement or adding donation requests. The only exception is when you receive the original author's permission.