In this article
Personalized Lists
In order to help keep track of any fiction you are reading, favorited, or want to read later we provide different lists that are personal to you. These lists can be found via the account dropdown on the site.
Simply login, then go to the top right corner and click on your username, then select which list you want to open.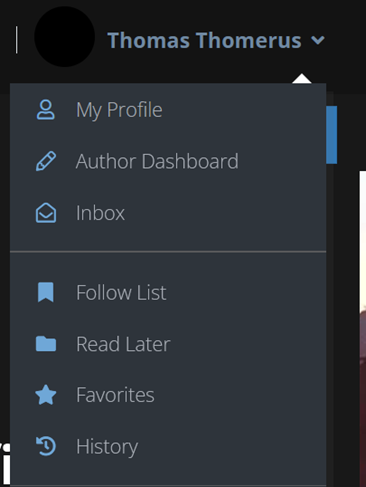 In order to add a fiction to either of these lists, you need to head over to the main page of any fiction you want to add to a list.
There, on the right widget, you can find 3 options to Follow, Favorite and Read Later.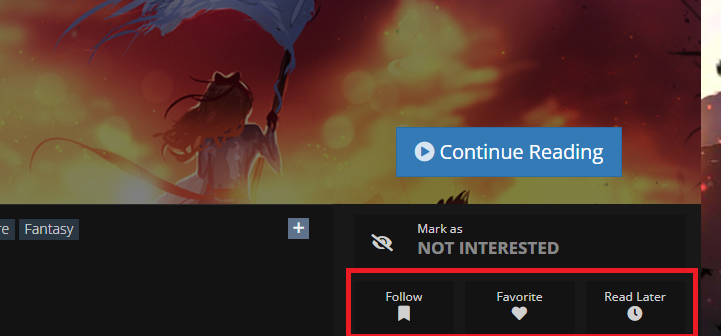 Simply click the box you want, and the story will be added to the list it corresponds to.
The first and most used list is the Follow List. This list aggregates all your followed fiction updates into one central place, sorted by latest release.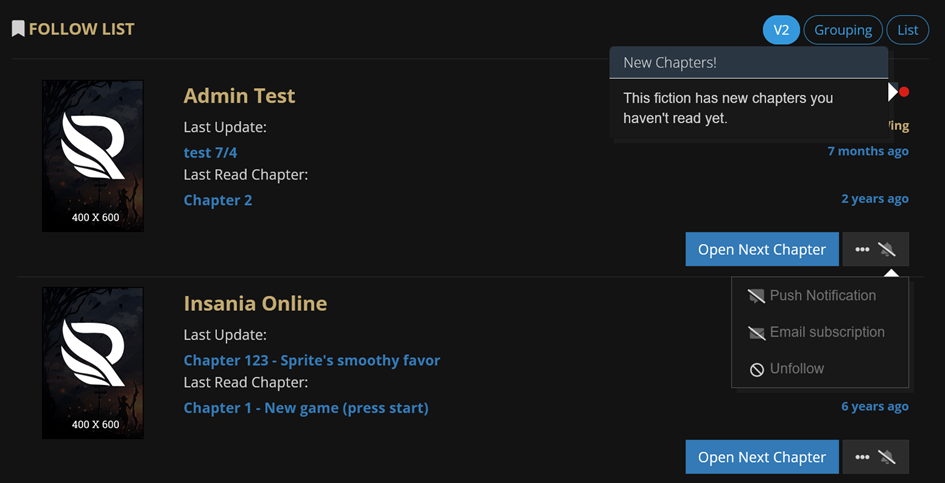 There are a couple of features you can enable or change within this list itself. Starting from the top there are 3 tabs for how to view the list. The default is the V2 tab, which presents information such as the Last update and informs you which chapter you read last.
There is also the List tab, will show you the latest chapter released from any of the stories that you are following, as well as the grouping tab that expands on the list tab but provides a little bit more information, such as the cover art and number of pages
In the V2 tab, there is a red dot indicating unread chapters. This is decided based on the chapter reading tracker, which tracks which chapter you last read to give you a quick option to jump to the next chapter and notifies you if there is something that you are not up to date with.
It is also possible to change your per-fiction notification settings from this page. You can be notified by Email regarding the latest releases, as well as a push notification if you have premium. More on this in the Notifications section.
If a story caught your attention but you don't want to start reading it right away, you can put it in the Read Later list. There you will find all the stories sorted alphabetically, by date added, or by length. You can easily remove stories or start following them from there.
For the best stories that you read and wish to recommend to the world, we have the Favorites list. This list is also public and is visible in your "Favorites" tab on your profile page (The profile page can be found by clicking "My Profile" in your username menu at the top right corner or by clicking a username from anywhere it is displayed on the site).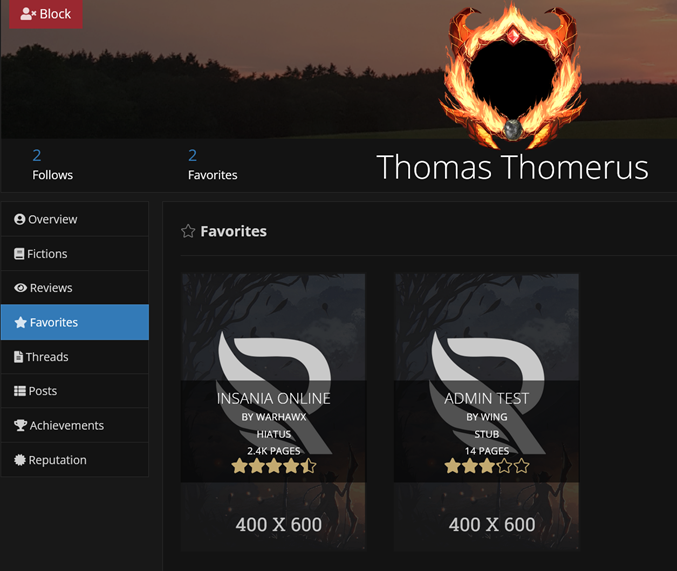 You can find a list of the latest chapters that you read regardless of whether or not you followed the story.
In the History list, you can see the last chapter you've read for every story.
If you have a premium account, you can also see a detailed History which is a list of every chapter you opened in the last six months, instead of just the last one.