In this article
Advanced Search
We have many lists to help readers find great stories to read, but you can also create your own lists specifically tailored to your taste.
When looking for a fiction with a specific combination of tags and genres, you can use the Advanced Search which can be found in the top right corner of almost every page. From there it is possible to search for a specific title or Author, as well as specific keywords, genres, tags, length, or rating.
If you know the name of the story you want to search for, you can type the name in the "Search for title" section to find it. Note, this section is limited to the title of the story and does not search the author's username
This section will give you results based on matches to titles or descriptions.
As an example, you can use this section to search for stories that mention terms that you may enjoy in the description. Or stories that you vaguely remember a unique term from but can't seem to remember the title of.
The first results would be based on the closest match to the username (assuming there is an exact match), followed by similar names. You can also use the Member List to find specific users.
In order to include a genre in a search, you only need to select it by clicking on the genre. In order to exclude a genre, you will have to click it again. Clicking a third time deselects it.
Genres that are not specifically included or excluded will not influence the final search result.

Tags are presented slightly differently from genres but work the same. Included and excluded tags are separate entry fields. When selecting one of the fields by clicking on it, you will be presented a list of available tags that you can include or exclude, depending on the selected field. When typing in the field, it will narrow down the selectable list if the entered text matches an existing tag.
A full list of tags can be found here.

Filtering by content warning works in the same way as Genres does.

Profanity
Excessive or obscene swearing and cursing.
Sexual Content
Explicit sexual content, descriptive sex scenes.
Gore

Descriptive violence or gore, with vivid details of mutilated bodies or similar, potentially disturbing content.
Traumatizing Content
Moral values are present that are questionable by society and might cause a twisted sense of the world or mental trauma in underage or morally unstable people
Up next are the filters for number of pages and rating. These sliders offer a selection range, a minimum and a maximum. These values can be adjusted either by dragging the sliders or by entering the desired value directly.

In the advanced search, all fiction are included in the results by default, but you can filter the lists based on your preference from 5 available fiction statuses.
Note that having "All" selected overwrites other choices. When making use of this filter, be sure to unselect "All" first.

These are the Status types:
Ongoing
The Ongoing tag indicates that a fiction is still being actively written and has had a chapter update in the past 35 days. This is the default tag on Royal Road and requires no action from the author of a fiction.


Hiatus
Hiatus is for when the author of a fiction is on a break for an undetermined length. Fictions with the Hiatus tag might get another update in the future, but there is also the chance that the fiction is abandoned forever.
This tag gets automatically applied if there are no updates within 35 days. An author can actively add this tag to their fiction as well.


Dropped
Authors can decide to set the fiction status as Dropped, which means that the fiction is incomplete and will not get any more chapters in the future.

Completed
Authors can set their fiction as complete. Complete fictions are not expected to receive more updates in the future and are complete works. If a chapter was added, the complete status would not be changed.


Stub
Stubs are fictions that do not have all content available on Royal Road. This can be because of exclusivity contracts with, for example, Amazon's Kindle Unlimited. In order to read these fictions completely, a reader will need to leave Royal Road and/or pay for the work. This tag excludes the fiction from certain ranking lists.
This Tag is reserved for Authors that were initially on Royal Road, it exists to explain to new readers that they might not find all the chapters of the story.
You can finetune your list based on your preference. Do you want to read the longest story first? Or do you want to read the highest-rated one?
We left a few options to choose from.
The final filter option has to do with original work or fanfictions. Using the type filter, you can select original or fanfiction works, depending on what you are looking for.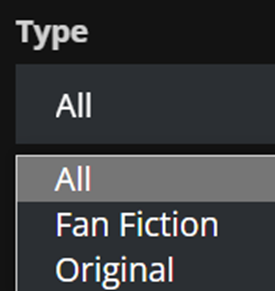 If you are a logged-in user, you probably have personalized lists such as the follow list or the favorite list. It is possible you also marked some stories as "Not Interested" to be able to filter them out more easily. You can check the boxes to exclude or include those stories before starting your search.
When you have the settings all dialed in, you can press the search button and the results will be listed under it. You can save the URL for your use at a later time.