In this article
Reader Premium
Reader premium comes with the following features and perks.
By having a reader premium active on your account, no advertisements will be shown, this is as much a quality-of-life improvement as it is a cosmetic improvement.
Premium gets access to push notifications. Push notifications are sent, for example, when a followed fiction releases a new chapter.
When enabled in the browser, this will give you the quickest notice available of a new chapter release. For push notifications to work you do not need to have Royal Road open at all, it will be sent through your browser as a notification.
Note that push notifications do not work on iPhone.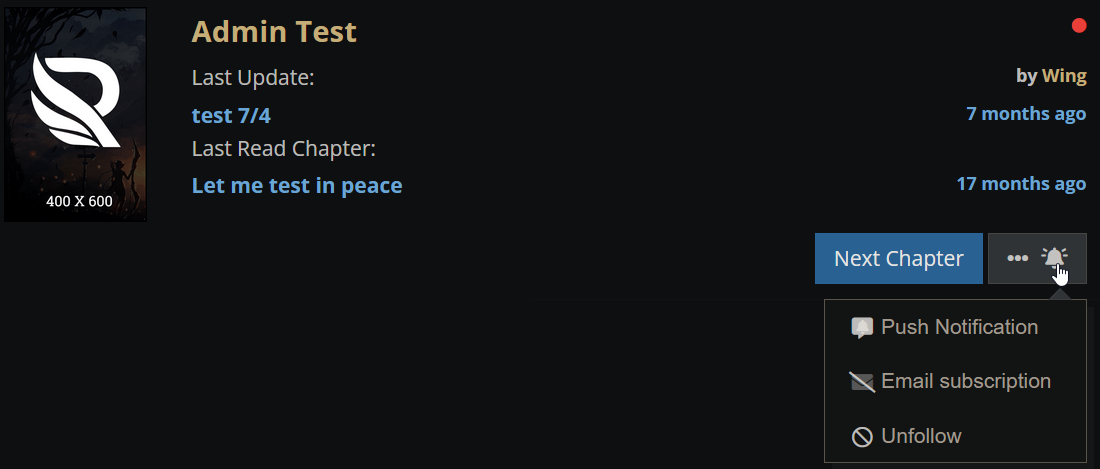 In order for push notifications to work, a site needs to ask for permission to send you push notifications. When you enable push notification on the site for the first time, your browser will ask for permission. The way this looks is different for every browser, but for the 3 most common browsers, Chrome, Edge, and Firefox, it looks like this:
Edge: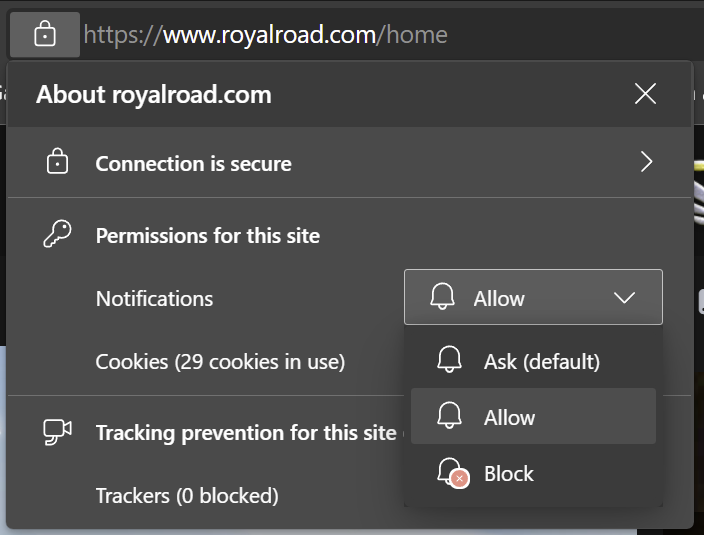 Chrome: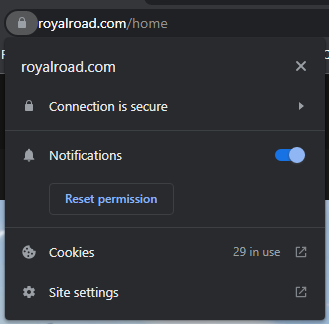 Firefox:

Other browsers will have a similar popup to this. This permission is needed in order to send notifications to your browser. These will only be used for push notifications that you enabled.
While every user has access to their normal reading history consisting of their last read chapter of a fiction, premium users get access to a detailed list of what chapters they read at what time down to the minute. This is available for chapters accessed in the past 6 months.
In order to access this list, click this link or go to the history page in the user dropdown, then select Detailed History.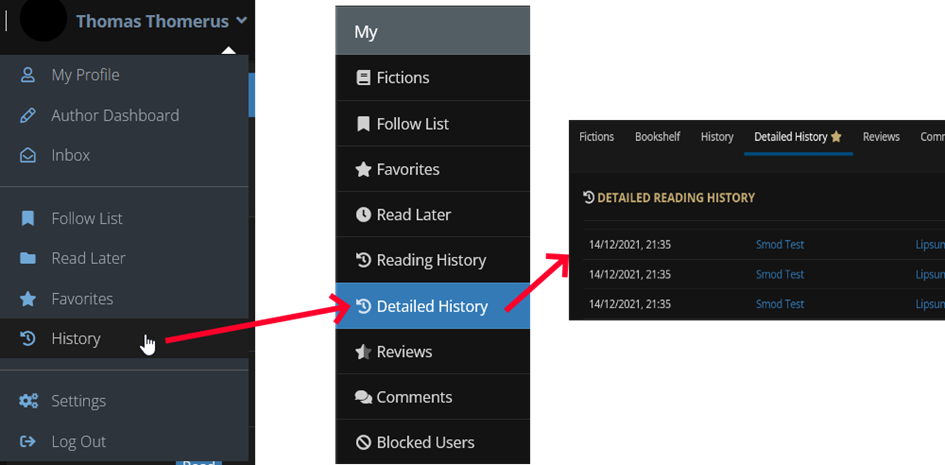 Other than functional perks, you also get access to some cosmetics to show that you are supporting the site. This is in the form of a badge indicating your premium status, a golden post border on the forums, and unique premium borders that are released monthly.
The premium badge shows differently depending on the location it is shown. On the forums it is a golden "premium" under the username as shown below. You can also see the golden border around the post in the forum.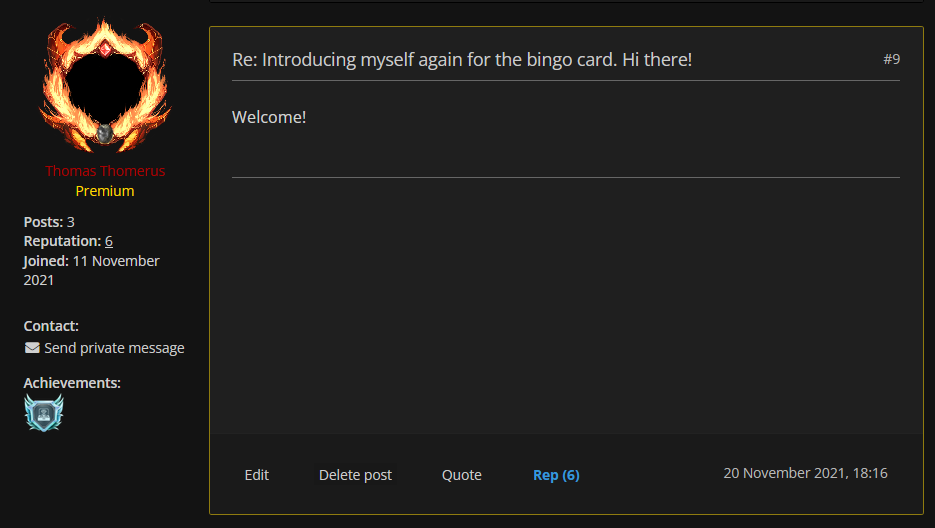 In the comments under a chapter it presents itself in the form of a golden crown.

Another customization feature is the profile header feature. When going to a user profile on the site, you see a blurred version of their profile picture as their header by default. With premium, you can change your own profile header to any picture that you want.

Here it is changed to a picture of a landscape as a demonstration, but you can upload any picture (that you have the rights to use) to use as your profile banner.
You can change or delete your profile banner from the settings under profile info. Deleting it resets the banner back to the default blurred profile picture.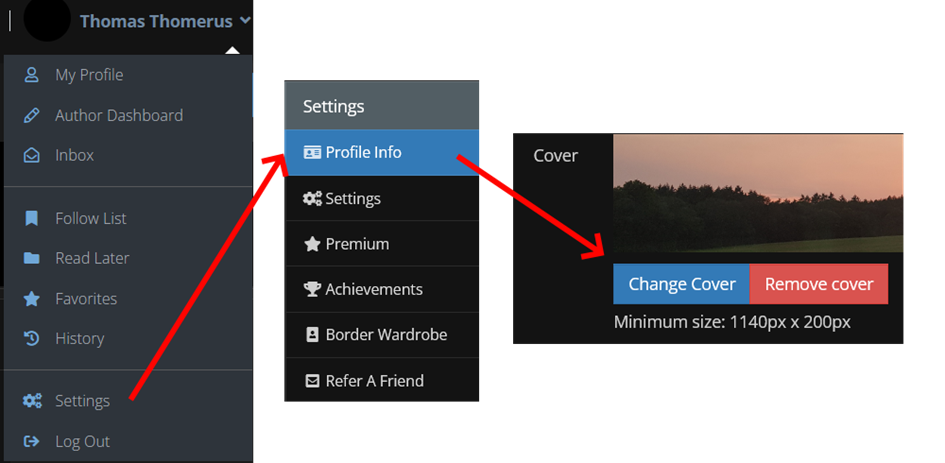 Normal Borders are available for everyone depending on their level on the site. The unique borders, however, are a premium-only collection.
To receive a Premium profile border, you must have an active Premium Subscription during the timeframe in which it is available.
Borders obtained this way are added to your Border Wardrobe automatically, for use at any time while you have an active Premium Subscription.
Even if you deactivated your premium subscription, the borders will still be saved under your account so that you may use them whenever you are ready to reactivate your premium.
You can check your available custom borders in the border wardrobe https://www.royalroad.com/user/borders.
Note, we won't provide the same borders again. We instead add a brand new border once every month, sometimes multiple.
You can look at past borders here https://www.royalroad.com/pages/borders
Together with getting access to the normal features, you also get early access to features that are being tested.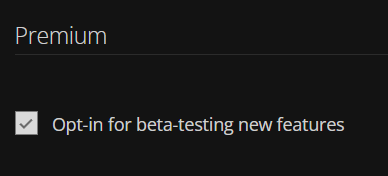 There are no specifics on this apart as it is a dynamic process. However, you need to opt-in to this feature, which can be found at the bottom of this page. Be sure to save the changes by pressing the button at the bottom of the page.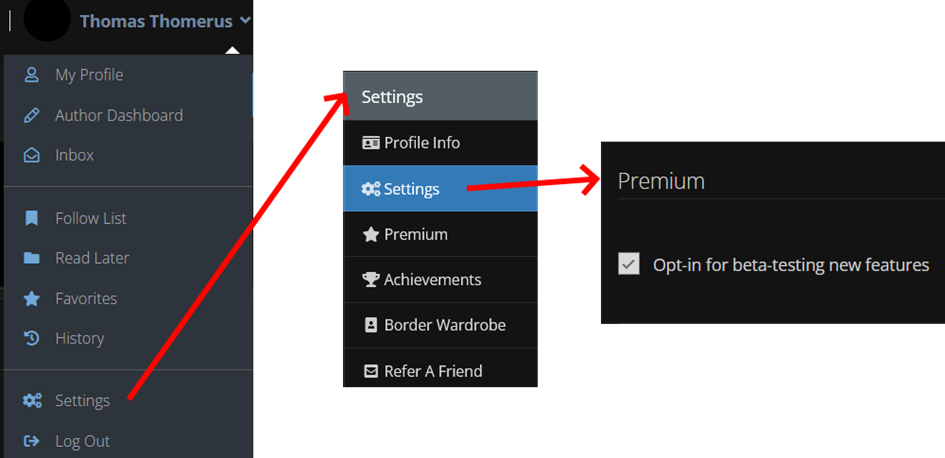 You also support the site with your premium, and we thank you for this.