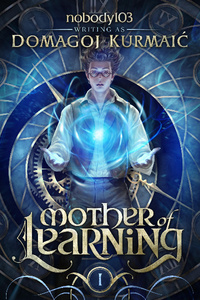 This is one of my all time favorite stories. It's honestly one of the best things I've ever read, and the only real downside is the slower than average update schedule (new chaps ~1 a month). Of course, if you stick to the royal road site you won't even have that problem, cause this'll be updating daily until its caught up, which will take a solid three months or so.
I highly recommend this story to everybody. Even if you don't think you'll like it from what you hear. Not only does this story dodge every single pitfall that comes its way, it absolutely obliterates them.
Think the time looping premise destroys tension? It's quickly established that not only are there two entire disciplines of magic that time resets don't affect, there's also an unknown malevolent time traveler who knows both of them.
Afraid of the inability to develop characters? Well, MoL is one step ahead, sure time resets, but most of the supporting cast has extensive hidden depths that only become clear later on, mimicking the benefits of character development even with static characters.
Tired of OP protaginists who beat their foes effortlessly? MoL walks the perfect balance of power, with a protaginist who is effentually unchallenged in his area of expertise, but still far from flawless elsewhere. In fact, the foes he'll face are far beyond him, and he'll need to pull out all the stops if he wants any chance of success.
Even the plot twists, a notoriously easy area to screw up, are impeccable. Overall its a brilliant story that somehow balances both legitimately compelling character drama and truly epic scope within one novel, if not perfectly, as close as I can imagine to any human can achieve.
The only problem is that now this is here, no one will read any of my shitty writing. 0/5 stars.
---