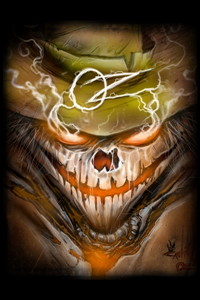 Picking a scarecrow as your main character was an interesting start, but starts going downhill rather fast. I will now list off the reasons that I personally found to be so annoying, that I couldn't read past chapter 7, and some suggestions to keep in mind. I'll be drawing paralels to my own story, so what I'm about to say is a bit biased.
1. You need to slow the #&@% down. Everything is happening way too fast, and I have no idea what the #$!% is going on. There's no world building, no character development, the story is incoherent and makes me feel like I'm missing things.
2. Having your MC die and be reborn into a LitRPG world is just an excuse to give him power he didn't earn. Being 'born' in 19th century USA also seems irrelevant. How the hell did he even learn to speak? Because 'reasons?' What about the fact it knew about things such as blood and slavery, but not cities? And how come he knows how to make fire and isn't traumatized by it? Seems odd considering he literally burned to death. Oh, right, 'reasons.'
What I'm saying is this would be far more interesting if your MC was born within the fantasy world.
3. The plot armor is too thick. He meets a fairy princess who talks to the weird creature instead of killing it on sight. And then she takes him home to present to the queen, who turns on her immediately and imprisons them both because 'reasons.' And then the scarecrow saves them both because Death himself took interest in it, again because 'reasons.'
This whole sequence is a missed opportunity for a lot of character development. Have the scarecrow and princess live together for a while, share some peaceful moments with them. Your MC could even come to see her as a mentor or parent figure, which would give him actual motivation to save her later on. Then you start showing the queen's gradual descent into madness/corruption/whatever-the-hell-is-going-on. Instead she just goes from 0 to Hitler in literally a day, rom what I gather.
4. Descriptions are practically non-existant. I have almost no idea what any of the characters look like, what their clothes are like or how large any of their chests are. The locations are also extremely vague. While letting your readers fill in the blanks by themselves is not a bad approach, you leave so much out that the characters themselves are completely blank. I also have a gripe at how you treat the 'small' fairies as if they're human-sized, but I'll just leave that out for now.
5. The MC has harem powers. A fairy is blushing at him for no good reason, despite them spending next to 0 time together. Sure he saved her, but that does not automatically mean she wants to bump uglies with him. Also, random joke marriage proposal is completely forced and random. Also, a scarecrow is apparently aware of the concept of marriage.
6. The humor I actually enjoyed. Having the system poke fun at the scarecrow is great, and that 'torture' scene was pure gold. It makes me a bid sad you wrapped it up so quickly, as it could have served as excellent character development for both the MC and one of the villains.
---