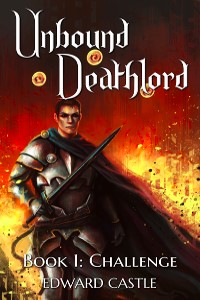 Yes, I realize the main character (MC) plays an unbound "Deathlord" in the game rather than a "Death Knight." However, the role of this character class really fits the profile of a Death Knight from the classic Dragonlance fantasy series from the 80s.
Now speaking from the perspective of world building, I respectfully disagree with the author's decision to make the deathlord class weak under the sunlight and thereby requiring the MC to remain underground. Part of the attraction of the undead to the general public is the fear that they instill in the living especially when encountered during the light of day. Using Lord Soth the Death Knight from the Dragonlance series as an example, if Soth was limited to travel by night then he would be less fearsome as an opponent for the forces of Good. In a similar vain, I could see a point in the future where the MC becomes an Over Powering (OP) character but the travel restriction under sunlight as a deathlord will inevitably restrict his activities against the good folks living above ground. By restricting the MC to remain underground, it limits the kinds of interactions that the author can create for the MC.
As far as character development is concerned, the author states upfront that the MC killed his parents and throughout the chapters the author provides flashbacks of the MC's interactions with his parents. Frankly, I'm uncertain as to the "value" of the MC having such a background. The author tries to suggest that the MC's good-doer approach to people he met in game was some kind of rebellion against the teachings and harsh philosophies of his parents. However, I remain unconvinced that making the MC a parent-killer is necessary to justify the way he treats people in need within the game.
Now for the things I like so far about Challenge. First, I have to commend the author for his dedication in publishing such long chapters on a daily basis. It is not an easy thing to do, and I want to praise the author for his dedication to his series. Second, the author maintains a good perspective in reminding the reader that the MC is inside a virtual reality game and the NPCs within the game are also cognizant of non-native characters. Third, the author does a commendable job in creating interesting interactions between the MC and the NPCs. If he wakes up one morning and decides to quit writing the Challenge series, the writer should definitely try his hand at standup comedy. Jerry Seinfeld started out the same way, as a stand-up comedian, and eventually found commercial success creating "Seinfeld."
All in all, Challenge has been an enjoyable series and I will continue to follow it.
---