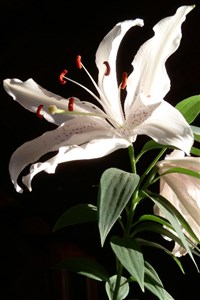 First of all, I have to confess that the author, Sara King is a favorite of mine. But does that make me biased to her work, or is it simply an indication of just how amazing it is?
Sara's writing style is very unique, in its ability to introduce one character after another, from the character's own perspective.
For this book, the result has the reader rooting for this poor young girl whose upbringing has been full of neglect and shame, but at the same time, laughing at her struggles to make all of that and more into some kind of normal existence.
The reader is introduced to a handful of men who have their own weird problems (like vampirism, an ancient Samurai, or being cursed to exist as a giant mastif dog who talks)-- but each one seems like a nice enough guy, once you get to know him!
The story is fresh, benefiting from unique lore, completely different from any other vampire tale I've ever read. That, coupled with the perspective of a college aged sexual abuse victim, who has just learned she is a vampire queen makes for a great page turner!
Grammar score is perfect for this book! There is nothing I hate more than to be rewriting sentences & trying to unsee people's dangling participles while attempting to enjoy an otherwise great story!
A for the Character category, as I mentioned above, this author is top notch in the character building department. Her stories ar character driven and put the reader right behind the wheel. It's easy to immerse oneself into the unlikely lives of these interesting people!
---