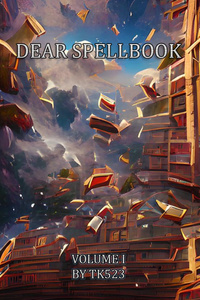 This review is based on the whole of Book 1, being a loyal and faithful companion to Tal—not like that, a comrade in arms—he let me read that book he carrier around everywhere.
This story is not to my typical tastes but I enjoyed it, especially the parts I am in. There is action, but it is not the focus of the tale. Tal is smart and goes often goes down rabbit holes of explanations of magic, and history, which did not surprise me since he is always talking about those things in our travel
The book is written in Tal's perspective as he recounts his adventures in his spellbook using the magically enhanced memory it grants to give him an accurate account of the events. I have not read a lot of books, Tal taught me to read, but this is definitely a unique take.
I could not give the story a 5, since I do not appear in all the chapters. You are not graced with my majestic presence for some time, and all the while Tal dangles my name before you, making you wonder. The other reason I have story a 4 and not a 5 is that I prefer more action-packed stories with content battle and conflict. This story is more slow-paced, and the conflicts are interspersed with studying and experiments, which I understand some people love but it is not my cup of tea. I think that is the expression, where I come from, we do not drink tea.
The gRammar is good, though I am not a good judge.
The characters in this story are fantastic. In the beginning, Tal writes mostly of Daulf and Trish, who I will admit are admirable warriors, even if their styles of combat differ from my own as much as their personalities do. Roland is fine, he is a valued companion in battle, but not one I wish to share my fire with. Tal seems to have a good understanding of himself as he journals in his book. He may call himself a scholar, or a wizard, or a sorcerer, or a "Theral" but he is a warrior at heart. I will make him a warrior in arms and legs someday if he keeps up his training. He is introspective and can see his faults, which is a key aspect of a true warrior.
I am also in the story, and I am a great warrior whos exploits will be sung for generations to come. I do not brag, I speak only the truth. Don't take my word for it, take Tal's.
Overall I give this story 5 stars. I chose not to penalize it for delaying my appearance.
---