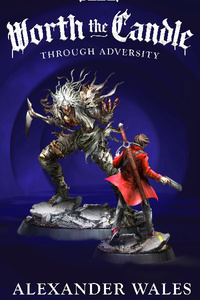 This might contain some spoilers. Please read at your own risk.
This would be my first ever review on a story so it may be sloppy for the standard of regular readers.
First of all, before I delve into my review, I want to thank the Author A.W for this incredible and mind-opening story, for me.
The premise is the adventure of isekai'd Juniper Smith to a hexal plane called Aerb, consisting of eclectic elemental planes, species, and entads that Joon's D&D group campaigns have ever been played and some concepts of his that never come to the tabletop in a quest to find his deceased friend from Earth, which caused him depression and guilt, that is deemed to also appear in Aerb.
What I like the most in WtC is the characters, they are not perfect, they make mistakes when in time-pressured situation, they have problems of their own, and I can see that I might have done the same without hindsight.
So, the meta-analysis type of writing is new to me, and in the earlier chapters can be seem a bit taxing but I think that is part of the worldbuilding because it creates an incredible detailed explanation for a clearer view of what Aerb is, I find enjoyable to visualize, and it shows the author's attention in details and planning.
The story is reflective in a lot of conflicts and helped me to understand some of my circumstances in a better light that are just ineffable for me. Also it introduces me to a glimpse, maybe, in some social problem that a human would naturally encounter in life like romantic relationship, fornication, and some that makes me question my upbringing. One of it is Joon's view on women like how they are viewed as more sympathetic when abused compared to men, there's a history ofc, and how unfair that is for the both sexes IMO. Also how Fenn's glum backstory but it made me admire her more,
one of it is her decision in early pregnancy, choosing to put her son for adoption may not be the best idea but rather the best choice when set with the circumstances that it won't be a good life for the kid,
though others are not happy for her playful attitude. But I believe it comes with a reason.
---