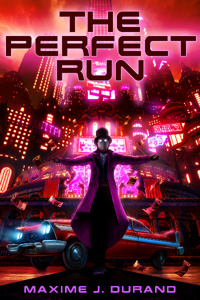 Une excellente histoire avec de très bon personnages.
La trame de l'histoire est prenante même si je n'ai pas encore tout lue
L'humour, (ce côté deadpool-like), les références et la qualité des dialogues m'ont franchement fait accroché.
Ya pas a dire je l'aurais acheté en bouquin tellement j'éclate de rire durant certains passage.
Merci beaucoup à ce site, et a cet auteur pour un livre de cette qualité.
Franchement si sa devient une série netflix j'aurais payer pour avoir Ryan Reynolds comem perso principale


(And since I don't think you necessarily speak French, here is the translation (thanks DeepL))
An excellent story with very good characters.
The story line is gripping even if I haven't read everything yet
The humor, (this deadpool-like side), the references and the quality of the dialogues made me really hooked.
I would have bought it as a book because I was laughing so hard during some parts.
Thank you very much to this site, and to this author for a story of this quality.
Frankly if it becomes a netflix series I would have paid to have Ryan Reynolds as the main character.
---