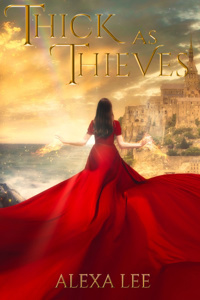 TL;DR – It's a bomb book. Go read it. Totally worth it.
Spoiler-free Review: Thick as Thieves is written in First Person-Past tense. It's a Dystopian-Fantasy YA novel with romance as a subplot. (Because what's a YA novel without romance am I right?)
Reviewed at 20,000 words.
Story: Arguably its strongest point. We're thrown into a dystopian world with two orphaned girls, Darcy and her little sister Sen, who's unfortunately suffering from a terminal illness. From the very beginning, it's made clear that our main characters are poor and can't afford medicine or treatment. Sen is dying. Her illness is constantly getting worse and there's nothing her sister Darcy can do to save her. This is where our story begins. A young girl, simply trying to save her little sister from dying and struggling with the inability to do so. Yet Darcy refuses to accept such a fate for her sister and journeys into a world of magic and intrigue that forces us to be compelled at every turn. It's in this simple concept that the story finds its strongest plot point.
Alexa does a beautiful job of weaving magic into her story without making it feel unnatural. Magic is a key point in the world and it plays an integral part in the lives of the people, whether the lack thereof, or the abundance of said magic. It affects everything. Our main characters live in a city where the separation of socioeconomics is shown through what is referred to as "rings". These "9 rings" are prevalent throughout the story and are referred to often, but they're more of a socioeconomic separation than actual barriers separating each ring in the city. And because of this we're able to see a stark contrast between each society within the rings and the implications that has for the people around them. Case in point, our main character, Darcy, who has to struggle at every turn, and fight to defend what little she has. To me this creates such an element of depth to the story that I felt it was worthy of note in my review.
Thick as Thieves has a charm of humanity in it, and it's in that simplicity, that I find myself being most moved by.
Style: When I think of style, I think of point of view. I think of tenses and tonality. A conscious choice made by an author to express their story. Alexa's writing style is unique in the sense that it makes me forget that I'm reading a book, and instead makes me feel like I'm enveloped in a world of magic and dystopia. We're in first-person, and that makes it feel more personal. When written poorly, first-person can feel like a mess, but Alexa has written it incredibly well here. We feel like we're in Darcy's head, following her journey through her eyes every single step of the way, albeit through a bit of heavy exposition in the first two chapters. The way Alexa has written Darcy's character allows her to give us insight into the world without making it feel forced or unnatural. She's woven knowledge of the world into Darcy's character seamlessly and it makes her feel alive and human. Following alongside Darcy and her journey in this world is something that has a special charm to it because Alexa has done an excellent job of creating a unique tone for her female lead.
Character: We have a small cast of characters, which is a huge departure from her other fiction, "For Irision", but that doesn't take away from the story as a whole. In reality, I feel like it was a smart decision by Alexa and allows us to form connections with the cast that we otherwise wouldn't have had. We don't bounce from new character to new character and have introductions left and right. Instead, we follow a small cast of likeable characters that feel human and relatable. A good example is Darcy's love for her sister. It's shown, not told. Darcy will do whatever it takes to protect her sister, no matter the cost. That trait alone not only makes her an admirable character who I can personally relate to, but also a vulnerable character who has a weakness. And Alexa doesn't stop there, she continues to give us special traits that make Darcy feel human yet young and naive like a sixteen-year old should be. Sen is no exception to this and the entire cast feels deep and colorful, albeit with the exception of a few. Looking at you Haster.
Grammar: When I look at grammar, I always look to see if it distracts me from reading a story. If I notice it, and it draws me away from the world that the author has created. Alexa has done an incredible job of writing here and from what I've read, the grammar has been flawless. Nothing stood out to me and made me reread it to understand it more clearly. I basically never have to think about it and that is the single best thing an author can do for a reader.
---