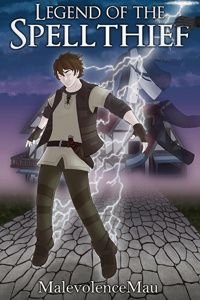 World mechanics- solid, not over or underexplained
Story- a generic fantasy world but the feeling of exploration and discovery is well done, everything feels fresh despite being generic. it captures a lot of the wonder that we all love in fantasy, not by merit of uniqueness (it is a very generic fantasy world) it doesn't try to be unique but it doesn't need to be spell thief shows us that the KISS method still has its place in writing.
readability- easy to read and follow, the dome of the word art and splash text could be better but it serves its purpose, the level up and exp gain texts tend to drown out everything else and grab attention when it doesn't need to
Characters- believable characters maybe a little bland but overall good, the main character makes logical choices based on his situation, something I cannot applaud enough.


Overall I think that spelltheif focuses on doing a few things very well, progression feels significant, the world is one the operates in a logical manner, the characters act in a manner that is reasonable and with context, the world while being your typical dnd style fantasy world just works in a if it isn't broke don't fix it sort of way.

but most importantly I think it touches on the charm and newness of a fantasy world, the Main character is dropped into the world and needs to figure things out one step at a time.
---