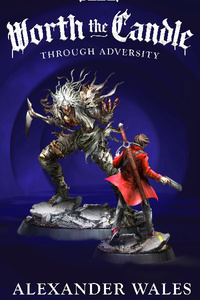 Currently at the end of the published story, chapter 221, Targets of Opportunity.
I had read Alexander Wales' stories before. None of this caliber. As he's very obviously in the "capital R" Rationality circle, I think he'll understand when I say: I would be honored to meet the man who is able to contain at the same time (apart from many others) the likes of Bethel, Amarillis and Juniper. Never after HPMOR had I found such protagonists, so full of life, reflection, sensitivity and sheer intellectual power, while still being human in the fullest possible sense of the world. And that's just on the character front, which I understand to be the lowest part (I give 4,5 stars for it), mostly because of LoadsAndLoadsOfCharacters making FourLinesAllWaiting (I really missed some characters that are absent for long). Sorry I can't make the TvTropes link work, but you know where to search.
On the story front, I again have never encountered such a detailed worldbuilding. Mentioning Tolkien is mandatory here, but just to say Tolkien is diminished. I could only say, Alexander Wales spends time on staging / worldbuilding in the way that JRR Tolkien spends on fictional languages. But loose threads are few and far between. It's narratvely very satisfactory for arcs to have a beginning and an end, and as much as the author plays with expectations and post-everything, he sticks to the adequate formulas at the adequate times. Meaning, he's just a very, very good writer and narrator, on the level of Scott Alexander. I've spend quite a few sleepless nights reading obsessively this fiction, not being able to unglue myself from the screen. And now that I'm "finished", I just crave for more.
I'm not sure what RoyalRoad means with "Style", but supposing it means "ellegant, decorative", what can I say? It's both the best riff I've ever read on fantasy themes and narratives (and drinking from the most sources, probably), and the best written. A real-world editor wouldn't have let anyone except an acclaimed writer (say, George R.R. Martin) to run this long. But the fiction needs it, and Wales does it better than Martin.
On grammar and language, because this is an advanced review, I can only say: I'm spanish/english bilingual, with deep culture. I don't need a dictionary to read most general or technical works, just very specific old terms when reading Shakespeare, let's say. Alexander Wales forces me to check a word about every few chapters, which is frankly ridiculous for me. Best of class, much better than both standard curated bestsellers AND academic works.
---