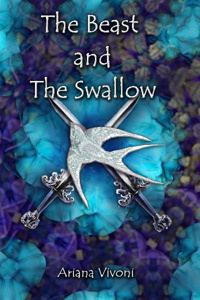 In short: Awesome well-researched world-building with a pure slow-burn love story at its heart.
(This review based on the first near-50 chapters which constitutes book 1)
Style:
Word choice is more on the flowery side of things, the style is rich and 'epic', but importantly, it does not stifle the flow. If you are completely allergic to the words 'slender' or 'lithe' or eyes being compared to gemstones of any sort, however, this might not be the novel for you. There's poetic descriptions in appropriate moments, good imagery, and above all, scenes are clear and readable. My only reservation is that the POV 'floats' a few times, going from the inner thoughts of one character to the inner thoughts of another without a clear cut transition. It only happens a few times and when it does, the scenes are still easy to follow, so it's not detrimental, it's more a stylistic preference. But if you're a hard-core one-POV person, it might be irritating.
Grammar:
There's some mistakes, but the author is very receptive to having typos pointed out and fixes them quickly, so the work will only go on improving with every pair of eyes going over it. The first few chapters have some clumsy paragraphing/punctuation that does not reflect the rest of the story, as it steadily improves throughout (and this might be fixed by the time you read this review.)
Story:
This is where the work shines, because this world is well researched and well built. It's based on the middle ages in northern countries rather than Ye Olde English Middle Earth Location Set that too many books since Tolkien try and fail to use properly. The story shows a good grasp of how people truly lived back then, with lots of illuminating details, little and big, that add realism. In fact I recommend this book to anyone who's ever been tempted to situate their story in a pre-industrial-revolution epoch so you won't get as many details wrong! The plot is well designed and easy to follow, people act rationally and in character, monsters are scary, and there's politics rich in possible conflict in this story of two races with widely different lifestyles trying - and often failing - to coexist.
Characters:
The characters are attaching, and the diametrical opposite of 'hot power couple everyone falls in love with', I'm glad to say. There is a stylistic choice in characterisation here that potential readers should be aware of: this is definitely more Tolkien than Game of Thrones. That is to say, characters on the Good side are very good and noble; they have flaws, fortunately, but they tend to be flaws born of bad treatment or evil outside circumstances, not true flaws of character (bar one interesting exception). When they make mistakes, it's usually out of a surfeit of nobility or good will, rather than, say, cowardice or bigotry. While on the other hand, the people on the Bad side are - so far - downright evil hypocritical bastards without a single redeeming quality whatsoever and you would gladly see them all eaten by fire ants, if only there were some in these cold northern climes. The main characters are well-written and endearing, their weaknesses and strengths are well thought out, but your attachment will depend on how much you like that kind of black-and-white characterisation or not. That being said, the first book is a really sort of mise-en-scene. It's got a proper beginning, middle act and end, but that ending has set up a new stage on both the political and personal side, which now have room to change and expand. They may gain a few more layers and some stains that won't come out in the wash before the end.
In conclusion:
A pure romance between two wounded people (who won't realize they're in love until it hits them with a stick) which is really just beginning, as of this review, with a rich world building to back it up and not merely a backdrop. I'm usually more interested in darker, more fallible and self-aware characters (the story itself is quite dark enough, yikes, doesn't pull punches there with the origin of some of the monsters) but I still want to read on to see if the main leads will sort themselves out and eventually get a happy ending despite the odds stacked against them. I mean, I'm pretty confident they will, but it's going to be one hell of a journey.
---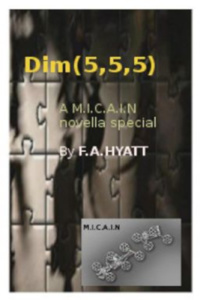 Everything I hoped for when I started reading stories on Royal Road: the kind of story that you just can't seem to find out in published lit, even though it's just as good if not better.
The story follows the adventures of Richie Wander, a PI who'd fit right in alongside Bogart in The Big Sleep or any other Noir film or book you may know… and his would-be partner M.I.C.A.I.N, an AI the size of a dozen hydrogen atoms bouncing around together who's ready way too many Chandler novels. Together, they sort out the crime caper of the mysterious rubix cube… There's also a few more standalone short stories in the same universe.
Style:
Amazing. Smoothly blends old-fashioned Noir with modern sci-fi concepts such as AI - but don't think Blade Runner. This doesn't have that grime, that cynicism. It really does feel like a Noir crime novel, just including hover cars and AI bus drivers and adorable gene-jacked talking dogs. And every sentence is rife with sardonic humor, sas, twists and great imagery. It's an absolute delight to read if you enjoy its retro style.
Grammar:
Nigh on perfect, and I'm a perfectionist in that matter. There's some excessive commas here and there, and a half dozen typos, that's all.
Story:
As a novella, the plot is not as complex as one you'd find in a full-length novel, but it's got all the chops it needs for its length. It moves along at a great clip, you're never bored, all the plot threads are resolved, it's a nice tidy package, and very entertaining.
Characters:
Mic is a great protagonist, a wonderful blend of very, very smart and yet also unintuitive when it comes to human interaction, as you'd expect for an AI. He grasps 90% of human behavior, but that last 10% that escapes him is a killer, and also hilarious from our perspective. Richie Wander, for his part, is the perfect straight partner, a world-weary grizzled PI with a soft center. Secondary characters are more sketched out due to the novella-length of the story, but even their short stints in the narrative shows them to have depth, an internal logic to them, and they avoid falling into stereotypes or cliches.
Conclusion:
I will now pick up my megaphone and tell everyone to READ THIS! There's no excuse, seeing it's relatively short length; it's not like you're committing half your remaining lifespan to reading this, as you would some other stories on this site. It's quick, it's fun, it's rich, it has a talking dog and the world's tiniest gumshoe, it's on my favorite list for a reason.
---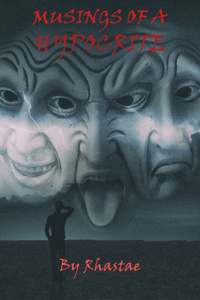 Read up to Chapter 15, review based on that.
This is very different to stories I usually read; some things that confused me might be more understandable for readers familiar with the isekai / shonen genres. But it's written/explained well enough where even a newb like me could follow for the most part, so kudos for that.
Style:
This is almost stream-of-consciousness where you have to just hop onto the ride of following the thought processes of an immortal all-powerful being named Hypocrite and his tortuous plans for educating (the hard way) three new students. The style bounces around with modern-world references mixed in with a more archaic/fantasy setting. Well paced as a whole, but dialogue set pieces tend to slow it down. Personally it's not a writing style I usually read, but the characters' voices help make it approachable.
Grammar:
Needs work due to random tense change problems mainly, and some odd word choices here or there. I didn't see many typos though, so bonus for that. Author said they'd look into addressing the tense change problems so that should also smooth the read.
Story:
I have a feeling this is the start of a very long story, so it's hard to judge at this point; there's a lot of secrets mentioned, a lot of plot points that will probably pay off much later. I had no problem reading through the chapters quickly so far, it doesn't bog down, pacing is good overall. Most plot points and battle scenes are well described and understandable even for a newb like me while still being well paced. The story slows down a bit when the students get into the actual learning stage and Hypocrite starts his lectures.
Character:
This is where the story has particular punch. Hypocrite is a bastard and it's fun to watch him torture (or possibly educate) the kids. However, he's not needlessly cruel, he's not evil: instead, you can feel that his feelings, emotions and thought processes have calcified after living for thousands and thousands of years seeing too many people die young, to the point where yes, he can sound callous, but the story does show you where he's coming from. Overall I'd say he's pragmatic; using the kids, but also giving them their chances. He's also detrimentally quick tempered at times and he does make mistakes, which avoids a Gary Stu situation. Secondary characters are okay too; they could use more exposure and development, but even what there is so far shows them to have an internal logic to their personality that translates well into their actions, strengths and weaknesses. Even in the case of tertiary characters we only follow for half a chapter, it's obvious the author thought out their motivations, or gives them little touches of characterisation, enough that they don't just feel like cardboard cut-outs. The kids are a little whiny, but I'd be too in their situation XD
Taku is the only character that I can't get a handle on.. We don't see that much of him so far though, that might explain it, and I feel he might be fairly heavily based on some shounen/ninja ideal that I'm not familiar enough with to follow.
---