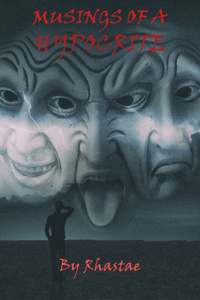 This story was read as part of a review swap, but that hasn't affected how I view the material.
The reason why I call this story an 'enigma' is purely based off of the writing style. It's also the reason everything sits at 3 stars. The first seven chapters are okay, and they give time to introduce the characters and their personalities before starting the actual story, but the constant use of pop culture references and unfunny jokes really pulls me out of the story at times. I have no problem with the occasional reference, but using them in a way that makes sense within the story works better in my opinion than making them blatant and winking at the audience after you say it. To add to that, having footnotes that show the references to each joke totally ruins them. It's like they say, "If you have to explain the joke, it wasn't funny". The first seven chapters have little atmospheric detail, meaning I only imagine the chapters happening in a white void. There's some detail, but not enough for scenes to feel real.
That being said, the eighth and ninth chapters fix pretty much every complaint I just made, which is why I call this story an enigma. They use excellent description, no cringy dialogue, and explore the characters and their feelings in a way that makes me care to know what happens next. I don't know what the author did, or what changed, but if they follow that trend, I feel like this story can be really good.
I won't go to hard on the grammar. Most other people have commented on the pov shifts and tense issues, but I don't find them too annoying. It's a free story and not a published work, so it doesn't bother me that much, especially since the author clearly put effort into the story.
Finally, as I mentioned, the characters in this story are an enigma to describe. In the first 7 chapters, they all come across as snarky edgelords, but in 8 and 9, the character we follow seems far more human and interesting. Chapter 10 doesn't follow that same level of polish, but it isn't as bad as the first 7 chapters in my opinion.
Finally, the plot itself is very fast paced. I read this story with a text to speech program on my phone so that I could work while listening, and I found myself tuning out a lot of what was happening out of lack of interest. That being said, once the eight chapter kicked off it grabbed my attention and I found myself interested in what was happening.
In closing, I think you should push past the first seven chapters and get to the eighth. Not to sound like one of those guys, but it gets really good from there in my opinion.
---