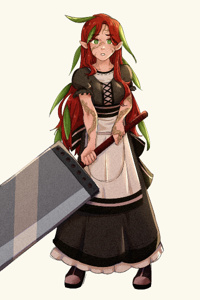 The elevator pitch for this sounds like a fairly standard fantasy adventure story, but the execution is much slower paced and contemplative than you'd expect. I would say the focus of the story is on its worldbuilding and characters, in a way such that the two are interwoven very nicely.
The worldbuilding isn't just dry exposition, it nearly always comes from the perspective of a person in the story. So, you don't just learn about the world, you learn about that character, how they see the world, what they believe in. And that too feeds back into the worldbuilding, because it's not just some sterile bunch of proper nouns and points on a timeline, it's people and groups and how they shaped those events and how those events shaped them. And it's not some objective narration of what happened, it's someone's perspective on what happened, with the biases and incomplete information and unique insights that can carry, in a way that feels real and gets you to think about the setting a lot more than omniscient narration would.
Any character that's gotten a good amount of screentime feels real, even the more exaggerated ones. As I mentioned earlier, the worldbuilding gives you a lot of context for them, how all sorts of factors shape them and affect them, but they're also not just a bunch of sociopolitical factors, they are all individuals with their own personalities and wants and flaws. Characters run a pretty broad spectrum of drama from mysterious pasts and sociopaths, to people grappling with their flaws and insecurities and trying to overcome them, to just not actually having some major source of conflict going on with them. So, there is a variety with the characters, their conflicts, and their interactions. There's characters I wanna find out more about what their deal is, and there's characters whose personal struggles I find really relatable. And while a lot of this review has talked a lot about like "oh, it's so deep, history, politics, conflict, gravitas, etc." there's also a lot of character stuff that's just fun to read. There's plenty of good humor and banter and shenanigans. There's some good friendships and characters who are just fun whenever they're in a scene.
The main thing I would see turning people away is the slow pace. The story is almost slice of life in a way, it's just that the slice of life happens to be students at a mercenary academy. Most of the writing is the characters just talking during training or after classes or on days off, or the like. It's not a story where going to the academy ends up being a springboard for grand adventures, they mostly just study and train. There is some action, and it's good, and the way it's sparingly used makes it more exciting, sometimes even shocking when it does happen, but if you come to this story for action adventure you're probably not gonna find enough to sate ya. The character stuff is still pretty slow even by the standards of character stuff. It's not slow without purpose; the way it's hard to change is kinda a big part of the story, both on the personal level and the national level. And I would note that there's having a slow pace, and there's spinning your wheels, and this story isn't spinning its wheels. You are consistently learning new things about the characters or the world, or seeing some degree of change or growth, it's just slowly. It feels pretty true to how growing as a person happens in real life. Still, I can imagine a version of this story where the pacing is a bit faster without losing any of that.
Anyway yeah, as you can see from the rating I gave I really like this story. It's fun, it's smart, it's moving. Give it a read.
---