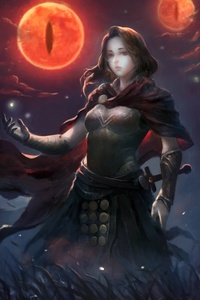 This is my first review so sorry if its unreadable or just outright confusing. Skip to the end if you want the short version of the review.
Let's start with the positive parts of this story, from my perspective.
The world itself is very interesting from what I have read. There is a war in the background that seems to be a threat that will come into focus later on in the story, but for now we only know that it seems to be a war with another species. The focus so far have been more on the nation and cities rather than the whole world/continent. There seems to be hints that there exists more nations with humans in them but so far we are only aware of the main nation and it's allied nation, which if I remember correctly was hinted to be more of a city-state.
What this story does very well is give off the feeling that humans are not the dominant species who rules everything. There are many stories around where the author has stated that humans are weak but have later on had problems following through on that and allowed humans to be nigh-unbeatable. In this story you will not find this flaw, as the author stated in the summary humans are not the top dog and every time the protagonist goes outside the city walls you can feel the untamed wilderness around them with dangers hidden in the surrounding. Of course there are dangers lurking in the shadows of the cities aswell.
Overall the author does a great job in conveying and really making you feel as if this is a proper world with many dangers. This is in my opinion the best part of the novel and I can barely get enough of it.
Now the negative parts.
Sexism without reason, read the review of Ziggy, unearned sexism from poor world building, I aggressive with what he is saying. Also remember this is a litrpg world where you can upgrade your stats and gain skills, classes and levels.
The characters. I do not like nor believe in perfect character, flaws are what makes characters go from archetypes to someone you wish was real so you could befriend or just chat with them, they are a necessary part in making character feel less like puppets following the authors demands and more of creatures who make their own decisions. The problem comes when the flaws are so many or so big that they overshadow everything else that the character is suppose to be, to the point one can only see the flaws in them. Another problem is when the flaws are directly opposed to the characters background and story.
Let me give you an example, someone in this world elite military unit has just gotten a direct order from their captain to protect another member of their team, this other member is extremely weak and has just spent the day healing people and by doing so essentially become a target for any slavers who could sell them at a high price or any other person desperate enough to try rob/kidnapp them. Now what should this elite member do?
Should they?
A: protect the healer and escort them back to the rest of the team or any other safe spot like a guard station, and then go out in town to play around.
B: Ask some guards(or someone they can trust) to guide the healer to a safe spot, and after doing this go out to play around.
C: Abandon their duty to play around and let the healer walk home by themselves in the middle of the night while knowing full well that some people can hide from their perception skills.
I will give you a hint in what they choose to do. Let just say that the person in question does not seem to have had any sort of training to suppress their desires.
That was just a example of flaws but the most infuriating person is actually the protagonist who no matter what happens does not seem to grow up. When I made this review I had just read chapter 60. 60 chapters of very little real character growth for the protagonist does not make the future look bright for them.
I will now tell of two major problems that I have with the protagonist, other than that she never grows up.
First problem is in how she acts to counter herself. She dreams of becoming a healer and after an unfortunate accident she vows to never hurt anyone and help everyone she can. This gives her a unique skill which makes her healing much better compared to others her level. But remember this is a dangerous world where she does not only have to protect herself from monster but people too, well I'm sure you see where the problem shows up. Not only does this limit it also hinders her teammates because she might need to heal their enemies, suddenly she is a very real hinderance in human fights. But she loves her freedom meaning she does not want to be restricted and she also wants to travel with them, so not only is she hindering herself she is also a huge liability to her teammates but she never questions if she should throw away the skill. As a side not, it's kinda hilarious how she wants to be completely free but she can't because of her skills restrictions.
The other problem comes into focus when she gains the chance to get another class. Instead of choosing something that compliments her healing making it more powerful or choosing something that negates her incredible weak self-defense. Because of her childishness she forces the system to give her a class that will be able to give her two abilities in the future even after being warned that it's not a suitable class for her. Ability one, the ability to fly. Ability two, the ability to throw fireballs (remember, she is sworn to do no harm). This puts into focus her childishness and her inability to grow up, as a note, this is after she has been put in danger many times already and she has lamented her own weakness.
I have already dragged out this review so my final sentence will be the following. With the exception of the baseless sexism, the setting and the authors ability to potrey it is amazing but it is unfortunately wasted on the character to the point of making me incredible sad after almost every chapter.
---