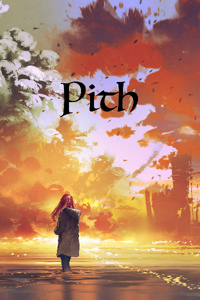 Pith is about deeply flawed people living in a deeply flawed world.
The world of Pith is unmaking itself, the oceans are rising, desperation and gloom are smothering. But in the darkness there's light, the promise of friendship, broken people leaning on each other, standing up for what they believe in. Pith is about trying until you can't try anymore, pushing yourself to the limit, and then further.
What makes Pith so great is the characters. Every character is fleshed out and sympathetic. They're real people with flaws and hopes and dreams. Pith characters don't feel like characters, they feel like people.
Each chapter is action-packed and dense, fight scenes are vivid, character powers and interactions are complex and interesting.
Give it a shot, you won't be disappointed.
---