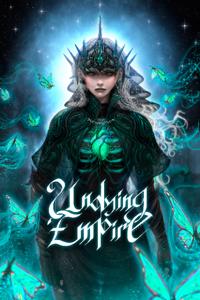 Story
A girl get transported to a fantasy world along side her parents and a bunch of strangers. During this process she is transformed and gains access to necromancy. Using these powers she starts her own empire, utilitzing war and espionage among other things.
Setting
The fantasy world she finds herself in is fairly unique. Let's just say you shouldn't expect any elves, dwarfs or goblins. The world is also fairly gender equal, however if someone is badass most of the time you'll find that their female. This does not come off as the author taking a political stance. You'll also find the setting isn't strictly medieval but as of right now there isn't any guns or anything like that.
Style
It's written in third person and does not shy away from taking more than one person's perspective. However it does not show the same event from multiple perspectives.
Positive
I like the unusual fantasy creatures and societies and the slow pace. While the main characters are very strong it's justified and they do face equally strong opponents(not always tho). The system is also quite complex and the cast large.
Negatives
Rather than settle their own city the cast finds a abandoned over powered city that offers a lot to convenient perks. In terms of expressing litrpg aspects it's also rather limited. While you could say it info dumps, it's more like the protagonist is told about her system by her aids and summarize it for the reader. That being said I don't really have any suggestions about how to improve this.

Sidenote
Not sure where you can find any right wing propaganda, that an other reviewer apparently found. It's a dictatorship since it's a empire sure, but it's far from ethnocentric, preachy or anything like that
---