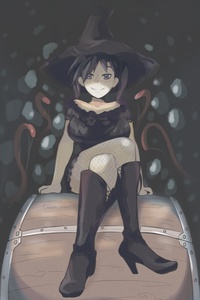 Everybody Loves Large Chests
Warning
This fiction contains:
Gore
Profanity
Sexual Content
Everybody Loves Large Chests is now available on Amazon and Audible! Featuring lots of editorial love and a more enjoyable reading/listening experience!
Large chests are said to encompass all manner of hopes and dreams. Men covet them. Women envy them. But one fact holds true - everyone wants to get their hands on some big ones.
The same holds true for one intrepid adventurer - a strapping young lad by the name of Himmel. Armed with his grandfather's trusty longsword and the dream of being the strongest, he sets out on the journey of a lifetime! It is sure to be a long and dangerous road, fraught with danger! And it all starts with a simple test - reach Level 5 in the dungeon called the 'newbie zone' and earn the right to become a full-fledged adventurer!
However, such things get hopelessly derailed when his adolescent mind beholds an exposed chest for the first time. A fateful meeting that would inevitably lead his life in a direction he never even dreamed of!
This fiction is written, maintained and owned by Neven Iliev. It is also a participant of the WriTEr's pledge.
Overall Score
Style Score
Story Score
Grammar Score
Character Score
Total Views :
29,164,892
Average Views :
83,807
Followers :
14,119
Favorites :
8,856
Ratings :
5,803
Pages :
5,765
I hate pornographic story's so I kept skipping this one, but eventually I got curious about it's high rating an decided to check out the first chapter. you fucking troll.
So why am I writing a 3-star review for one of the most beloved fics on this site? Well, looks like I am not like most others. But let me elaborate. Spoilers ahead.
The first arc of the story (book 1) up to the calamity is wonderful. Non-human lead, original plot, original character, I remember laughing my ass off during the break out from the dungeon. The first arc deserves honest 5 stars without a question. Sadly the rest of the story is not as good.
The second arc, hiding in the city, meeting the god of chaos, was still good, there was less originality, less to laugh about etc. but it was still better than most of what's on this site. In my opinion, it's an important part of the story, as many future characters, places and story arcs are introduced. as such, I can overlook some weak points. At this place, it was still a very enjoyable story.
The point where everything goes wrong in my opinion is the evolution to shapeshifter. The mc is now able to disguise and can't be discovered in addition to his ability as a gods chosen, which conveniently lets him hide his status. Up to this point, I was gripped with excitement, curious how a man-eating box is going to survive and thrive. Afterwards, I was just like: shapeshifter + divine ability to hide status as monster = easy peasy. It was not something that broke the story, but it certainly made it less. And while it was not something terrible, it set the path for some poor decisions on the authors part (at least in my opinion).
Next arc? Moving to Azurvale, fighting a war. I actually liked this part too. It lacked the humor of the first arc, but it's hard to be witty constantly. I am not a very witty person, I should know. There was some worldbuilding, some action overall a good addition to the story. BUT something becomes apparent during this arc, how op the mc actually is. It kills a level 100 warlock, with some luck and cheating, but still, it kills a ranker, an individual many levels above him in a frontal confrontation.
The author notices how op the mc has become and begins to nerf him. The principle of "power creep" is introduced. Getting too strong too quickly has repercussion the mc now experiences. But how did the mc get so overpowered in the first place? Well, the author gave him a very broken ability which lets him consume dead people and get some random skills or attributes of them. Obviously very broken. So the mc now stops using this ability as wells as going to some lengths to reduce his attributes. This takes care of this obvious mistake, but it still feels like a blemish on the story. It's something the author didn't foresee and had to fix.
The Foundation arc was actually pretty cool, no questions asked. But whatever happened to the story afterwards? Filler chapter next to filler chapter. Yes, the world gets expanded massively, new people, a new continent, new characters, but most things that happened since the war or the Foundation incident or the elimination of the Gilded Hand has no bearing on the actual story. It's just there and get's forgotten immediately afterwards.
There is one VERY obvious problem with this story and I already hinted at it. The author did not plan his story out when he started writing. My guess is, that arc one: the dungeon, the breakout, the hunt, the calamity, was planned and worked out in the authors' mind before he even began writing this story, everything afterward he probably made up on the fly when he noticed the approval he was getting for his story.
How does this lack of planning show in the story? What are my clues? Well, overpowered ability of the mc to consume skills and attributes. If you follow the logical conclusion of this ability, it is clear, that it has to be nerfed somehow. Maybe through a timer, a severe cost, if you want even through power creep. But you have to introduce it before it gets relevant. Yes, of course, a sentient box in a dungeon won't know about power creep, but it could have heard of it during his many forays into civilization during the story. Introducing this convenient nerf after it got apparent, that the mc is op was not well done.
So what else? Places. Places appear when they are needed for the story, not only places whole races and cultures are introduced willy-nilly, even though they never have even been mentioned. Somewhere in a few thousand pages, someone somewhere should have talked about the Nosferatu race before it suddenly got introduced, same about the lizards, giants etc.
That's actually the real problem: Brandon Sanderson compared world building to an iceberg. There is something to see, but the bulk of the worldbuilding is underwater and will only be seen through glimpses in the story. Your story is not like that. you start out with an extremely small iceberg which we can only see from one side (which is good! a sentient box wouldn't know anything about the world). What you should do now is gently introduce new concepts, people and places. Show us, that the iceberg has other sides and is actually much bigger than we assumed, show us, that there is something beneath the water. Well, it's not what happens. Yes, the iceberg get's bigger but it's not gently. There is Monotal, oh hey, did you know, that it's part of the Human Empire, there is also Elves to the north and dwarves to the east. Rest of the world? Nonexistent till it's convenient. Oh btw, there are also Animal-People. Oh and Nosferatu who actually reigned over the whole continent for a very long time but have never been mentioned before. There are Giants too! And a big bad Necromancer who is probably going to be the end boss. Yeah, also, there are other continents. Their names? Uhhhh.... Southern Continent, Eastern Co.... Really?
We start out with this small iceberg and you show us every facet of it, then you smash a second iceberg onto your existing one to expand the world and you do it over and over. Not only that, there actually is no iceberg beneath the water. The world is dead, static. There exist only those parts which further the immediate story.
This has seriously turned out longer and way meaner than I intended, for that I am sorry. This story is still one of the best stories on this site, but it has some very big flaws, at least for me. The first arc is one of the best pieces of fiction I ever read, no lies. You obviously can write, an well at that, but what I think of at least as a lack of planning on your part, made this story less enjoyable.
So why do I read this still after more than 2 years? First, I want to know where it goes. As I said, it's not a bad story, just a good story with flaws. It got me fixed.
So when I think it's actually a good story, why only 3 stars? Well, ratings a skewed, everybody either gives 5 or 0 stars, rarely anything in between. For me personally, this is a 3-star story, not only for Royalroad, but for Fantasy/LitRPG as a whole. It's enjoyable, with big flaws. Most Royalroad stories would be a 0 for me. Books in "Trending" or the later pages of "Best" would be a 2 for me. Some very few stories on this page get a 4 in my book: "Mother of Learning", "Threadbare", "Grad Design". They also had way fewer pages to fuck up though. 4 stars for me would be a good book with maybe small flaws, think of "The First Law", "Mistborn" or similar. 5 stars would be masterworks "Stormlight Archives", "Wheel of Time", some books of "TSOIAF".
With this we end our review, sorry again for being so strict, please don't hate me.

I was sent here by one of my own readers who told me this story fits a criteria alike to my own when it comes to Sheer Insanity.
I was skeptical at first, but I've been proven wrong! :D
And now, ahem, let's give it a stellar review!
Style - Dances around the first and third person, making me think of it being narrated by Morgan Freeman for whatever reason. Which is a good thing, yeah!
Grammar - I didn't find a single mistake. No improper word usage, no spelling errors, nothing. All stars!
Story - While I would've loved it more if the author decided not to place that last "Blue Screen" of the very first chapter in order to further confuse the reader and eventually result in joyous realizations, the story has surpassed my expectations in every other way possible!
Character - I iz riturd box wit teeth. Ah, I klld sumtingz, I can speak now.
(I think the character is awesome :D)

Title lured me in.
Prologue trapped me.
Escaped by reading all the chapters.
Bravo. '-' Slow claps
The first dozen or two chapters of this story are brilliant. Some of the funniest, best writing I've seen in a while, easily five stars. But after the fight with the dungeon master, after Monotal, it starts going down hill and keeps accelerating downward as far as I read. After a while I just couldn't justify wasting any further time on a story that had already gone from five-star to barely three-star with no hint that it would stop declining.
First the funny part gets steadily less funny. Then the fights become one-sided curb-stomps with no stakes. Then there are literal gods introduced to keep a now-stale plot moving. In the meantime a lot of the litRPG elements that made the first arc cook become background, only mentioned well after they happen and usually only when they become relevant to the plot. We don't even know what skills, jobs, spells, etc. the MC has until they're used in anger, since we no longer see the creature advance. It just... sorta keeps leveling up without any mention of what's happening. Those game elements become authorial ass-pulls that are just introduced the moment that they're used rather than when the MC gets them and/or works on them. Similarly, characters, races, entire nations just pop up as needed with no prior introduction. In a nutshell, the story goes from a well-plotted, well-planned, well-executed horror-comedy to rambling, barely coherent mental masturbation. And it does so very fast. It's clear that nothing after Monotal was planned out all that well.
I strongly recommend that you read this. And I also strongly recommend you stop at Monotal. You'll know when you get there. This would've been an absolutely amazing short story that ends at that point, either with the MC's death or with a vague "And the rest will be told another time" ending like in Conan, the Barbarian.

It had both 'plot', and plot. The characters- while most of them weren't exactly complex, felt real and genuine. I could ride along with the good and be ok with the bad... and then. It happened. Sorry if I sound sour here, but I really enjoyed this story. Emphasis on the past tense.
The author had the main character, a doppelgänger get multiple personality disorder. That... made me cringe. But ok, rapid system fueled evolutions. It's possible those are flawed I guess, and then the author pulls something even worse. They had some jackass god take away the identity that the main character worked to build over the course of several years, and the main character didn't even care. No hint of mental manipulation or any kind of influence, they just didn't care. Which makes absolutely no sense considering their greedy and selfish nature, what they lost was immeasurable. And then... AND THEN, the main character has some idiotic existential crisis bunch of filler chapters and oh oops, it was actually all a video game! Massive time skip and the MC leaves it, wooh hoo yay! Even if I don't mention the plot holes that leaves in its wake that's one of the worst and most unsatisfying endings I've ever seen. I honestly would have preferred a eternal hiatus having been declared before the whole multiple personalities fiasco, at least the story could have ended on a good note.
I loved this story, sadly it ended in Satan fueled dumpster fire.
Tonnes of content. consistently good. A couple too many erotic scenes for my taste. My personal least favourite ending ever. Some people might like it, personally I was very disappointed.

Alright, I usually dont read pornographic stories (they get old, and are rarely well written), but this one tricked me, the grammar was impeccable, sentences flowed like water, and that troll at the start got me laughing internally for hours.
One thing I gotta commend it for is how well written the dumb monster MC is, there are no half-measures, and it is truly... well monstrous and cruel as you'd expect, and for the first chapters it was great, it was different, and although kinda depressing, and dark, it was fun to read, specially with the acid sense of humor of the author.
But them came the side characters (demons), at first it was fine, the vore loving succubus was an interesting sidekick to the as-dumb-as-ambient-temperature-MC, and the sex scenes didn't bother me too muhc, we're talking about a story with a monstrous cruel and more importantly DUMB mc afterall, but them the sex scenes didn't stop, at first it was ok (since the sidekick was a succubus), but they came in sequence, and the thing about hightly descriptive sex scenes is you get a boner on the first one, them they get old, specially when the focus of the story suddenly changes to abusing the side characters.
And then the jokes don't crack me up anymore, the MC get's stale, and the overly descriptive BRUTAL sex scenes, and the ever present DUMB cruelty by the MC, all in sequence tire me out and I feel like my sanity is actually dropping, and here I am making a review.
I read about 115 chapters in the last few days and couldn't get myself to like the novel.
The characters are bland and there is no real story. The author goes too much into explaining the RPG elements and generally explains too much about rather irrelevant stuff. It is also quite slow (story wise).
The comedy isn't my cup of tea and on the adolescent side.
Overall, I just don't care about how the novel will progress and decided to stop reading for now. A bit of comedy and some perverted stuff aren't enough for me to keep reading right now.

fist you see the girl, then the title, and then the yellow "Warning" about sexual content.
doesnt take a genius to understand what this fiction is all about right?
well you would be wrong then.
-----------
a splendid trap, to ensnare the readers.
then the perfect storytelling will simply not let you go.
*clap clap clap*
im ashamed for getting caught so easily, but i dont regret it!
-----------
Style - definetely 5* its one of the best ive seen, and while my memory isnt all that good, i still remember the best ones.
Story - not much yet, but you can see its heading in a good direction, so ill keep it at 5* since i like it.
Grammar - good, normally a 4*, but considering where we are reading this, ill give it a solid 5*
Character - ... i have no words to describe how amazing the MC is, so ill just plop a 5*
-----------
now on to the bad things... yes, amazingly there are bad things:
1. There is a "Harem" tag, it honestly disturbs me, not to mention his brother "Secret Identity" tag, and you can sorta see where it will be going. Hopefully not to shittyvile.
thats it really, and if you actually read everything i just typed, then you get a cookie.