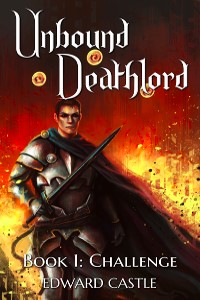 Unbound Deathlord: Challenge
Warning
This fiction contains:
Due to Amazon's Kindle Unlimited rules, I had to pull most of the book content from RoyalRoad.
Only sample chapters remain.
To read a fiction that will never be removed from Royal Road, I recommend my other fiction: Immortal Conqueror.
---
The first two books of the series are out on Amazon:
Book 1: Unbound Deathlord: Challenge
Book 2: Unbound Deathlord: Obliteration
---
Book 1: Challenge
When virtual reality becomes real enough that people feel as if they're being transported to another world, Valia Online arrives.

A man running from his past joins the game to forget it all. Calling himself Jack Thorn, he chooses an undead race, Deathlord.

A mage by choice, and a swordsman by necessity, he soon finds out that he'll need to use much more than magic and steel to survive; strategy, creativity, and carefully chosen words can often accomplish what simple attacks can't.

As the game becomes too real and touches a part of him that he'd rather leave buried, he is faced with two questions:

Who is he, really?

And who should he become?
Overall Score
Style Score
Story Score
Grammar Score
Character Score
Total Views :
126,953
Average Views :
21,159
Followers :
1,445
Favorites :
411
Ratings :
263
Pages :
98

I did not care for the game mechanics or the descriptions of quests, items, combat, etc. I stopped reading after a few chapters mainly do to those reasons.
Style: I didn't care for it myself. It's about average for the site.
Story: I think it needed more of the MC's backstory up front. Checking out of reality due to the MC having issues is not that great of a starter for me.
Grammar: About average for the site. Typos, spelling mistakes, missing or incorrect words for the intended meaning.
Character: Didn't like the MC. Whiny rich kid has issues? Don't we all...

This is some tight stuff. The quality alone makes it deserving of being published. Styling and grammar is high-class, to the point where I'm surprised at how little attention it garnered on this website.
I do love the characters. Especially the MC. He goes from what can only be called a wuss before turning into the cold-blooded badass he always needed to be. I mean, just how can you look at him the same way after he trains out in the forest for days on end, serving on the prey he kills alone?
Good stuff. WIll likely reread soon. Might even check out the next installment