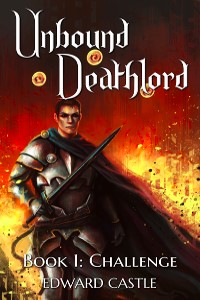 Unbound Deathlord: Challenge
Warning
This fiction contains:
Due to Amazon's Kindle Unlimited rules, I had to pull most of the book content from RoyalRoad.
Only sample chapters remain.
To read a fiction that will never be removed from Royal Road, I recommend my other fiction: Immortal Conqueror.
---
The first two books of the series are out on Amazon:
Book 1: Unbound Deathlord: Challenge
Book 2: Unbound Deathlord: Obliteration
---
Book 1: Challenge
When virtual reality becomes real enough that people feel as if they're being transported to another world, Valia Online arrives.

A man running from his past joins the game to forget it all. Calling himself Jack Thorn, he chooses an undead race, Deathlord.

A mage by choice, and a swordsman by necessity, he soon finds out that he'll need to use much more than magic and steel to survive; strategy, creativity, and carefully chosen words can often accomplish what simple attacks can't.

As the game becomes too real and touches a part of him that he'd rather leave buried, he is faced with two questions:

Who is he, really?

And who should he become?
Overall Score
Style Score
Story Score
Grammar Score
Character Score
Total Views :
126,953
Average Views :
21,159
Followers :
1,445
Favorites :
411
Ratings :
263
Pages :
98

For my personal opinion the author has done a great job with this story. It has a nice balance of plot, character development and pacing. The grammar is pretty good, a few mistakes here and there but nothing major. Plus the author reads comments posted by people usually reply to then and answers any questions asked.
In short the story is amazing and you should definitely read it.
I can't wait for more.  MC is great.  I don't know who voted 1 star but he probably didn't even read anything so.
Good luck!
Writing is solid, characters have depth, plot isn't obvious, foreshadowing. All these come together to make an enjoyable reading experience!
A very good story.  MC is an ass but that means the writing is good when you start to feel emotions.  I am very excited to explore and follow this story.  Well worth the read.
It's a solid little story and I have been enjoying the daily updates. Thanks for the effort and please keep it coming. 
Well thought out, interesting environment, clever protagonist (even if he is irritating).
Awesome read. Quality of a book with almost perfekt grammar and good pacing of the Story.
Can definetly recommemd it!
keep writing!! Sounds like he is going places, cant wait!

Good story!
I will be honest it started kinda slow and i didn't really care for the class, but the author did a very good job roping me in, in the end i liked the story and the in-game setting.
The only flaw other than a shitty class was the MC, the way he acted did not match his upbringing and the skill he was forced to master during his life.
I'm waiting for the second book, i will probably re-read it beforer i start the second one.
Likable MC and quite funny at times. He feels protected by plot armour and grows quickly to have more potential and power than many others. I never got so far as to see his magnificent plot armour in full glory and OPness to the max but I can guess it. I may be wrong but... veeery unlikely in my own oppinion. OP MC is simply not my thing, I find it cliché.