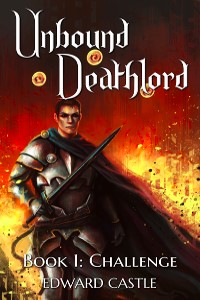 Unbound Deathlord: Challenge
Warning
This fiction contains:
Due to Amazon's Kindle Unlimited rules, I had to pull most of the book content from RoyalRoad.
Only sample chapters remain.
To read a fiction that will never be removed from Royal Road, I recommend my other fiction: Immortal Conqueror.
---
The first two books of the series are out on Amazon:
Book 1: Unbound Deathlord: Challenge
Book 2: Unbound Deathlord: Obliteration
---
Book 1: Challenge
When virtual reality becomes real enough that people feel as if they're being transported to another world, Valia Online arrives.

A man running from his past joins the game to forget it all. Calling himself Jack Thorn, he chooses an undead race, Deathlord.

A mage by choice, and a swordsman by necessity, he soon finds out that he'll need to use much more than magic and steel to survive; strategy, creativity, and carefully chosen words can often accomplish what simple attacks can't.

As the game becomes too real and touches a part of him that he'd rather leave buried, he is faced with two questions:

Who is he, really?

And who should he become?
Overall Score
Style Score
Story Score
Grammar Score
Character Score
Total Views :
126,953
Average Views :
21,159
Followers :
1,445
Favorites :
411
Ratings :
263
Pages :
98
I like you bringing a different start to the 'classic' style of VRMMORPG. Not the first of its kind but definitely a good story. I liked the fast entry to the story at the start. No huge info dump. I like the hardcore style of your game. 27 days for lvl 20. Those days didnt just fly-by. The wolf-bats-chess pieces where some cool mobs. Only thing I'd ask is 1-2 extra sentences for every scene change where you describe a bit more what the character is seeing. Not enough to describe a place once for me. (Got bad memory :( ) Details! Though 1-2 sentences extra no info dump.
It's a good and interesting story. I realle like it and hope you keep writing more author-san!

Generic setting with a VR world and stuff is something I see a dime a dozen on RR but I always like the good ones like Insania Online, Life In A New World, Rebirth Online, and Loser of Tarinath, the quality ones in my opinion. The author does a great job of introducing Jack's messed up past with the "helpful" advice of his late political parents which correlate to useful knowledge so he doesn't get scammed or cheated by the people in the game. The combat scenes are interesting and the comedy is witty and so far has not tired out. The only thing I didn't like was the fact that the beggining was a bit bland before he got in the game because I didn't know why or how he was getting in the game. That was only a minor thing as it was explained later on but I still would have liked it a bit eariler. All in All I love the story and am eager to see Jack win THE CHALLENGE and start pwning sum newbs
This is probobly the best story I have ever read,
the originaliti and the depth in the back ground makes me really want to just steal the whole story
definetly recomend 
read all of this in one go and thoroughly enjoyed it. I will buy this book up to 12 series if it continue this well.
As an avid reader of all things LitRPG I've waded through my share of shit stories to find the golden nugget that is sometimes in there. This story isn't merely a  golden nugget but rather a surprising diamond. From the first chapter to the 23. (which is when I write this review) the story and the depth of the character only gets better. 
So in conclusion. A sounding success for a new author, and a book I would willingly buy on Amazon. 
One of the better stories on my reading list.  Slow right now but I'm sure its because its in the beginning stages.  I would like more loots! He's the legendary spotter...
well thought out plot with an good character progression speed, realistic characters and situations 
I love this story, it has the right amount of action and character growth. It isn't a copy-paste of some of the other stories on the site. If anything could be improved upon, it would be chapter length, but I like my chapters Supppppppppper long. continue doing an awesome job!

I will make it quick.
This is my first quick review.
Just wanted to say that this novel is really great, I have serious fun reading it. <3
Please continue this story, I hope I will make an "Advanced Review" once this story hits 50 Chapters.