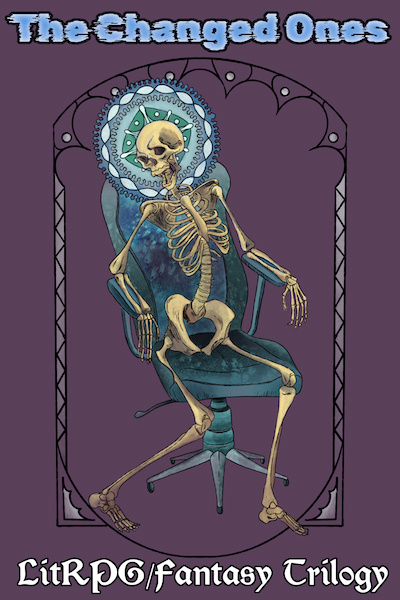 Ancient Books: The Changed Ones book 2 complete (Post-Post Apocalypse LitRPG trilogy)
Warning
This fiction contains:
Is it truly an RPG Apocalypse... if no one can see the RPG?
Generations after the Fall, Mankind has achieved a balance in a world it is no longer the master of. But your prospects in this Malthusian world are limited. Johanna Milton and her friends have an answer: delve into Ancient ruins, avoid Changed beasts and mana pockets, and salvage Ancient materials, collectibles, and trinkets to sell. It pays well if you avoid the perils of the Ancient world.
But when they find the skeleton of an Ancient, their lives take a strange turn. Suddenly, Talents straight out of fantasy novels become theirs. While they try to make sense of what happens, eyes turn to them, to the four who seem to break all rules.
Or are they merely following them? Because, in the Beyond where he's spent 150 years waiting, one dead Ancient knows the truth. Douglas Moore has played those games often enough when he was alive to make sense of the System that rules the Changed world. He can no longer act on his own, but he has access to the Interface. And four people for which he can bring whatever it takes to face the world.
Change is coming.
---
The Changed Ones is a slow-burn litrpg fantasy trilogy (Ancient Bones, Ancient Books, Ancient Bonds) set on Earth, 150 years after the RPG Apocalypse... which mostly failed. It is an homage to the venerable ancient RPGs of the Golden Box era, the Baldur's Gates, and many others, offering adventure where You must gather your party before venturing forth.
Keywords: LitRPG, realistic setting, low-leveling, post-post-apocalypse, fantasy earth, slow-burn, secondary POVs, female primary MC, team adventure, worldbuilding.
Trigger warnings: casual swearing, adult innuendo (no explicit scenes whatsoever, though). Oh, and potentially a bit of politics.
Publication schedule: Tuesdays/Thursdays around 6 PM CEST/5 PM BST/noon EDT/9 AM PDT + Weekends (variable)
Overall Score
Style Score
Story Score
Grammar Score
Character Score
Total Views :
440,427
Average Views :
2,702
Followers :
1,236
Favorites :
259
Ratings :
294
Pages :
1,105

(as of chapter 16)
150 years ago, the apocalypse happened and gamer Douglas died at his computer. Nowadays, society is in a medieval state and daring adventurers enter the ruins of the former cities, braving dangerous beasts and deadly mana storms to find ancient materials to sell. A group of four young scavengers encounters something very strange and soon they notice that they have unusual powers. Douglas on the other hand suddenly found himself alive(?) again, and now he is not only watching out of the eyes of four young people, but he is also able to upgrade their LitRPG character screens! While Douglas tries to understand his new existence, the four try to find out what their new abilities are and why that happened. There is the additional problem that nobody else has unusual powers except for the feared and hated "Changed" (basically mutants).
Style/Grammar: The story is told in third-person style by an omniscient narrator following multiple points of views. The main focus are the four young adventurers, although one of them is seen more often so far. The second focus is on Douglas. Some shorter scenes show other people and what they do in the background regarding the main group. Descriptions are fine and word choice is good. The LitRPG system is only shown in Douglas' POV, nobody else knows about it. It has classes, levels, stats and abilities. All of those can be upgraded by spending experience points and this is the only active power which Douglas has. Grammar is very good, there are only very few tiny errors.
Story: This is an interesting combination of a fantasy adventure story (the group of four) and a LitRPG climb (Douglas). Each is done well and they are combining well. The pacing is very good, there are exciting scenes (fights, but not dragged out; interaction with suspicious strangers) as well as calm ones in good proportions.
Characters: Douglas is unable to do anything beyond watching the group and spending experience points. He was an avid gamer and clearly knows what he's doing in that regard, but he has no manual and no wiki so he needs to learn by trial and error. On the other hand, he still has to come to grips with his apparent death and new existence while wondering what happened to the old society.
The main group are young people who do dangerous work in order to get money for a better life. We haven't learned the same amount about each of them; so far (and from my experience with the author's other work this should be correct) they have different personalities with both strengths and weaknesses, but without going too much into the depth of their psyche.
I've read the author's earlier story and I am a big fan, so there was no question whether I would read this one as well. I do not regret it. It's well written, has an exciting story, and has a unique premise. I can recommend this wholeheartedly.

I don't care much for apocalyptic or post-apocalyptic stories. Post-post? Sure thing.
The premise is a LitRPG in a post-post apocalyptic America where people can't see their stats (nor are they really aware of it). The worldbuilding is really well done, and the characters are awesomely fleshed out. It's magical fantasy, but on the low-key side.
The conceit is that this group of four are being looked over their shoulder by a man who died right at the beginning of the apocalypse when he was about to start playing an ARPG where you controlled a group of characters, flipping specific control between them when needed. So basically, the game he was about to play became his post-post apocalyptic afterlife. Now, as of Chapter 16... other than a few odd jokes and some general observations, I'm not sure why he's a character. He's empowered the group of four, but insomuch as he can't interact with them, from their perspective, it would be no different than an RPG where you have choices (i.e., the choices are made for you). If you cut his perspective entirely from the story, no changes would have to be made to the other characters' perspective in order to jive it. So he's literally not important (so far). And he's not that interesting given that he's an eyeball in a box (or something) (also, a voyeur 🚱). So in that sense, all the stuff in the synopsis about Douglas Moore is misleading: he's not the protagonist; Johanna is.
On another note, the RPG system is super-crunchy.

It's still a bit early and I usually wait for 30 chapters or so before reviewing but this one is well enough done that I feel safe in going ahead with the review.
Style: solid low-magic post-apocalyptic setting and world-building. Nothing truly outstanding here but it feels like the author took an idea (in this case how characters in an apocalyptic game setting would be affected by someone gaming them) that hasn't really been explored much, and then REALLY thought through the implications of that.
Story: not a ton to say here. It's been mostly setup and setting exploration so far, but no red flags there and no sign of sudden left turns into wtf territory. All in all mostly adventuring with a bit of slice of life.
Grammar: I have to commend the author. For not being a native English speaker (think they indicated French in a comment) they do a great job. Mostly it's just an odd turn of phrase here and there, but it is a bit of an informal tone with lots of ands and buts at the beginning of sentences. There are also quite a few run on sentences, but they are surprisingly readable so don't let that stop you from reading.
Characters: Again not a ton to say here since it's still mostly in the setup phase of, but we are getting a steady dribble of backstory and motivations on our 4 (+1) main characters. Although for those worried about too many point of views don't worry it's mostly told from Jo's pov with a few paragraphs here and there to fill in.

There is a system but most people don't know it or can see it.
The story is told from multiple viewpoints but mainly from two sets of viewpoints. The author avoids some of the pitfalls I've seen with this by making it clear whose viewpoint we are seeing.
One character has the system interface and could be considered a GM/Player. He controls EX allocations and skill picks. The other four characters are like the characters a player controls except that they are completely independent of the "main" character. There is no communication to them to the point they have to figure out what new skills they get and how (they aren't always right in their assumptions). It is an odd mix that works really well.
I look forward to future chapters.

This fiction takes place in a post apocolypse. But even Tho it is titles litrpg- not everyone knows the system. Literally only 1 guy in the story knows it. And he is basically a cameo character untill author gives him powers or body or something.
This is the first time i read this kind of novel. And i support you spiritially . And only spiritially as im underage and cannot support to maternally
This story is well written and unlike a lot of litrpg the story keeps moving at a decent pace. There is no getting acquainted for the party members- they all know eachother already, so even that bit of introductory story is skipped. I enjoy both the character and action scenes, and the world building is of good quality without being obtrusive.
However the main gimmick of the story seems to have lost relevance after the initial chapters. Its just an occasional cutaway to a fifth character noone can talk to. He either needs to start interacting with someone or risk becoming a pointless albatross.

OK, my review from the initial set up was waaay out of date.

Overall, I like this. As it said in the summary, the first character you meet is actually dead. He takes up less and less time after awhile, but it cuts between 4 friends and the initial char (and a variety of alt POV of chars they encounter). I think it's a challenging way to write a story, and it leaves us a whole lot less connected to any one (or all) the characters.

The dialog is clear, and lifelike. The sentences all read well and are clear. I hadn't noticed any jarring errors (other than one, possibly intentional, misuse of an idiom). Pacing is good (for certain prefs; I like it, and it's a design choice by the author to pace like this) in that the author nicely juggles action, relationships, rest, humor, horror, mystery/majesty, etc.

So, overall, I think it's well written. Whether you like it will largely be a matter of personal prefs, rather than an issue w/ the quality of the work, I think. As I noted, hopping btwn many POVs means we really don't get a lot of depth on any of them, or get too attached to any of them. But it's interesting, and easy to read.

It's set in something like a (alternate) future in the Northern plains of what today is the USA, qutie awhile after an effective apocalypse.

I'm reading it as much to see what the author eventually does w/ the nominal "main" char (who, up till now, is more of a background process in the world) as anything else. It's not too grim, and the world is interesting.

I would say this story is turning out to be some well written adventure fantasy. The LitRPG aspect is done in an angle I haven't exactly seen before and in a small way might be compared more to stories where the protagonist creates the "System" for the "Players" to use rather than the usual Apocalyptic System GameLit stories you see (and there aren't much of those, let alone good ones).
The setting is very interesting primarily being Post-Apocalyptic in style with Mana being feared as a sort of toxic nuclear waste that creates mutated monsters. The only perspective on the world that is pre-apocalypse is actually sort of a background character even though they get enough of a focus in the story to be a main character and their actions are crucial to the plot.
I do like the amount of character focus the story has with some romance between the primary main characters and a larger focus on how events and choices will effect them and their lives and their place in society rather than being focused on fighting and action so much. It's got the same mix of character drama and adventure that Mark of the Fool has as far as it feels like to me. The personality of the people in the story and how they treat one another is probably a bigger plot point than survivong mutant animals and gaining magic powers most of the time.
A criticism I could imagine this story facing might be that the role of the "Gamemaster" character who determines the LitRPG stat allocations for the main characters could potentially be unecessary for the story, but I would counter that the characters not having direct access to their pwn blue boxes is both interesting and not truly unprecedented. Additionally the Gamemaster's perspective grants insight into what is happening regarding the LitRPG system power progression that the main characters do not have, which is useful for their powers to make sense to the audience as it might potentially be more confusing without that information. Also his lonesome ghost status makes for an interesting character concept as well.
I find no true fault with this story, it's well paced and thus far an engaging adventure story that doesn't rush into event after event without first exploring what has and is happening already. The choices and plot developments all seem to have positive and negative consequences to keep things interesting, and character dynamics haven't been abandoned in favour of constent action and power progression.

Quick and easy up top: I imagine LitRPG readers are not going to enjoy this story for long and that people who don't like LitRPGs would actively dislike that inclusion to the story.
It is truly difficult to enjoy this story due to two factors: the "System" MC has no agency in what actions his "players" take, and the "player" MCs have no agency over their stats, levels, or class. They don't even know there's a system.
What that gives you is essentially one person deciding what four people should eventually become regardless of whether that's what they want. Did I mention that these choices are made without any way to inform the four people what has just occurred? What happens for instance when a skill they've had forever just got deleted because you found a 'better' one for them? Or that despite feeling no differences whatsoever they now have an explosive skill that could accidentally go off?
This story would be better served getting rid of the only thing that makes it unique, which is sad. Remove the system MC from the equation and you at least have a party learning to discover their new abilities after a magical accident. Even if it would be incredibly generic, you'd not be dealing with what is essentially a DM trying to railroad and retcon your life.

While its very early for a review, with an established author i think its warranted.
The story is very original. I dont want to give away its plot. You wont see it coming at all. It will have 2 main POV. Im not sure which of them im looking forward to reading. Both look fun.