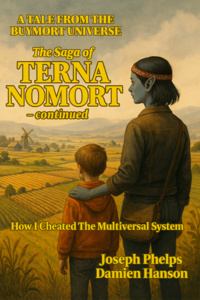 BuyMort: Rise of the Windowpuncher - How I Became the Accidental Warlord of Arizona. Apocalyptic GameLit
Warning
This fiction contains:
Tyson was just a handyman. A non-motivated slacker. The kinda dude that you inevitably find hanging out doing odd jobs at the local trailer park, a couple ragged bucks in their pocket and a jar of change on top of their ancient microwave. That was, of course, until the arrival of BuyMort.

Nanobots of a mercantile sort, the robots of the Shopocalypse, these bad boys set up shop in everything with even an ounce of sapience and installed the only app anyone would ever need to have — BuyMort, the multidimensional monopoly with something for everyone. Priced appropriately in accordance with the market's desires.

For some it was a nightmare. For others it was a travesty. For Tyson, it was the birth of an empire.
Overall Score
Style Score
Story Score
Grammar Score
Character Score
Total Views :
233,136
Average Views :
2,649
Followers :
1,284
Favorites :
284
Ratings :
301
Pages :
948

Strong points:
* Can be fun, and funny
* Random, pretty creative, unique System
* Traces of "Kingdom building" (politics with surrounding areas, recruiting new members, the economy and actual base-building)

Weak points:
* Lots of talking/writing about totally irrelevant stuff
* Kinda weird MC
* Repetitive, and a bit hard to follow
Personally I started losing interest quickly. The novelty of "the annoying shop" gimmick wears off rapidly. The story isn't bad at all, and can be very fun, but ultimately it's not for me. The "quality of writing" is ok, and there are 1-2 memorable characters I like. But it's also very all-over-the-place.

If I had to sum it up, it reminds me a lot of "Dungeon Crawler Carl", the alien chaos gives similiar vibes. (Which will be awesome for people who liked that story. But not for me)

Style score: 5/5
First person, past tense. This is this webnovel's strength, the narration is really well-infused with the MC's personality, quips and humour. It feels unique, distinctive, and fresh.

Story score: 4/5
While the world and the system are awesome, the actual plot starts feeling repetitive, and too chaotic for my tastes. Like random things are happening all the time, while in some other chapters basically nothing happens. It's a bit hard to follow, and doesn't make perfect sense, the plot could be a lot "tighter".

Grammar score: 4.5/5
It's pretty good, but there are mistakes. The prose isn't of the highest quality, but it's definitely readable, and not bad at all. Better than many other stories on Royalroad, but worse than some. Every now and then I come across a sentence that's just weird.

Character score: 3.5/5
This is the weakest part of this webfiction, I think. The characterization is really shallow, especially for important characters like Mr. Sada, we don't know almost anything about them, and they come across as one-dimensional. Even the MC, though he starts strong, starts to lose the feeling of being an actual person as the story progresses. The cast grows really quick, but most of them only get really tiny amounts of focus, and they didn't make me fall in love with them. They're meh. Okay, but nothing special. And I started disliking the MC, as the story went on.

When BuyMort tried to sell this novel to me, and promised me it would help me "survive" in this new reality where you can not exist without a chirpy voice in your head, trying to sell you the "Best articles of the BuyMort family".

As it turns out, this was totally worth it! The novel is amazing with a unique take on a system novel. (EA approved)

At BuyMort, we understand that you had dreams, ambitions, or even a life.
But as per policy, these things are to be discarded for profit and more profit!

Welcome to the family, welcome to BuyMort.

It starts out great, but later it becomes awesome! The unique type of apocalypse is interesting to read. The humour of the story is a major plus point. The action is nice too. It may not be a story for everyone but I feel it is vastly underappreciated.
Overall the book is very great and I heavily recommend it!

Been reading this for a while, but realized I haven't left a review.
This tale is a hoot! I'm only up through Chapter 15, but this has been a riot!
Tyson is a slacker caught up in the chaos of an alien invasion, trying to survive while BuyMort, an interstellar chain store, tries to get him to buy their products to deal with the problems they themselves have dumped into Tyson's lap.
Good action, interesting premise, and a unique cast of characters.

I'm currently up to chapter 8 on Patreon and loving the story so far. It reminds me a lot of Absolute Shopping Addict or Keyboard Immortal, if you know them, but is entirely focused so far on the shopping.

The world is unique, fresh, and completely alien, and the characters are immediately endearing. The MC is clearly flawed but I also found myself immediately sympathetic to him.

I'll update this to an advanced review once I catch up on Patreon.

SOLID humor. Hilarious characters. The True MC is the hidden superpower that is Granny on LSD.
Didn't get that far, but was worth it for the laughs.

Author was cruel a few times with humor on how MC wasted opportunities he didn't know existed just to torment us.
Not sure where story is going given the premise that gets explored in the first dozen chapters, but if nothing else enjoy the humor.

Welcome to BuyMort!
For the low low price of $1,000,000 Morties you're now able to read one of the most entertaining and well written stories on Royal Road for FREE.
If you don't think this is a steal, our nearest BuyMort associate will happily change your mind! Forcefully!
Style - Super entertaining. Very much show, not tell. We're just amping up and our authors have been posting everyday. Their synergy is so high I never realized it was two people writing until I read the author note.
Grammar - The grammar is great. I haven't seen any errors so jarring that I've lost immersion. There may be one or two issues but so far I haven't caught any.
Story - Really good. The easy inclusion of alien life, the smooth explanation of what our MC is thinking when confronted by challenges, and the far left occurences that somehow make perfect sense and the willingess to just stomp someone in the dirt sometimes makes this story great. We have a few Chekhov guns cocked and ready as well, which I'm looking forward to seeing fired.
The last time I felt this excited to read something was when I read The Outer Sphere, by Macronomicon.
Character Score - Our MC is really, really tired of the bullshit and I how that adds to his character. His relationship with his boss and his geriatric cum ge-robotic neighbour Phyllis feels real and organic. Each and every character have their own motivations and personality and while the side characters aren't the focus, we still become invested and interested in them. That to me is a sign of good writing.

Honestly the writng is good, the grammar is good. But I am having a hard time getting into the story. I think it's the way the the author writes stuff like, "didn't realize i did x and it was x. I would find out later." Reminds me of those bad translated novels to much. This isn't for me, but maybe it's for you.

Very refreshing new idea, the shopocalypse. The main character is also pretty okay, even though he's very passive and he's loyal to jerks. Nice side characters.
But I just can't cope with the romantic subplot. Especially if the MC has 15 minutes to avoid catastrophe, and he spends at least half of that being shy, blushing, turning around modestly, excusing himself and so on... I kept on reading, ignoring that, but it keeps going. This seems to become a cringey, funsy high school romance that happens to have a backdrop of abysmal apocalypse. Sorry, but that's not exactly what was advertised :)

I honestly don't see why this is currently hovering just above four stars, this is an excellent piece of fiction.
Don't pass on it cause of that, it's got great humour, an interesting system, and some honestly fun characters. It's a really well written story that I consumed quickly and enjoyed immensely.
Don't miss out, it can be read for the low low price of 0 Morties, What a Deal! 5 Stars!