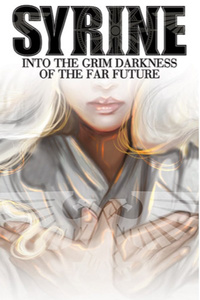 SYRINE - Into the Grim Darkness of the Far future (Warhammer 40,000 / Isekai / Self-Insert)
Warning
This fiction contains:
Gore
Traumatising content
It was the end of the 41st millennium and Warmaster Abaddon's Thirteenth Black Crusade had concluded with the destruction of the Fortress World Cadia, resulting in the Great Rift known as Cicatrix Maledictum being unleashed unto the Imperium of Man.

A mysterious figure named Syrine befriended an eccentric Mechanicus Arch Dominus to reach a certain imperial space just as the Great Rift was tearing through the galaxy. Her mission: to activate a secret psychic beacon that was an abandoned project of the Emperor.

With help from the Mechanicus, she successfully reached and activated the arcane device and in the process came close to becoming omnipotent for a brief moment.

None knew what she had witnessed during her glimpse of omnipotence, but it drove her to risk it all on a great gambit. Utilising forbidden knowledge and fuelled by the massive power surge from the psychic beacon, with her transcendent level of intellect she reached out to summon a solution. Her call went beyond time and space, piercing the eternal horizons between dimensions.

From a place further than the edge of the universe, a single consciousness from a higher realm answered her desperate summon: a gamer geek from the dimension responsible for the existence of the grimdark universe cometh forth.
Overall Score
Style Score
Story Score
Grammar Score
Character Score
Total Views :
92,829
Average Views :
2,443
Followers :
568
Favorites :
158
Ratings :
140
Pages :
320
I make this review chapter 15 . While early in this story, we can already see the potential. This story is the story of a Wargamer, a warhammer40k fan transported in the body of a secret tool made by Big E, his daughter. So we have someone lost in the body of the daughter. While the story is still not really started, What we have is a story that can respond to a lot of theorie and I will love to see what will be the relation between Syrine and the primarchs, traitor or not. While this story could never be considered as canon, the number of theory in the warhammer universe will allow us to have a very good story if the potential is realised.
I only grade the potential and enjoyment I get from a story . I will let other do the grammar.
Very interesting concept to allow an "isekai" situation into the WH40K universe. It reads like excellent SF so far, reminds me of "Dune" and perhaps "Foundation". But grimmer obviously.
The basic plot allows us to have an innately powerful MC, who retains our interest due to a soul-link to our era, and also has insight into "future events" in WH40K universe. So MC has insight and can hopefully plan strategically.
While agree not canon as such, there is wiggle room as (1) the emperor did go back to Terra for a secret project....and the MC could be (part of) that and (2) these events are happening in a genuine imperial backwater. Albeit a backwater strangely "prepared" for a deeply laid contingency plan.
So the story concept is excellent.
Characterisation is interesting - many of the main characters are transhuman, so a degree of "eccentricity" is normal for them. The MC really stands out -and is well crafted, but several others seem interesting.
The plot development and action sequences are also very entertaining. So far there has been good progress in the MC character intro and development arc - involving good introspection and conversational elements (with key characters), this interspersed with several well done minor battle sequences (minor compared to an Honor Harrington fleet engagement).

Among tousands of of novels with xianxia/magic/swordplay, this novel is a breath of fresh air.
Story revolves around
1) MC and her superpowers,
2) fate of empire
3) internal politics of local region
Praise the Emperor for His sacrifice, as He endures so shall we. We who are hunters of Daemons shall strive in His name eternally. We, the Order of the Hammer, shall delve into dark shadows, We shall seek out the tainted, we shall pursue the vilest evil. It is we who stand guard, our eternal watch shall not fail, For we are the Ordo Malleus!
As stated in the title, I am not a huge 40k nerd, but I do know a bit about this universe. I did read some books but mostly about the black legion and the thousands sons because magic and wanting to know what excuse they had for being psychopathic traitors.
I also played some games like Dawn of War I & II, still what kind of greeting the Aquila is and what rank or unit is what is beyond me. Even then, I had a feeling to understand what is going on and the writing style of Wrong40k did the rest to capture my attention and rudimentary explain the important stuff.
Though if you have no clue at all about the 40k universe, then I highly doubt that this is a good introduction into it.
Absolutely hooked on this story so far, only came across it two days ago and have read up until what seems to be the end of vol 1 while the author takes a short break.
The premise is a rather wild tale based in an out of the way star system playing with events around the fall of Cadia, with an individual from our world being taken by the spirit of the emperors daughter to posess her body and help the Imperium.
Nothing outright contradicts established warhammer 40k lore so far but instead plays within the grey areas in a rather fun way allowing some creative liberties to be taken, overall absolutely love all these original factions within the Imperium that have been created within this story.
My only real issues with the fiction so far are some minor grammer mistakes and the short length of the chapters, a lot of the time it felt like I was pressing the next chapter button within a few minutes (maybe im just a really fast reader XD)

The story is interesting with a main character who is a really important person for the WH 40k universe, but the story go nowhere.
You have a new Primarch, a Pirmarch born to be the face of diplomacy of the Imperium. So someone who can legitimately try to repair the broken machine that is the Imperium of Mankind, vital for it's survival in this dark and hopeless future. But no.
The MC is on a world cut off from the light of the emperor by a warp tempest, she will try to survive and create an army, or federe the remenant of what she can find.
And then ? Nothing, it seems that the author don't want to take risk and will never advance, the story is slow. 40k number in millenium of war and intrigue but here we have nonsense plot chapters to build the characters, it's "fun" but this go nowhere. The story is too slow to make any progress in the terrifyingly vast universe that is 40k.
At this rate it will need dozens of books just to exist the warp anomaly. Why create a new Primarch for this ? It's pure waste. A General of the Imperium or an Inquisitor would be so much more adapted for this story as main character. So much potential lost taste like ash.
This story could be Epic but you will need to be contended by a slice of life of a young and naive SuperGirl with comic relief.

It's interesting enough. The protagonist is powerful enough to possibly make a difference, if she can leverage her lore knowledge. The MC is a SI put into the body of the long hidden daughter of the Emperor, with proof to back it up. Some minor plot holes exist. Why did Syrine only do useful stuff after 10k years? Why not grab that one tablet that makes you omnipotent? Figure she would find that one or the Soth Necron device after so long. Or the sticks that make your immune to chaos.

Really there is a lot of forgotten artifacts that make you near unbeatable in this universe, But well there wouldn't be a story if she had.
7/10

Well written, I didn't notice any grammar problems at all if there where even any, the story is compelling, the it actually made me love the characters and care for them even That Boi dude that didn't last long but I liked him already, the entire battle had me twisting and truning on my bed, with my heart palpitating and mildly sweaty palms, Im ready for more!

Protag gets isekai's in the unknown body of the Emperor's daughter, aka a female Primarch, in 999M41 aka by the time Cadia falls and the Rift appears.
The immediate plot occilates between protag getting more than a little flustered by the situation, and body, he finds himself in and the civil war the planet is going through. With a nice springling of age old profesy that fortold of her(his) arrival.
Currently at chapter 36 the civil war arc seem over and we might get to see the greater "world", or at least the surrounding sector...
Since this is a fanfiction, I should preface my review by noting that my knowledge of Warhammer 40K is limited to If the Emperor had a Text-to-Speach Device, various YouTube lore videos, and a couple of Ciaphas Cain (HERO OF THE IMPERIUM!) books. I'm now adding this story to my list of 40K works of dubious cannonicity.
The fun of this story lies in watching a relatively normal, well-adjusted human being experience the madness that is the 40K universe. Since he is transported into the body of
he doesn't have to experience too much of the grim-darkness first hand, but it is hilarious watching inquisators, sisters of battle, and adeptus mechanicus try to deal with a superior who genuinely cares about them as people.
The MC's characterization isn't too much deeper than "nice, normal modern person" (as is pretty typical of isekai stories). However, since she is the straightman of this story, it does not reduce my enjoyment of the story at all.
The first arc of the story has seemingly just finished now, and I'm excited to see what lies in the future!