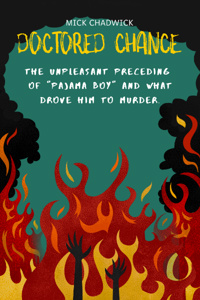 Doctored Chance: The Unpleasant Preceding of "Pajama Boy" and What Drove Him to Murder
Warning
This fiction contains:
Gore
Traumatising content
I, Mick Chadwick, regret to inform my readers that this memoir contains nothing but the truth, which in the case of Tobias MacClain, most ridiculed as Pajama Boy, is far from pleasant. If you seek to relate to a hero more than to aspire to them and have the stomach for unpleasant things such as a hero left for dead, villainous scars, bomb threats, and murderous intent, then look no further. All of these gruesome things and more await from my research, and though I do not wish them on any man or woman, I cannot bear this burden on my own much longer.
In the words of Tobias MacClain himself, "Sometimes, a villainous act can cause the greatest good." I hope that all my villainous acts of sneaking, blackmailing, diary-reading, and grave-digging, among others, will be redeemed as I present this complete and truthful memoir to the world, and with any luck, open eyes to the truth of what we call "villainy".
Doctored Chance: The Unpleasant Preceding of "Pajama Boy" and What Drove Him to Murder
*********
MATURE FILTER IS FOR:
- violence
- graphic imagery (blood, burns, fairly dark headspaces)
- cartoon depiction of burn scars for visual aid
Despite graphics, Mick Chadwick's writing keeps Mr. MacClain's terrible tale light somehow. This is foremostly a comedy.
Overall Score
Style Score
Story Score
Grammar Score
Character Score
Total Views :
6,044
Average Views :
147
Followers :
24
Favorites :
9
Ratings :
13
Pages :
291

This website has dozens of novels about intellectual, morally correct, wronged heroes turned morally good villian getting revenge on the chad-like hero that wronged them. It is one of the most popular subgenres on this website, and in webfiction generally.
This is one of those stories, but digs in deeper to these standard themes than most of its contemporaries But there is nothign wrong with writing in a subgenre if you can find a twist, or excel to the point of the pinnacle of the genre. So far, this story is capable fo doing either and is slowly developing an interesting world lore in the background.
I think a comparison to Worm, which is high praise in my mind is warranted in terms of the moral complesxities and psycological depictions in this story about our hero becoming something in between hero and villian. The more viscerally gross elements of the story are aided - and moderated- by the excellent narrative voice reminiscient of A Series of Unfortunate events. The asides of the narrator and intrusions into the plot created by his digressions are interesting and hint at larger truths in the story, which is being handled quite well so far.
Some of the secondary characters are a bit flat, but this is a story that is a character profile most of all, so that can be forgiven as long as they are fleshed out more as the story continues.
Couple all of this with occasional illustrations, and this is a ride worth taking so far! If you like the down bad superhero walking the line of true villiany, this is a story to watch!

So, I just read to chapter 4 and oh boy. If I had any more time to spend on this one, I would have binged the entire series. Excuse me, why does this stuff only happen later into the story? Or, later into the story might be stretching it a bit. By this point, I could even call it fast-paced with how something intense happening so quickly.
Going away from those border-line spoilers(that I did my best to phrase vaguely), I really did enjoy what I read. Grammar was good as well, use of italics were properly balanced, and the moments spent on character developments were pretty dang good. 5/5