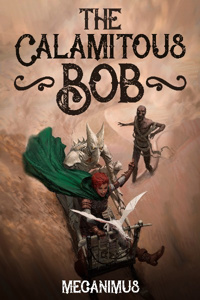 Warning
This fiction contains:
Gore
Profanity
Traumatising content
The world of Nyil, with its monsters, its knights and its mildly sociopathic gods. Come and see! A soul flees and a soul arrives, blessed by luck. Will she survive? Will she thrive? Will she become a calamity?
After all, luck is such a fickle thing.
Overall Score
Style Score
Story Score
Grammar Score
Character Score
Total Views :
442,784
Average Views :
13,418
Followers :
5,848
Favorites :
1,184
Ratings :
1,269
Pages :
432

As a reader from Patreon (up to chap 58), I can tell you this story is going to be a blast. Easily earns 5 stars, which I do not give out often.
I'd mostly class this story as a LITRPG comedy, though there are plenty of sparks, explosions, undead, exploding undead, and crawling clouds of death thrown around to keep things interesting. It can get dark too on occasion, evidently our author has been taking notes from George.
The story is about Viv, Bib, Bob, a soldier, who gets her isekai ticket via a doorknob of a god looking to avoid the wrath of his wife by hiding out on Earth. This means he needs a body, and Viviane is the one that gets picked. Unfortunately, barely anyone knows how to pronounce a V where she ends up, but she's not going to let that stop her building an empire (probably, eventually, maybe?) *Disclaimer, this is not an empire building story.
The MC is smart, funny, and interesting (and totally not a murderhobo psycho.) Her sidekicks, comprised of
are often hilarious, stealing the scene in a way very reminiscent of a certain Sheriff of Nottingham(RIP). This is especially true of
, who reminds strongly of a certain HK-47. They are a joy to read. The antagonists are minor bumps in the road so far, but they provide an interesting local (when chewed) flavour.
World building is fairly typical, but this doesn't detract. It's typical but good, and suits it's purpose as a fine background for the story to be painted onto. The LITRPG is there in all its blue box glory, though it is not the driving force unlike some other stories. It's how LITRPG should be done, providing a vehicle to help the story, not be a means to an end in and of itself.
Grammar can be hit or miss on Patreon (mostly just spelling, sentence structure is absolutely fine), but that is because chapters are sometimes posted without a good review pass. On RR I'd expect the same quality as A Journey of Black and Red, another amazing story by the same author.
The story has style and class in spades. It is well written and easy to read (though I would like a bit more from the viewpoint of the Gods (it's exceedingly rare but fun)).
The only mark I can strike against this is that there is not enough of it. Which is a conundrum. I don't know which I like more, Black and Red or this. And there is only one Mecanimus.
If you read anything at all on RR, read this. Highly, highly recommended.
* There is no spoon.

You can tell a story many different ways, in all different genres. However, the use of the following: Exploration, Progression, Magic, Politics, Religion, Supporting Characters with developed motivations and personalities makes this story appealing. If those are the ingredients you would use to make your story, give this one a shot.
I review at chapter 34 (Patreon).
The story is good and keeps getting better as the cast grows. Every character has an individual personality and so far there are only interesting and believable characters present. No dumb evil, no stupid good.
Dialogues are engaging and witty, world building is great.
Grammar and spelling are above average as far as I can tell as non native speaker.
If you liked Ariane from a Journey inRred and Black you will love Viviane.
Do yourself a favor and binge this as fast as you can, then suscripe to Patreon, binge that too and then stay caught in a net of addiction.
If Journey of Black and Red is the Vampire masterpiece, this deserves to be the LitRPG masterpiece.
It is a story about a capable person going to another world in the middle of a dead empire and struggling nations. I found it to have a perfect balance between the MC emotions and the rational side.
There is no dispute about the style; the story has the right amount of dark, comedy, and emotions.
The story -after reading the patron chapters- has a good and slow world-building. The system is unique without being overly rewarding. The first few chapters have a lot of attributes and skills gains, but that's only on the adjustment period, and you will see it less as the story progress. On that note, I have to mention that MC's unique skills naming sense, which's by itself worth reading for. The characters are not overly reliant on the system, and no system will take on the world, but it's a good representation of the character's growth and strength level.
The grammar is good, especially on the published chapters. It's hard to find any mistakes.
The characters -except the gods in the first chapter- have sound reasoning and background. Again it has the right amount of character growth and a dark theme
In summary, it is a must-read.

Really all you need to know is it's a new novel by Mecanimus, the author of A Journey of Red and Black which, I would argue, is one of the most consistently excellent stories on this site.
But, beyond that this is a funny lit rpg isekai about a girl and her snarky robot buddy running around in a vaguely post-apocalyptic fantasy world learning important lessons about life, love and the acquisition conditions for the Genocidal Manic skill. It's great, you should read it.
I always find it hard to judge a book from its first starting chapters. But I'm fortunate to have read way ahead on Patreon as the story developed over the past months. I can promise you, you will not be disappointed! The story is as much fun to read, as the cover suggest! (really fun cover IMO)

I will be very brief on this review.
The story is about a soldier(Viv or Bob) who wakes up in the heart of a ruined empire.
She (the MC) has a nice personality and cheats at an acceptable level. The secondary characters and their interactions with her are very pleasant.
Grammar is good, with some minor typos.
And explaining the title, I think this story has a lot of chances to reach the top 3 (previously 5) of the Best Rated. So go read it now!
PS: In two days this story went from the top 50 to the top 10, and still continues to climb the ranks!
Finally a MC that knows shelter is the most important part in a survival situation, not water.
Other than that, the story is written by Mecanimus and in the same quality as A Journey of Black and Red.
Its a different story, not nearly as dark as his other story but still just as good.
From the characters to the plot, this webnovel is simply sublime.
No major grammar flaws that would detract from the reading. The authors mastery of wordsmithing is enough to place plenty of rudimentary flourishes that many others routinely fail to empart.
Viv is an enjoyable main character, the only worry I have about her is her backstory that hints at a lack of empathy. Tho with the way she is written right now, that seems to be a passing concern.
I look forward to seeing where this story goes.

I just read the first 6 chapters and I already know this story will be a new top fiction, it's just too good. (I do not read Journey of black and Red, too many vamps)
The initial setting is simple : a soldier isekaied in the middle of a ruined fantasy (litrpg) kingdom, she needs to survive and progress.
A RR classic, but executed with absolute mastery.
The Mc is smart, she knows what she needs to do, and she does it. She is not the snark gamer know-it-all but a human that makes good and fast choices to survive. And she is emphatic, this is not a Mc that thinks she is the center of the galaxy ! She cares about other and feelings. I'm attached to her and the other character way too fast of a RR story.
The style is fantastic. The author has the gift to show us the world that I easily form images of the ruins, the characters, the monsters.
The grammar is perfect. And it's too early to talk about plot and story.
This review is really early but it's just so good to have a new fantastic novel being born on RR.
It's a pleasure to read it, thanks a lot Mecanimus !