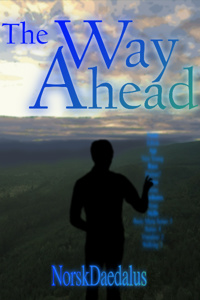 Edwin never really saw himself as standing out. As much as he may have wished to rend the secrets of the universe open at his fingertips, modern-day science was just too well-established, requiring teams of people to push forward even the barest hint of understanding. The days of interested hobbyists making field-defining discoveries were long past, and he wasn't anywhere close to the kind of genius needed to lead a team of researchers forward.
No, he was content to be a mere leaf in the wind, following his classes but never really being inspired by them. If he made some minor contribution somewhere, somehow, that was enough for him. While his dream may have never fully faded, he just couldn't see himself ever making that much of an impact.
Of course, some things you really, really can't foresee. Like waking up in a fantasy wilderness, and having a whole new world of magic, science, and magical science to explore!
Now, he has to contend with a whole new set of problems, from magical predators to those who wish to use him for their own ends, all while struggling with his own insecurities.
Being an Alchemist makes it all worthwhile, though.
Updates Tuesdays and Thursdays at 9 AM PST.
Congratulations! For writing more than 60,000 words in the month of April, you have unlocked the Royal Road Writathon Winner path!
Overall Score
Style Score
Story Score
Grammar Score
Character Score
Total Views :
629,164
Average Views :
7,865
Followers :
3,809
Favorites :
689
Ratings :
1,054
Pages :
737
So many paths... but what do they do? No one knows! Even if you think you do random stuff happens. Meh. Also, I agree that the main character is an idiot, and the storyline doesn't flow logically from the character profile. I feel like the author didn't really think out the magic system he's using and is forcing things to keep writing.

The story is somewhat interesting, and I like the genre. And it's reasonably well crafted.
But the MC is an idiot, and at this point I'm not sure he's not one of the most Evil people in the story. And the world is a mess. Do all the nobility have skills like Break Will? Just all dwarven nobility?
If the various governments around are totalitarian regimes, with stronger control of their citizens than the worst dystopian fiction, I'm not sure the alchemist harvesting ingredients from human bodies isn't a brave freedom fighter.
Whatever. I give up. Good luck.
There are both good and bad traits to this story that I would like to discuss here.
First and foremost, a summary: The good traits are that the system is unique, the characters are distinct, the dialogue is thought and emotion-evoking, the plot is interesting, and the novel is enjoyable to read (at its core).
However, the core issue I have with this novel is related to its length and formatting. The length of the novel compared to the density of events occurring in-universe is far too imbalanced. Typically, we will have one thing happen, such as the main character becoming hungry, but we the reader have to go through at least three to eight paragraphs describing this one change.
It is not described as "He became hungry after walking for two days without food." or "Hours of strenuous hiking over mountains and fighting monsters made him starving." but paragraphs after paragraphs describing how he became hungry, what it feels like to be hungry, his thoughts on how he feels now that he's hungry, how harrowing it was to become hungry, what he could do to not be hungry, and then at least three separate theories on how not to starve to death. To which he will catch himself for rambling, only to continue rambling as he manages to find some strange food and not starve to death. It is as though we are reading a real-time stream of consciousness from this person than a story. We see almost every damn thought and idea.
Now I am ironically rambling on this topic, but my point still stands. Almost 30% of every chapter can be removed and it will not impact clarity whatsoever. And onto formatting, these huge paragraphs of verbal diarrhea make it incredibly difficult to read. Usually you can only see about two or three paragraphs on your screen at once simply because they are so large. Each sentence is stretched as though the author is a high school student trying to get 600 words for his essay. And the sentence structure is often so convoluted that each sentence is layered with meanings to the point that clarity is sharply decreased and your ability as a reader to... well... read the sentence also is impacted.
Besides this, there aren't many problems. It is a good story besides the convolution, and if you enjoy reading the insane formatting, this is probably heaven for you.
P.S. Don't even get me started on how truly and utterly unintelligent the mc is (basically Sheldon Cooper.), not to mention the senseless laws of this super nation.
This was read up to chapter 24 until it become too much to read.
For a setting with such high potential, it is incredibly disappointing how stupidly naive and trusting the MC is when dealing with people. While his first interaction can be excused as a lack of knowledge, the fact that he does it again with the second group of people he meets marks him as irredeemable and utterly lacking as a main character and person in general in comparison to how this story could have gone.
Basically, it is a case of a typical all INT and no WIS build, as in all knowledge and no common sense. Sadly, I do not think it is something could be remedied given the character and motivation of the Main Character, who seems want further interaction with the people and society of this world, vs experimenting in secret and alone to understand the physical and magical rules of this world in uninterrupted peace and quiet.
Even the plan of choice to escape was disappointing since he used alchemical means to get out physically when he has the Realm Traveler path instead to fill out and potentially gain a teleportation skill, which could've been a way to even return to earth.
Positives? Grammar is fine. Highly derivative system novel without any real hook to it. World is bland fantasy, without anything interesting going on. Dialogue and descriptions are enough to keep you reading for a while.
Unfortunately, the absolutely stupid main character isn't going to be killed of and destroys any real interest in the novel very quickly.

What started out great has slowly drifted into what feels like filler content. There's no need for constant action, but there's something wrong when you have paragraphs on paragraphs of introspection and unnecessary detail. Another reviewer mentioned that it had gotten to the point where one could skip paragraphs and miss out on nothing, it seems to have progressed to the point where entire chapters can be dodged with little to no loss of story content.
It starts of interesting, promising a fairly unique take on a litrpg system, and a main character with a well developed personality.
Unfortunately that personality is hard to read. The MC is anti-social, and can be quite naive at times, even stupid. This isn't a case of gripping tight to the idiot ball, its all in character and makes sense for the MC, but it can still be painful to read. You will have to be willing to accept the MC for who he is if you are to get enjoyment from the story.
The story itself starts rough. Well, it starts fine, then it enters a shirt slave arc. Then some minor stuff, before the point where I think the majority of readers will drop the story, the bandit arc. I'd recommend skipping the chapters from where he leaves the friendly adventurer, to until he wanders into the forest outside Vinstead.
If you get past this arc, the story really picks up, and becomes the story that was promised. An investigation of a new, interesting system with an non combat focused MC. Here his personality gets to be shown without being detrimental to the story itself. His social troubles becomes something the reader can empathise with now that he's not screwing himself over by jumping to conclusions at every opportunity.
I've decided to rate overall as if the bandit arc didn't exist, except in the story rating.

The story revolves around a a science student somehow ending up in a magical world. He needs to figure out the game-like progression system, survive and learn magic.
The story is a well written take on the your standard isekai-litrpg with a few twists that make it unique. The prose is easy to read and flows naturally.
The system is unique in the way that people unlock certain path with their actions and each path they complete by spending skill points adds to their class. This leads to possibly unique classes and a very versatile system.
The MC is a young, scientifically minded man, who shows few emotions and is remarkably unperturbed by the change of scenery. His rational and creative approach to challenges as well as his inquisitive mind and use of the scientific method are the most remarkable and enjoyable parts of the story. I am personally partial to stories that explore its magic and make use of scientific deductions.
My only major point of criticism is that the MC is somewhat bland. He is described as an introvert of above average intelligience with few social ties. His most memorable feature is his enthusiasm to explore his new world. I would have loved to see a bit more personality and emotions.
So far there have been few interactions with other people, I can thus not yet make a determination of how well the author can write characterisations and social interactions.
I would recommend this story to everyone who likes easy going litrpg with some survival and loads of magical skills to level.
It's a decent litRPG isekai adventure. The writing, proofreading, and editing are great. The main character is relatable enough, if rather boring.
The story itself doesn't really have anything unique to it, and the author further leaned into that lack of uniqueness by neutering the "infinite skills" style system in the story. He tries to make the main character "smart" and make logical choices. Unfortunately, that means making boring choices in terms of skills and paths and such.
Some people will love that approach, others won't. I fall in the second camp. Sometimes, you just need to follow the rule of cool and have fun with things, and this story fails to do that.
Good and fun story so far. I do not really have any suggestions, but I do like that even the random, nameless side characters feel like they have actually developed power from the "System". Too often stories like these have nameless characters just straight suck, which is pretty awful.
So basically keep doing what you have done. Also SCIENCE!