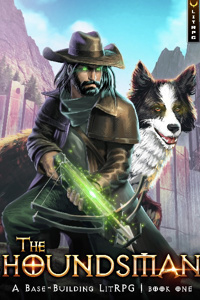 The Houndsman [Base-Building LitRPG]
Warning
This fiction contains:
Gore
Profanity
Sexual Content
The fae are sick of humankind violating their treaties. Their Wyld armies are taking to the field, and the world is at war.
After serving two terms in the Iron Army's Building Division, Flint Woodson is done with it all. He wants nothing more than to find a remote settlement, work as a guard or a builder, and find a wife. Flint doesn't care about filling his remaining nodes with skill stones or wasting his life looking for a class. Wyldbloods like him aren't destined for greatness.
Flint's plans go out the window when the Universe sends him a Life Quest.
Reawaken the Sleeping Fort.
Protect the village of Lea's Slumber.
Give the Champion of Equilibrium time to grow.
Saying no wasn't an option when the quest involved the word 'Champion'.
-----------------------------------------------------------
The LitRPG elements will differ from what you're used to.
Since I'm not a fan of stats, I've devised a node system to go with the story.
There will be some action in the tale, but the primary focus is base-building and raising dogs.
This story is also participating in the [RR Writathon] and has 2500 words at the start of it.
----------
The cover typography is by DragonOfRochester
Check out her story and hit her up for typography work!
Overall Score
Style Score
Story Score
Grammar Score
Character Score
Total Views :
974,300
Average Views :
11,199
Followers :
5,204
Favorites :
1,080
Ratings :
1,375
Pages :
582

In order to avoid spoilers I will not go deep into the plot and focus more on a general review.
I'll be honest, the start can be a little confusing. As a reader I had little idea of what was going on until a couple chapters in, even some core mechanics do not get fleshed out until later in the fiction. This does however tie in nicely to something that I noticed a lot in this fiction. Namely that the author has a way to keep throwing you small, subtle hints (not really foreshadowing) of what is to come in the following chapters that make you want to read the next chapter while trying to think about an explanation yourself. In the following chapters these hints get worked out, nothing goes to waste.
To me it is obvious that a lot of work went into building the fiction before actually writing it, and it is written well. No grammatical errors to be found and any problems I have with the writing are stylistic, something completely subjective. I do subtract 1 star for this as a review is also subjective ofcourse.
The characters themselves have backstory(that doesn't get abandoned straight after introduction!), straight in chapter one you can read history and backstory for the main character at least and in a lesser form for side charactes. Efford has been put into making these characters believable and I appreciate that.
I'll end this by saying that I am extremely curious where this fiction will take itself, can't want for the next chapter!
A beautiful fantasy romp with a manlings best friend cant wait to see how the story develops and how all the characters grow, very impressed with the quality of the writing and the story just seems to flow.
Only complaint is that I cant read the whole thing already.
Theres nothing better than a heart warming story of companship and growth

Well, this is pretty much how it was described in the synopsis for now - in other words, base building - though I had the impression he took the Quest reluctantly, which is not the case. It is going a bit slow but it is building up nicely :) so I don't mind the wait.
The style is ok, while if it can't keep you fully engaged at all times, it's not hard to follow.
The story is looking good and from what I could see everything was well thought out, and I can't wait to see how it goes. I especially like the system here - it's a nice change compared to the usual - and while there hasn't been much on it yet, I find myself very curious on the world and how the various races interacted before, and what brought on the war.
The grammar is not bad, there are some typos and some wrong words here and there, but it's not too bad.
Characters are very well made. Everyone has his own distinct story personality and problems, the dogs too, and he really portrayed them well. I haven't found the so called "2D characters" here.
The novel is still in the beginning but it's promising.
it has a few logical flaws, like how so many different people and what seems to be from over great distances talk the same language, some of the actions taken by the mc is not something i would do, but generally the actions are followed by a coherent logic, not that i always agree with thhe way to come to the conclusion but i can follow the logic to the conclusion and tat is solid.

the story over all is great, with a heavy focus on building up a base and the backstory of how the mc knows how to do it, just very slow and very little detail in the base building so far, hoping that changes but i also know how hard it is to explain how traps and the like works and looks.

the Gramma is not really noticable bad or unreadable, there are just a good deal of wrong words or wrong gender, though not enough to break the immersion of the story.
the style so far looks great and fells pretty new to stories(at least compared to what i normally read) with a cool system of power and how it progress and still easy to understand with the information out mc knows about it(that also leaves out how to expand on it without it looking stupied or breaking immersion)

The Houndsman does an excellent job of taking a relaxing story and making it compelling. You have the Iron Council(human ruling force) at war with the Wyld(a coalition of the fae species and intelligent monsters) at war with one another. Even though our protagonist starts off working with the Iron Army, he isn't some badass warrior/soldier. He's a mid-rung builder. However, his best friend is a dog, he commands respect from his peers and the brass, and he's mean with a crossbow. After 12+ years, Flint Woodson wants to move somewhere remote, build a house, work as a guard or construction worker, find a wife and live a quiet life. However, fate sends him on a quest to restore a collapsing 500-year-old fort and protect a village from where the world's next hero will rise. We don't know who the hero is, or their race, just that they are the 'Champion of Equilibrium'.
Flint gets his class for accepting the quest and heads off on a new adventure. The issue is, he needs to rebuild an entire fort alone and the locals don't exactly want him there (it feels like they're hiding something). The story isn't just him toiling away on a wall, though. Fae scouts and other mysterious forces are about. The slow-build of intrigue (and the minor reveals on Patreon) have got me hooked on the tale. I can't wait to find out where its going.
Grammar: 4/5
The author has a disclaimer that he's writing the story for Writathon and not taking a lot of time to edit. He intends to come back to fix things later, so I won't give him a lower score.
Styke: 5/5
The narrative voice has character and pains a beautiful picture of the world. I thought that would be it. Then the author threw a curve ball and gave us a couple of chapters from his dog's perspective as his class upgrades it. Her journey from gaining self-awareness and questioning the world, to slowly gaining intelligence is fascinating and adorable. Maya is indeed the best girl.
Story: 5/5
Even though its early in the plot, the developments despite the slow pacing have been brilliant. I look forward to learning more about the fae, the great hero 'Lea', and the village she chose as her resting place.
Character: 5/5
Flint is an amazing protagonist. He's good without being a bleeding heart, has a sense of honour, and despite his trouble with connecting to humans, knows how to command respect. He goes from knocking out a panicking superior officer to commanding his company and saving their lives to treating a captured prisoner with respect to extract information from them.
Overall: I wouldn't mind paying money to see this story on my shelves.
Review as of chapter 36.

So far this writeathon entry has been really good, it's a nice easy read with characters behaving in ways that are generally rational and sensible (which is a good thing). It has some interesting twists with some chapters from the dog's perspectives so something interesting to see as well.

The style reminds me of many other excellent pieces here on royal road - good pacing but lacking the eternal cliffs of something like Defiance of the Fall. The pacing and story so far have been entirely sensible with me not wanting to to push faster or slow down terribly much so I'm really happy there. The author doesn't seem to have fallen into the Friday cliffhanger point yet which makes it really refreshing to read.

While this is a writeathon entry and so has less editing than one might wish for the grammar and spelling are generally close ot impecable. I've not noticed many errors and those I have done didn't really impact the story or enjoyment of it.

The characters are developing nicely, I've definitely met people like these in real life. I'm not entirely sold on the dog's perspective chapters but at the same time they haven't stopped me reading so I'm looking forward to seeing how these evolve.

In the grand scheme of things I don't think anyone would regret reading this novel. If you like base building, character development and growth, and a bit of fun along the way then this one will be a good addition to your bookshelf.
An enjoyable story. Logical and understandable basis for the world that we are being introduced to.
If your into dogs and stories involving dogs then read.
I have enjoyed what I have read and want to read more I couldn't put it down from when I started until I now have to wait for the next chapter

The Houndsman stars Flint, a badass, veteran soldier (of the builders department), that kicks arse with the help of his dogs.
The first chapter kicks off in the midst of the action, and we're given a good introduction to a magic system with a lot of originality, as well as hints of where Flint is heading.
Style: The book has a strong voice, with well paced action and good dialogue.
Grammar: It's wel written. There's the odd mistake here and there, as you'd expect from something that hasn't been professionally edited, but nothing that's broken my immersion.
Story: There's a lot to like about a book focused on a home base, and how it expands. The authour's done a good job of foreshadowing future plot points that have hooked me and made me interested in seeing how Flint progresses in the future.
Character: This is where The Houndsman shines. Flint is a well established character from the start. He's respected by the people around him, yet has secrets that would make his life a hell of a lot more difficult if they were to get out. His relationship with his dogs and the way they play a major part in his fighting style makes the way he thinks unique. Side characters feel like they actually have lives, rather than just being plot devices. Dialogue feels authentic.
Overall, a great new book that I think is going to go far. The base buildings done well, the magic system is cool, and I'm looking forward to seeing what happens next.
This is very good. I don't really know what else to say. It's very well written grammatically, the premise is new and refreshing. It would be cool if the dogs had their own thing going for them as well; as I'm assuming there will be more doggos. You should definitely take this the distance.

I love just love this story. I would even say its quite the pedigree.
Theres tonnes of summoners or tamer stories out there, heck theres probably hundreds on webnovel and RR. But theres none that I'm aware of that uses man's best friend and writes them full of character whilst keeping them awesome.
Heck its so obvious that its painful to think nobody would write dogs in such a fun way.
Then theres the main character, hes a little socially awkard, but then again theres a good reason for that. He seems to be a good person but not in a paper-cut out, goody two-shoes kinda way, which makes him seem more realistic in my opinion.
The side characters that support him in this fiction are very well written and don't just fade into the background like they tend to, like a C tier actor in a movie with a holywood superstar. With the authour himself telling me that he OP method of actually basing them on people he knows in real life.
The baddies are also fleshed out, without being generic bad thug.A who does it because he hates the protagonist. So thats another point in my book, because in this novel we have a good balance between the conflicts of interest.
Oh and trust me these people will have conflicts alright because the action sequences are top notch.
The lit Rpg part is also very easy to understand and doesnt intterupt the flow of reading. For I find that numbers can break the immersion of good story-telling and turn it more into a game than a novel most of the time in my opinion.
I was slightly bummed out with how the intricate and intense focus of the base building aspect slightly wanes off as the story progresses. But it was for a good reason so I can only complain into the wind with this one.
Theres literally nearly no spelling errors or jarring gramatical errors as far as i can see. With me spotting like one or two throught the thirty odd chapters I have read here. But then again I was just blazing through because I was loving earvy chapter I read of this great work.