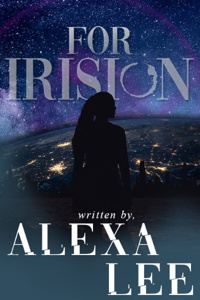 For Irision - Book One Complete!
Warning
This fiction contains:
Gore
Profanity
Sexual Content
Traumatising content
Labeled as both traitors and heroes, Aries and her Space Corps trainee crew try to reestablish their lives after being imprisoned by the Council after disregarding their orders and trying to rescue the inhabitants of a doomed planet.
New chapters every Mondays, Wednesdays and Fridays!
Overall Score
Style Score
Story Score
Grammar Score
Character Score
Total Views :
21,589
Average Views :
204
Followers :
89
Favorites :
18
Ratings :
27
Pages :
791

Someone recommended this book to me. So far I am really loving it. I'm a big fan of first person narration. The trade off can lead to not enough descriptions but it isn't a problem here for me. I find the author was able to establish a good balance. The exchanges between the characters really help set the tone. Through the dialogues, we get a good grasp of the different characters' personality.
The story is easy to follow and moves at a good pace.
This story is interesting enough to please most Sci-fi fans. The chapters move along at a good tense, and the progression of events are stellar.
There are a few grammatical errors, such as punctuation errors and sentence fragments. As some have pointed out, there needs to be a bit more description to make the world and the characters more vibrant. For example, it would be nice to know about the different serv-bots. The settings also need a bit more. I would have liked to have known, for instance, about the building they were in, and why they were eating in the kitchen instead of in a mess-hall, since it seemed as though they were on a military base of some sort.
That aside, the story and the characters are gripping enough to overcome this flaw. I enjoyed reading it.

If you like coming of age stories that have young people going up against corrupt government and dealing with the horrors of war and a broken society, then this is a story for you.
Story:
A crew of drafted teenaged space soldiers disobeys orders to rescue the population of a planet from a catastrophic event. Traumatized and viewed as both traitors and heroes, the crew has to navigate the murky waters of governmental cover-ups and dystopian politics in order to prevent the same thing from happening again. Certain factions will give anything to see that the truth stays buried, and this crew with it.
At its heart, this story is one of coming of age in a society that uses propaganda to hide a dark underbelly of rampant corporate greed, oppressive class divide, over-glorification of wasteful war, and stolen futures. In an age of technology that should allow for ease and luxury, the darker nature of humanity continues to exploit the disadvantaged for cheap and expendable profit. This is a plot that can resonate with the disenfranchised youth of several modern countries and can be used to show the importance of holding true to morality in the darkest of times.
Trauma, violence, and loss are major themes, as are the bonds of friendship and of forging your own path.
Given how important the setting and politics are to the story, I would have liked to see them explored more, especially early on to establish the core conflicts.
Style:
The author uses a framing device of recounting the story from some unknown future point where everything got worse yet and then does time skipping based around the earlier incident that led to the cover-up in the first place. There are a few places where that leads to confusion about the chronological framework of particular statements and also why certain times are chosen to be focuse on, but overall, it's a cool effect to build tension.
Grammar:
Overall, the grammar is fine, except the author has a tendency to miss commas mid-sentence, especially in dialogue. This can lead to some confusing run-on sentences.
Characters:
The crew is introduced en masse and at a point in time where they are very closely bonded as unit. It took me a while to sort out who was all in the crew and what their character traits were, but once I did, I liked all of them. Hopefully, each character gets their own arc focused on them to explore them as individuals more.

For Irision is a wonderful story filled with well thought out details and emotions which make the world and characters feel so real. The way the author weaves all this so seamlessly into the story makes it a joy to read.
Style: The story is written in first person POV which surprisingly works very well here. Often in first person POV you get to know a great deal about the narrator, but little about the other characters. That isn't the case with For Isirion. Through conversations, events, and back story we gain an intimate understanding of the other dominant characters. The only real issue I have with the story is an initial lack of description. This does improve over the course of the story however.
Grammar: The gammar is uniformly good. Only found a few instances where the work choice was a little odd.
Story: The story begins in the aftermath of events which have made the members of Crew 761 traitors and they try to reestablish their lives. The actual events are slowly revealed over the course of the story providing a strong sense of mystery and character development as we see how each member of the crew deals with the ramifications of their actions. The book is represented as a means of telling their side of the story and revealing the lies told about them. There are time jumps within the story which might at first seem jarring, but they end up making perfect sense and are consistent with the book's purpose.
Character: This is where For Irision really shines. Through conversation and events the backstory and personalities of each character are revealed. In the process, we also learn about the world which shaped them. The five members of the crew are represented as unique individuals and the interaction between them rings true to their individual personalities. It's these interactions that reveal the emotional consequences of their actions and how their lives have changed.
Overall: Although I did give Style only 4 stars, my overall rating for this story is 5 stars. I think the exceptional performance in the other three categories more than makes up for the lower mark in Style. If you're looking for a unique sci-fi story with a wonderfuly detailed world and characters, then read For Irision.

Now people, you know what time it is. Time to pour yourself a glass of wine, light some candles, cos next up it's an in-depth review.
For Irison is a YA Sci Fi Space Opera following the Captain of crew 761, Captain Aries, in her quest to bring glory to her people and nation.
Except what I just said was a complete lie and that she and her crew were convicted for high treason against the Council For helping in the evacuation of Irision (Roll Credits,) a mining planet on the verge of cataclysm. Book 1 focuses on the events before, during and after Irision, and shows the mass impacts of this act. Where Book 2 focuses solely on the aftermath of the events of Irision
Now, to the more serious and specific reviews:
Style:
While it may be jaring at first, hoping between different time periods of the event, it paints a rather grim outlook of everything and anything, and underscores a good number of cloak and daggery behind the Irision incident. After Book1, the style of the story returns to a standard storytelling style, first person and a linear story line. My recommendation is to pay very close attention to the chapter name, as it does tell you what time period the story is in.
Story:
As mentioned, For Irision is a story about saving the mining planet Irision, an act which enraged the council, who punished the crew severely. Abandoning the planet and then punishing the crew had broad implications among both the public and even those within the council, starting a domino chain that couldn't be stopped. It's an intriguing level of detail and plot that would make you want to commit patricide on behalf of the crew.
Did I also mention that there's actual f-cking trauma and PTSD in this story? It;'s written in such a way that I'd even consider it research material for actual trauma writing.
Grammar:
No comments. No, really. What do you expect? There's no way to screw things up except for the occasional mistype and stuff.
Character:
The story follows Captain Aries in her asking the question of morality and how when to follow illegal orders. This in addition to putting her crew first causes her to be pretty selfless, and in some way, selfish in wanting the best for her crew, while neglecting her own. One case would be when she
abstains from lovey dovey stuff (JUST F-CK ALREADY!/s)
because she fear that it may impact crew decisions, which, in a logical sense is good, but on the emotional sense... you can see where that is going.
Then there is the trauma of being held in prison and suffering during that period of isolation and interogations. She tries to find ways to cope and has some levels of success doing this.
All in all, you'll find yourself falling intrigue with her.
Conclusion:
For Irision is a story that you should read. Everything is well thought out and the plot will make you want to kill everyone in the room and then yourself. Do take up For Irision and follow the adventures of Captain Aries and her crew.
For Irision.
No retreat. No Surrender.

I don't have much to say about this story. It's good. Above-average even. While there might not be much going on throughout the first couple of chapters, the build-up shown throughout it is more than what any reasonable person can ask for.
Kudos for the initial start. Personally see it as a grand thing, showcasing just how much it would develop itself to be. There has been rampant use of Chekov, and I love it very much. Would recommend outright from that.
But the characters need to be mentioned as well, hence why the title itself is about them. They are teens, they are young, and... they have survivors guilt. They have survived a traumatic experience and have become physically and mentally because of it. Yes, that's not the most original plot line. But this story does it realistically. I can read about the problems that they have from their experiences and believe that an actual person can have the very same reaction. Sure, it might not be entirely accurate to reality, but it's accurate enough to draw you into the story.
Overall a five out of five. The setting itself might not be my cup of tea, but I can see the creativity put into it nonetheless.

I thoroughly enjoyed the start of this story and it only continues to keep me intrigued and expecting more.

The style/story: This story struck an emotional chord with me, mainly on account of the sheer sense of depth that supports the characters and the world. Not a fan of first person POV but, with an impressive description of character's appearance, thoughts and actions together with simple story telling, readability level is excellent. So first person narration works very well here except there was some part when several thoughts were written simultaneously and I had to reread it to be clear.
Grammar: the only part that needs a little more polishing is grammar here. Try to work on some weak adverbs, try to use them sparingly in your writing. In creative writing its preferable to use stronger verbs instead of adverbs or omit them. Also, you can enhance your readability if you reduce using glue words overall in story, like: that, do, too, were, what, about, until. There are also some spelling/grammar errors that should be dealt. Maybe try some grammar checker app and story quality will be greatly improved.

Characters are greatly described starting from first chapter. And those descriptions make reader intrigued what were the backstory events that shaped them this way. Through conversation and thoughts and flashbacks, their personalities are revealed. Also, we learn about the events that shaped them.

Honestly there isn't much I can say beyond what was already said, I would encourage anyone to read it as it is really good.
(Spoiler Free)
Grammar: Was good and even if there were mistakes here and there, they never really detracted from the experience and were quite rare.
Style: I'm not really a fan of first person POV's as they are quite hard to write. However, when done well, like in For Irision, you really feel like you are experiencing the world together with the POV character. The only negative I can say is that I did get lost when multiple people were speaking at once and had to re-read some parts. This problem was solved later on and only the dialogue in the first few chapters through me off.
Story: The story starts as the main characters are branded traitors, technically true even if it was morally the correct decision, and have to try to find their way in the world again. I liked the story mainly due to the mystery and more importantly the character development. The worldbuilding itself is also great and there is a lot of 'show, don't tell' where the reader has to piece parts of the world themselves.
Characters: Each character is slowly build upon and expanded but more importantly, they felt realistic and their struggles were really well presented. I was impressed with how well the interactions between the 5 characters were juggled and the fact that each on was more or less their own person. The way they deal with PTSD and so on really highlight that the sould of this story is the characters.
Overall: I would solely recommend it for the scifi parts, as there is a lack of good scifi stories on RR but the additional amazing characters and gripping mystery are just the cherry on top. I definitely recommend the story but do keep in mind that you will be depressed while reading it.

Underpromise, overdeliver. That is my motto, including but not limited to when I write a review for swaps. But sometimes, there are instances that I couldn't do just that, and here is one of them.
For Irision is a story of Aries and her space corps team. It's captivating, teasing, and punched me in the stomach with thousand butterflies just by the half of its opening. The author know how PTSD work. Know know.
It haunt your dream, it color your perception, it made even moment of levity, of fun that should be spent with friend, with families in joy, in happiness, and in content, filled and filled with dread. And you couldn't help but notice a question repeating in your head 'what bad thing would happen next?'(see chapter 5)
Reading the story made me remember my bad days, not that because the story isn't written well, opposite of it, because it's so well written, it trapped you inside with its immersion. It told and reflects in all honesty how those dark depressing days passed for us who had the misfortune to experience it. Which is apt since the main character and her team were involved in a planet-scale calamity. And instead being rewarded for saving who could be saved, for exhausting all available avenues that consent oneself to conscience, they were forgiven instead. As if the row and row of saved souls, innocent and begging, worth less than a sliver passage of unflexible law.
The characters, the style. For the main characters there are no question about it. The author thrice triggered me when reading it, The only reason I managed to finish until chapter 7 is because I read it in three sitting and for the last sitting, I just woke up. And the bad emotion in my mind still being kept checked by after sleep glow.
For other characters though, I found it a bit difficult to parse. Mostly because the author introduced several speaking characters at once with minimum description. Since until the end of first arc (2 weeks after) we mostly given perspective of the MC inner thought, the fragment of personalities that could help identifies one character from another felt a bit short.
The story. What I love the most about the story are the details. The bits and bobs that shown little by little to give shape to the world. Like the intake days, the 'Draft vs Volunteers'. It didn't feel forced and showed the author's control of show don't tell. The only nitpick I have for the story aspect is the pacing, and that really stretching it. However, in my opinion, while the first chapter is nice for setting the mood, the second one seems to me just a tad bit extending the inner turmoil too long.
Grammar as always not my specialty. I noticed one, two typo or missing conjunction, however it's nothing major and just need a fresh eye for proofreading.
To summarize, the story is gripping in the right way and of course recommended. Just word of caution, warning tags exist for a reason.
***
Disclaimer: This review was created as part of the swap with the reviewer story — Tales of Unlikely Wizard in accordance with the Royalroad Rules regarding Review Swap. Reader discretion is advised.

[Spoiler-free! Foreword: I agreed to do an advanced review with the author in advance, but this does not affect my scores in any way :) ]
This is a very interesting story, and extremely impressive especially considering the short timespan in which so much was produced (for the Writathon challenge)! One thing I can say for sure: stick with the book. It has a slightly clunky start (totally understandable), but gets its footing fast, and keeps building and getting stronger. With a large cast of characters and an entirely different universe in-place, this books takes time. I'm definitely going to read on; it's a rewarding read that isn't immediate gratification, isn't immediate on the worldbuilding—it focuses on character at its core, which differentiates it from hardline sci-fi, though this is more YA sci-fi. It's a promising story that will only get stronger and stronger; I highly recommend if you're a fan of YA sci-fi! (Or the general YA genre!) If you like books like "Ender's Game" (Orson Scott Card), "Zodiac" (Romina Russel), "Cinder" (Marissa Meyer), and/or "Illuminae" (Time Kauffman/Jay Kristoff), check this one out. Or just see if you like it! It's a lot of fun.
Characters:
Best part right here! Love the characters <3 The more time you spend with them, the better you understand them. They each are dynamic and varied, with strong personalities and voices! It's a challenge to differentiate them all at first because we see them all at once, but as we learn more about them, we realize their backgrounds. (Penny in particular has my heart). Flashbacks help readers see the evolution of the characters and give a lot of depth. They're realistic, mature, and strong—characters that you want to root for. They're the core of the story and are such a wonderful team with even better chemistry—if you want to see how a group is written well, check this out, and keep reading.
Story:
Light on the sci-fi elements. It's very entertaining and not bogged down with worldbuilding or exposition; it is a slow build (which I prefer). Many questions at the start, but no sudden hook or pull. It works to the story's benefit, though—it primes readers to get ready and strap in. There are a ton of story elements that will definitely come into play: main plot, subplots; a lot of opportunities here. It has an interesting hook and a story beneath that hints at revolution. I'm curious and excited to see where it goes!
Grammar:
Good! A few errors here and there, some repeated. It was mostly superficial though; it didn't entirely hinder my reading, but there were enough for me to notice. For a casual reader, it's hardly noticeable though! Sentence structure is varied and speeds/slows when needed.
Style/Prose:
I'll be honest—this is probably the weakest of the general classifications to grade upon on strict writing style alone. However, as a draft (and keeping in-line with this being for YA), it's still strong. My biggest issue is that the story did a lot of telling, not a lot of showing. (This can be a personally subjective point, but) readers can generally infer and gather clues rather than being told explicitly how Arie felt. I'd love a little more individuality and style; if this is a space story, maybe more flair in the descriptors all connecting back to stars, steel, space, etc. Or more personality from Aries's own perspective interjected into the descriptors. Dialogue flows very easily, and characters have great chemistry. POV was perfect choice—see below.
POV (under style): 1st-person limited, extremely fitting and smooth. I didn't even notice that I was reading it from a 1st-person perspective until I double-checked, ha! It works to the story's benefit, centralizing Aries and her experiences. She's the anchor in which we view the world, and she's a very strong character; a good one to centralize. POV is the perfect pick for the story and definitely bumps up the style score :D
Setting:
Minimalist, but just enough to be understood. Part of the fun of having a wholly new environment/universe(s) is the chance to build everything from the ground-up. So far there seems to be amazing groundwork to grow from, so I'm excited to learn more! It's harrowing and sad, but the characters aren't broken from it. It only makes them stronger.
Cover:
The cover's extremely well-done! :D I adore the text with the Alexa Lee on the bottom with the cuts; that's super cool. I'd maybe make the 'For Irison' a little bit of a lighter shade of gray, but it's a gorgeous cover!
Highly recommend; check this one out :)