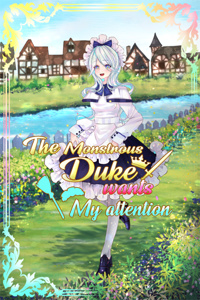 The Monstrous Duke Wants My Attention!
Warning
This fiction contains:
"Hey! Make that dish again! I'm not satisfied yet."
This man is the master of this house, and my employer is infamous, "The Monstrous Duke".
He is known for his cruelty and abnormally strength that even the monster fears him.
He is the person who kills anyone without remorse and is not hesitate to do so.
I, a pro-gamer, who got transported to this fantasy world filled with magic, turned into a girl by the goddess, on a mission to save this world from Its destruction, somehow ended up working as a maid for this man.
His first impression fits his notorious title, "The Monstrous Duke" very well.
The first time we met, he's pointing his sword at my throat!
And right now, he's sitting impatiently, demanding more food?
Hah, while the world is going down, I'm stuck here with this child in a man's body, cooking him a meal.
Overall Score
Style Score
Story Score
Grammar Score
Character Score
Total Views :
1,339
Average Views :
223
Followers :
22
Favorites :
2
Ratings :
1
Pages :
60