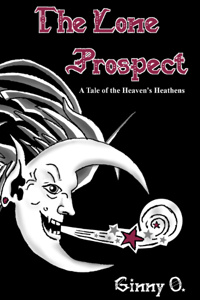 New rules. New girl. New home. Ex-military and werewolf, Gideon Vonrothe is looking for a place to belong. His first and last hope for a pack to call his own is the Heaven's Heathen's Motorcycle Club. Being the new prospect isn't going to be easy.
Rebels with a cause, the members of the Heaven's Heathens motorcycle club regularly risk life and limb to rescue those in need, all to protect their greatest secret, that they're all werewolves. Now a new member has petitioned to join the pack…
The Heaven's Heathens are supposed to be a big bad motorcycle club, a brethren of tough as nails hard asses. Formed out of necessity after the Cascading War, the Heaven's Heathens have the reputation of being the toughest sons of bitches in Colorado. Their membership filled with those that have little use for society's rules and pay lip service to laws outside their own. Insular and hierarchal, a new member can throw off the entire group.
And they're Gideon VonRothe's last hope for a life that feels familiar or else he's resigned to go back to the family farm. He doesn't know anything about the Heathens, or motorcycle clubs. He doesn't even own a motorcycle. An outsider, ex-military and unsuspecting sucker, Gideon is the latest victim of the Club's brotherhood appeal.
Vice President Savannah Barker knows better. The Club is a bunch of party loving, thrill seeking adrenaline junkies with a nose for mischief. Their idea of playing hard is a good brawl and involves the words trigger happy lunatics. Her Grandfather, Brand, President of the Club is the worst of the lot.
It's the officers' jobs to keep the rest of the world from find out that they're more than a group that loves motorcycles and explosions. They're werewolves. The Club is the pack and the pack is a family with siblings that squabble. Their outlet is Heaven Has Mercy, private security for hire. No wars. No assassinations.
Before the new prospect can change the rankings, Brand sends the ignorant Gideon on a rescue mission under the supervision of Savannah and her team. Soon the bets are flying on if Gideon has what it takes and how long this lone prospect is going to last. The routine snag and drag turns complicated when it turns out the client lied, and an attack on their home turf makes some believe that the new Prospect is involved. The Heathen's have a responsibility to the man they rescued and their reputation is on the line. Is this a new beginning or the beginning of the end for the Heaven's Heathens?
Overall Score
Style Score
Story Score
Grammar Score
Character Score
Total Views :
1,272
Average Views :
49
Followers :
4
Favorites :
0
Ratings :
0
Pages :
397