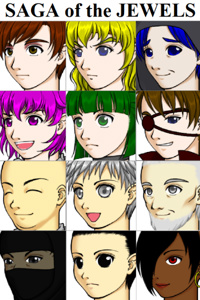 JRPG-influenced epic progression fantasy!
A fan novelisation of an amazing Final Fantasy game that doesn't exist, that releases one chapter a month.
When Ryn's hometown is destroyed, will he be able to gather together the twelve Primeval Jewels in order to defeat the evil Emperor and save the world of Mid?
*
Quotes from reviews on other sites:
"This story captures that Final Fantasy quality perfectly. Kiddy but also grim. The characters are great... Severely underrated and needs more favorites/follows. I look forward to seeing how this story will unfold."
-Ferdinand von Igor
"Starting at the end and jumping backwards is not a writing style seen every day. I'll admit, I was a bit skeptical at first, but you've executed a fairly crazy idea very skillfully so far. Overall, a strong start to what could be a very strong story."
-RandomFF.netUser
"You definitely have my interest piqued. It'll be interesting to see where the story goes... It definitely has an 'old school Final Fantasy' type feel to it, which I appreciate...Good job! I am glad you are going into more details about the story you laid out in the prologue...of course the big burning question is 'You know they lose in the the first chapter, so how will they end up winning?' That of course, is the story you're writing...so we'll see how it goes! #Following."
-KyleQuicksilver
*
If you enjoy it, don't forget to boost Saga of the Jewels on topwebfiction.com!
Overall Score
Style Score
Story Score
Grammar Score
Character Score
Total Views :
998
Average Views :
67
Followers :
3
Favorites :
1
Ratings :
1
Pages :
252