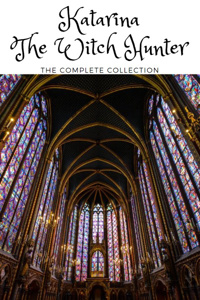 Katarina the Witch Hunter: The Complete Collection
Warning
This fiction contains:
Katarina is a Witch Hunter, a free-ranging bounty hunter seeking out Witches, unsanctioned mages for the theocratic Anglish Empire; the empire of the Golden Lady, Goddess of the Dawn. Allies and enemies alike lurk in the towns, cities, and very forests of the continent where Katarina plies her trade.
This collection contains all nine books previously separate.
Overall Score
Style Score
Story Score
Grammar Score
Character Score
Total Views :
39,838
Average Views :
306
Followers :
55
Favorites :
16
Ratings :
11
Pages :
1,810

What can I say about Katarina Witch Hunter? It's a very gritty fantasy with Judge Dredd atmosphere. It's non-stop mage chasing action, with a nearly fanatically dedicated MC who flaunts lesser (and the occasional higher) authorities, all in the name of her Calling from Goddess and Church: the hunt of rogue mages and magic welding beastmen. Katarina knows what she is here for, knows she is good at it, and just wants to please her Goddess and make the world safe for the greater glory of the Anglish Empire. There just may be more to serving Goddess and Church than she anticipated.
This is my second time reading Katarina. The first time was reading Books 1-4 as individual fictions. This time i am reading. Aside what I might consider questionable morality as defined by the Goddess, I have few issues with the story. The characters are well written and consistent. The story and worldbuilding are intense, consistent, and very detailed. I'd love to see the story bible for it.
Style. There are a few issues with POV transition within chapters, but hey this is RR, not a traditionallypublished book yet. There is a bit of profanity, and an openness about sex that might offend or worry some readers, but, this is a mostly frontier setting (for now), so neither is entirely out of place
Grammar. There are a few issues here and there, but overall less than one person chapter. Given the circumstances and setting of the, actual grammar issues versus intentional grammar faux paus necessary for the story is non-existent.
Character (see above)
My final word: More people need to read this. You won't hate me for recommending it.