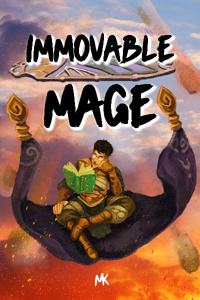 Warning
This fiction contains:
Gore
Profanity
Traumatising content
What do you call a mage incapable of casting spells? In this story, we usually call him Terry.
When the boy is accepted into Arcana Academy, his talent in the pillars of mana foundation awes everyone. All the bigger is the eventual disappointment when Terry turns out to be an utter failure at spellwork.
Diagnosis? Major aspect impairment. No cure. Ever.
Faced with expulsion, Terry is blessed with the unexpected kindness of others. Terry loses his spot in the Academy but in exchange, he finds a home with a family.
Terry starts to train as a pure mana cultivator but never stops looking for his own path as a mage – day after day, season after season, always searching for compatible spellwork…
Until finally, Terry's perseverance earns him a single spell – the only spell he will ever be able to cast.
---
Disclaimers:
Chapter frequency: I aim for one chapter a week.
Chapter length: I try to keep chapters between 3000 and 6000 words.
Binge preference: I plan for 30 chapters per arc. If you want to binge a complete arc, then that is the number to wait for. I will also add a line to chapters indicating the beginning and end of an arc.
---
What to expect:
Progression fantasy with a western fantasy setting and with eastern fantasy elements.
A main character that is forced to explore a very narrow path of magic due to a permanent condition.
A main character that is a part of a larger cast.
A main character that is growing, but won't become the strongest around anytime soon.
A story following a single main character but with introduction or theme setting scenes without the main character.
---
What not to expect:
Edgy grimdark characters – I will never write a sexual violence scene or gory descriptions of torture. I hate reading it and I would hate writing it even more.
Romance – romantic relationships will never be the focus of the story and only appear in the background. The main character is preoccupied with other stuff and it will not come up. Other forms of relationships (family, friends, companions) play a bigger role.
---
Cover: The cover art was commisioned from redditor Linh-Nguyen87.
The font is alita brush by Inovatype Typefoundry.
Overall Score
Style Score
Story Score
Grammar Score
Character Score
Total Views :
99,087
Average Views :
2,541
Followers :
857
Favorites :
135
Ratings :
188
Pages :
549
I greatly enjoyed reading about the characters and their development as well as the world they live in. The characters start out one-dimentional but develop and grow into more than that. However I so think it has some issues:
1. Some scenes can get messy which makes pacing and clarity on what is happening suffer. ( My advice to the author: try spacing the paragraphs out more and if possible make them smaller but more of them )
2. We are (as far as I am aware) never given any proper information on appearance and age of the different characters only such descriptions as old,tall,short,sideburns,beard .Which makes it hard to get a concrete image of them. It also makes the Image I have in mind seem a bit incongruous ( the young dwarves have beards but act like fifteen-yearolds !?)
I've enjoyed reading this story. I think the characterization was good, and I enjoyed the plot and worldbuilding as well. I think the magic system was especially well done, and the brief depictions of dwarven culture that we get didn't make me cringe like many other attempts at fantasy worldbuilding tend to.
There are only two main points of criticism that I would have to give. The first is that the beginning of the story is rougher than the rest, especially when it comes to the first few chapters. I tried reading the story a few times before and dropped it, but now that I've read it all I don't regret doing so. The second criticism that I have is that I think the summary is a little misleading. In my opinion, being limited to just one spell didn't actually seem to be too much of a handicap, but rather was mainly just used as a way to get him kicked out of wizard school. We see some creative uses of the spell for sure, but he has other options available to him. He does have some progression though in that he is able to find ways to augment the use of his one spell, but that progression tends to be somewhat slow.
In the grand scheme of things, I think my two criticisms aren't really big problems. I enjoyed the work, and I would recommend this story to anyone else who might be interested in a good adventuring story.
As my title says, it's a fun read. I like the characters, they feel real and have some nice dialogue. There's occasionally even a surprise or two, where characters didn't develop the way I thought they would. The setting feels consistent and like there is a lot more to see, somewhere out there in the grander world. There are some pacing issues (particularly info dumps near the beginning), and the occasion sentance that just flows in a very weird manner. Oh, and maybe it's just me, but I don't have a very clear visual picture for a lot of the characters. However, this issues didn't stop me from enjoying the story. Oh, and sometimes the dialoge could use a clarification of who is speaking, when there's a lot of back and forth going on all at once. With all that said, I still look forward to more! I think with a small amount of revision this story could become one of the trending stories on the site. Makes ke wish I had read this story with paper and pencil nearby, so I could have taken note of the funny sentances and other little spots that were a bit rough. My apologies to the author.
There are some interesting parts, but the story gets lost. There are two major issues for me.
One, the amount of info dumps is excessive. The author trys to explain the world so much that the story feels like an add on. A lot of information isn't that critical to the story when it is being introduced and the rest can be shortened.


Two, the writing style could be improved, by which I mean, the way the author constructs sentences and paragraphs. As it is, the writing seems a bit inefficient and ineffective.

Way, way, way too much info dump, you could condense that utterly excessive prologue into like two chapters and still get the same point across. It was a complete slog to read. Some people like that but most people don't. I suggest refining your style a little, and focus on writing less words but putting the same amount of data into them.

Normally I don't review anymore due to being harsher in my reviews and opinion. Reading up to chapter 30, I'd say I would recommend.
only giving a normal review without much effort, so sorry author...
I am giving this novel a 5 star because I felt strong emotions near chapter 29-30 and the entire story had good logical development. I loved reading the entire time and I really appreciated how there were few to no grammatical errors that I could easily find. Made for a good read and I honestly can't find any fault with the entire novel. Even the characters I didn't like, I understood and wasn't thinking 'Please Kill This Character. Now.' Instead, I thought 'huh, stupid kids/teenagers.'
Again, would recommend and loved reading this entire novel, thumbs up to the author 👍
I was kinda prepared for another "I was handicapped from pursuing my dreams, except the handicap makes me incredible at the best subset of said dreams and I'm actually the best in the world but I also have it so tough and others can't imagine my pain".
It's not that.
Looking forward to how the next arc will go :)
Some criticism though, combat scenes can get very hard to follow, as perspective isn't locked to one person. This also compounds with the combat scenes kinda flowing into each other, the big ones are not brief and can contain 9+ characters fighting on one side.
Finishing note, there is no HP/Damage number system afaik, the progression isn't "system"-bound either.

I need more before I can really make a statement on the quality of the work. But I find myself desiring more so that's a good start. No major grammar or plot problems I have noticed and I didn't look close enough for the smaller ones but there was nothing about the writing impeding my reading. I'm am looking forward to more.
This starts as a story about a child that knows nothing about life and we literally grow with him and go down a rabbit hole. By the end of the first arc you are entranched and captured by family dynamics, questions about the magic system and the main characters hidden aspects.
Sure it could be polished a bit but in the important things it is really doing a nice job.
I really recommend reading more than the first chapter before you decide if this story is for you or not!
I am thoroughly enjoying this novel. The pacing is good. A nice mix of action and learning chapters. The magic is creative and somewhat logical and you get a sense that it can be fleshed out more. The MC is young and makes errors that a youth would make. There are varied support characters that develop along the way. looking forward to book 2.