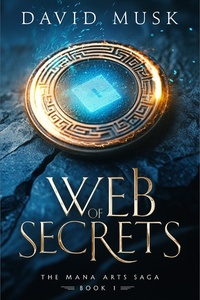 Web of Secrets [Modern Cultivation]
Warning
This fiction contains:
Gore
Profanity
Traumatising content
Mana Artists rule the world, and the path to power is a well-kept secret, restricted to state-approved programs and universities.
Akari Zeller will never be a Mana Artist. Not if society has its way. She's a Bronze with no money, no family, and no connections. But technology is advancing too. And to a skilled hacker like Akari, no secret is safe forever. The dark web holds the keys to true power, advancement, and her only chance of survival.
Overall Score
Style Score
Story Score
Grammar Score
Character Score
Total Views :
196,512
Average Views :
5,039
Followers :
2,273
Favorites :
374
Ratings :
479
Pages :
310

The concept is intriguing, along with the maps and character profiles. I also have to comment on the book cover because I absolutely love it, and it looks professional. I commend you on your worldbuilding because I think the first chapter really introduces the tone and setting of the story well. You established the inner and outer conflicts that Akari is going through, from being alone to struggling to live in a society where they perceive her as feeble, weak, and of lower rank/class. I'm interested in seeing how Akira evolves and seeing more of her emotions during each encounter and situation. As the story progressed, we got more and more of her personality, which I enjoyed immensely. I didn't mind what happened in chapter two because that only sets it up for her to have more growth from thereon. I would say if you love worldbuilding and defying the odds stacked against you, I'd say check this book out!
Web of Secrets is like the love child of Street Cultivation, Mother of Learning, and Cradle. I love all three of these stories so I think this is high praise. If you don´t like these series still give it a shot! It's not a copy of them by any means. It just reminds me of them and is the best comparisons I can make but rest assured it is it's own work.
Style: We´re still early on in the story but I´ve rarely seen exposition done so well. The way the author is slowly rolling out the history of the world, the magic, and the plot is just inspiring. He provides just enough information at the right intervals to keep everything interesting and the plot moving forward without information overload or forcing it. There is still a lot of the world that is unknown to the characters and I'm looking forward to discovering the world with them.
Story: I included a lot of story elements in the style section and I won't rehash it here. There are really interesting story elements that I really enjoy. The author has done a good job of steering the characters into doing what he wants for the story while maintaining the illusion that he isn't in control of what they're doing. There are some really enjoyable hacking scenes which as someone who has very limited knowledge of was very enjoyable.
Grammar: I usually have to mentally correct errors constantly when I've reading online but that wasn't the case here. If there are grammatical errors then they're the sneaky kind.
Characters: We're still learning about them but they seem to be 3 dimensional people who have actual wants, needs, backgrounds, and plans for the future. Even characters that have very limited screentime are more than they appear at first. As I stated earlier, but it bears repeating, is that the characters really feel internally consistent and they do things because it makes sense for them to do it not because it is necessary for the plot.

Like almost every other rewiev has said; the worldbuilding in this novel is awesome.
The way things are explained makes the reading enjoyable while still giving enough information for a solid mental picture of the story's society.
I see a lot of potential in this story and so far it has not let me down.

Overall: This is an extremely enjoyable read and one I would recommend. Like all readers who find a great novel like this to read in it's early stages the only real struggle is the small amount of chapters :D.
Style: The flow is great and the format is well done. Very easy to read, understand, and follow along.
Story: There is a ton of world building that I feel we don't know yet, but overall what is presented is enough to get the readers interested. It also provides the expectation that this world will expand into something big someday which gives readers something to look forward to. One thing that I would have liked to see some explanation on who is Talek, and how did he become what I assume is a curse word. Hopefully that is explained in time.
Characters: Each character has their own personality and don't feel cookie cutter at all. The main character feels real and really had me invested in her struggles early on for sure. I legitimately felt bad for the poor girl and her situation further pulling me into the story and wanting more.
Grammar: Couldn't really find any grammar mistakes, if there are some they would be simple and shouldn't bother anyone.
This is a good story.
The setting is rich in noteworthy aspects. Societal, political, geographical, magical and historical features are fit together by the author to form an interesting, well thought through setting. The setting includes disparities within a caste like, isolated society and an oppressive authoritarian government.
The somewhat heavy setting is complemented by the story. The characters, most of all the protagonist, strive to improve their position regarding society and magical power. They, when appropriate, employ a 'walk my own path' mentality, a concept which is central to many fantasy stories. The characters fit well into story and setting. They each have an individual feel and overall are well thought out. I look forward to learning more about them in future chapters.
Overall, this is a great story with good pacing, well written characters, a great setting and generally, nothing really to complain about. So far: Impressive!
The story starts focused on a female MC in foster care who has it tough. She is determined to cultivate beyond her 'bronze' category and unlock the potential within herself. Setting-wise, she is on an island with an exciting mix of modern and cultivator-style technology, including chi-missle wands and computer hacking and surveillance.

The story continues away from the very interesting MC by introducing more about the setting and switching perspectives to other cookie-cutter characters (like the wealthy young master alchemist). The author is driving a 'what is outside the island arc' full blast forward when I am interested in the original female MC's struggle to move from 'bronze' to 'silver.'

While I enjoyed the first 15ish chapters, I increasingly believe the story I want to read and the story the author wants to write are different stories. Since I once followed this, leaving a review as thanks and encouragement. May come back and try reading again with new expectations if this project finishes.

This story has all the hallmarks of a long running, top rating story. Characters are well-written, the worldbuilding is superb. Grammar is on point and the flow is good, with an intersting potential storyline, all in all, I would advise everyone to give it a try.
It's worth it.
Only thing that's still needed is a bit more effort put into the side charaters. The story is only 100 pages in, so it's by no means too late and from what I read, the author is working on it so I have high hopes in this are as well.
Not that far into the story so far but from what I've read so far I like the style of it. Well described, we know who we are reading about and it's easy to follow.
I'm liking what I'm reading so far. I particularly love that we learn things with our MC as we go along so it forces true engagement with the story. A bit slower than I expected but I think that will pick up shortly. I'm also liking the world the author has established thus far and there's still so many things to learn. I'm just hoping that it doesn't take too long to learn.
Grammar has been pretty good so far so that helps in having an easy story to read.
Interesting MC thus far, maybe her motivations could be more established, hopefully we get some more insight into her past just to be more in tune with her but I like her so far.
The other characters still need some fleshing out but as the story goes I'm positive we'll have that but nothing to complain about so far.
Overall, a nice cultivation story to read that's not based in more historical like settings. Not entirely unique but definitely its own story. Give it a read! :)

Well this is my favorite read at the moment, it's characters come to life to drive the story, full of dreams, ambitions, emotions and spunk!
Meanwhile the worldbuilding that is introduced with the story is simply superb! Everything is explained as need be, without long expositions, just perfectly done.
The writing is also very good, clear and it just flows! It's basically adictive, I wait for this every week.
Only downside is that there is not a lot of backlog to read yet, and chapters are kind of short.
This is a story that returns to the basics of writing: an interesting world with well developed main characters exploring it.
This story is a well done mix of cultivation and modern culture with a slight leaning towards modern culture, without falling into the often poorly done cultivation tropes. Though I say that, the cultivation tropes are still represented in the story but are instead well adapted into the modern setting without letting it turn into just a trope.
I can talk about this story a whole lot more, but I think my words wouldn't do it justice so instead I recommend you read it and see for yourself
If I were to give one criticism then it would be that it takes a few chapters for the story to really start shining as the author takes his time to properly set up the story which significantly improves the story, but it does mean that if you don't immediately get hooked I recommend you read a few more chapters before you give up.