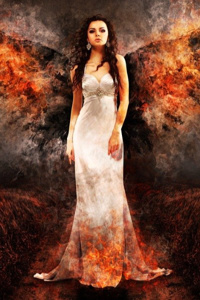 Warning
This fiction contains:
Gore
Profanity
Sexual Content
Traumatising content
Everyone knows the stories about heroes. They get reincarnated or summoned, or some other mishap occurs, and then they go on to save the land. But those are just stories.

Julia never thought of herself as hero material. She didn't ever even dream of being a hero. All she wanted was a home and family to call her own, a small piece of the world she could say was hers.

Instead of arriving home one evening, Julia finds herself in the Abyss. Not only is she far from home, she's also been Cursed.
Hell is a place for the organised torment of the guilty in life, the Abyss is its psychopathic disorganised cousin.

There's darkness in the Abyss. One misstep and it might devour Julia's Soul.


For to get out, she'll first need to descend to its deepest reaches.

Yet in the dark of the Abyss, secrets lie in wait.
These aren't the type of secrets that want to be found.
These secrets destroy
---

Image by Comfreak from Pixabay
---

This is my first story, and a work in progress. Feel free to point out any errors, and I will gladly fix them.
The ending and the major plot points are all planned out.

Julia's story is more of a slow burn, and she won't always be in trouble. There will be breathers between the action.
Though the story is about Julia, she is not the only force in play. Her actions will affect others, and other's actions will affect her as well.
Overall Score
Style Score
Story Score
Grammar Score
Character Score
Total Views :
234,493
Average Views :
2,212
Followers :
849
Favorites :
182
Ratings :
262
Pages :
1,545
First of all, I think this story is quite good. The premise is intriguing and it is fairly well executed. Instead of reading this review, you should read the story.
The following review is mostly aimed at the author anyway, to hopefully help him or her improve.
The grammar is good.
The story is quite original and there are several subplots being developed.
And with that let's get to the style:
While no Brandon Sanderson or George R. R. Martin, the style is alright in my opinion. Sometimes things aren't quite clear to me, but that could just be the fact that I am reading it a chapter at a time, which means I tend to forget certain details.
The dialogue could probably use some work though. Especially the inner monologues with the "voices in her head" are sometimes confusing. In general I would advise to give more information about who is saying what and how (are they shouting, giving an opinion, showing an emotion, whispering, threatening?). Since currently a dialogue often consists of just the words the conversing parties say directly one after another.
The characters are fairly distinct, most of them have a distinct personality, though some are very confusing.
like Lêdhins, I never got that character, might be due to the aforementioned problem of reading a chapter at a time though.
For anyone who has actually read through all that, you should definitely check out this story. It is very much worth your time.

Let's start with some points for improvement. The grammar is sporadically horrendous, the reason for the comparatively high score is that the mistake often boils down to the wrong syntax, presumably from rewriting sentences partway through and thus is still readable with no to almost no guesswork needed.
Next up is a compound problem where things aren't explained well or hard to understand (such as the Skill listing being a mess) which coupled with the grammar can make for a challenging riddle, though there ought not to be one.
The characters are well-crafted and realistic. The characters have their own interests and though most are self-serving there are no comic book villains who are evil for the sole purpose of being evil. The protagonist is likeable and has common sense. Besides this, all characters are unique and fun to read about.
I find the story to as of yet contain a lack of overarching goal or plot that would keep a readers attention to the big picture instead of only focusing on the here and now, but the beginnings of such can already be found, and I consider this fiction already well worth my time and hopefully yours too. Should you wish to give it a try I'd recommend reading at least until chapter 4. All in all, any fan of LitRPGs should read this, and many more besides.

I find myself enjoying the read greatly. I personally love female MCs as I find it much more relatable and here our heroine feels "real" to me considering her circumstances. She is not perfect, nor a villain however she is adaptable and able to be influenced. A fun read that I want more of.
The story is well written with a steadily developing plot. The premise is interesting and remains relevant as the story progresses without devolving into a revenge story. Characters are fleshed out with their own motivations and circumstances. Spelling and grammar are reasonably good, and new chapters are released regularly. Well worth the read.
An interesting premise, well executed. The MC is (unfairly) cursed to the Abyss and incarnates as a virginal succubus. Less prudish than stubborn, she attempts to ascend out of demonhood whilst trapped in forced oaths, compelled on her by others. Unrealised sexual potential that bubbles away but doesn't dominate nor get too explicit.
A progression fantasy, it follows dnd rules and structures for the most part and is clearly and logically explained. The stats pages are behind spolier tags, making them easy to ignore or read when wanted.
It's dark in a nice way, with the MC practical and offering hope where she can sensibly. Character is flawed in a believable way with reasonable improvements.
A few minor typos, that get fixed pretty quickly. My favourite part is the system and progression which is roughly based on 3.5 expanded to include more skills, resistances, affinities (magical aptitudes) and multiple classes which hangs together very well.
There's a nice mix of politics and action with a fleshed out world incorporating traditional mythos adapted from the Norse, Greek, Roman, Egyptian and other pantheons, plus non human races.
I'm enjoying it. There have been a few cliffs, but publishing has been reliable and on schedule.

Going to have to give it a bit more time, but so far this has been an enjoyable romp.
The MC is unique even given the somewhat common transformed into a demon trope, and its refreshing that she's realistically asexual given the situation she's found herself dumped in. Oh and she's not dumb...
Other characters are fleshed out, all have their own motivations and goals. So far no cardboard villains to be found.
No complaints about the writing, minor grammar issues here and there but nothing too detracting.
One thing that did confuse the hell out of me initially was the inner monologue - I had colour overriden, so I couldnt tell what was going on since everything was black. Maybe not relying purely on colour for this would be a good idea. Try italics, hyphenation or something else like hashing the start of the sentence perhaps.
One thing that would be nice is a bit more detail on each of the planes that have been visited.
I'm constantly surprised by this story. Every time I reach a point where I'm not super interested in the story, something new happens and I get dragged back in. Without going into spoilers, each more questionable portion eventually resolves itself into a helpful change for the story and one I personally appreciated. I would 100% recommend this story and am very glad its updated as regularly as it is.
Taking off stars because grammar isn't perfect (but mistakes aren't frequent enough or bad enough to distract from the story) and a half star as a few characters seem to be included to be obviously so the "bad guy" with few qualities to make me interested in them. The worst offender was recently improved so I can't even say much negative about that.
The story and background themselves are very complex, understandable, and unique. While the story pulls from other media, it is combined in a unique and refreshing way. Character growth is different without being confusing or frustrating and the author does a good job of allowing the character to grow and get stronger without it being a situation of "the big villain was just defeated but now there's an even bigger one who will destroy even more and is even more powerful". Growth is interesting and well put together.
Great story overall. 9.5 / 10, would recommend.

It is a interesting premise, and the world is very interesting. The MC is mostly believable (just a bit too OP IMO, the way she learns new affinities is simply cheat), and the support cast is mostly interesting.
One thing though is that Julia is too trusting as I see it.
I hope the author avoids the pitfalls of a long runner and finds a good rise of tensions.

All in all, a rather fun little story. The grammar could use some work, but the characters are amusing. The story seems to have lots of room to grow, and even at this chapter amount, we're only starting to touch on some of story points, which shows that this story has been planned out quite a bit. Its a LitRPG, with a pretty typical system, not much to say about it.
I'm a big fan of her inner demon snark - fun little jokes and word play abound. Probably the most interesting character so far. If there's any problem with the cast of characters, its that its getting pretty big and growing, with some showing up to only drop out of the story only to not be seen again. Or seen so rarely, that its easy to forget. Just had a major plot point with a character I had to go back and look up, had no memory of whom they were.
The story does have a nice pacing to it. Doesn't feel like we're dragging the story along at all, but still nothing too extreme going on. No plot points ignored so far, so typical in LitRPGs when the protagonist just out levels things, which is a huge pet peeve of mine.

A bit slow in the beginning, but gives all the info needed to understand her actions and thinking. A good read all in all, but still feals like the story is still in the beginning phace att chap 51. I look forward what will happen and of she get onto prime material World for more chenanigans.