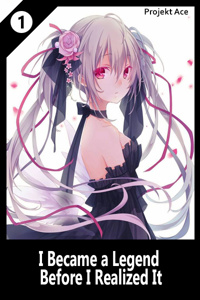 I Became a Legend Before I Realized It
Warning
This fiction contains:
Gore
Sexual Content
Traumatising content
When the world's first DMMORPG gets released, Yuu—19, unemployed, socially incompetent, video game addict— decides to play the game with his little sister. On his first day, he unlocks a decent class and even enters a dungeon. What he doesn't expect is the game to turn into reality without even giving him even one chance to log off. He finds himself in a fantasy world where demons, angels, and crazy princesses run amok. The epic tale of Karna (Yuu's game character) is just beginning.
---
Additional Info (for those who are still not sure if the novel is worth reading)
-Get ready for levels, skills, and classes. It's a game world. What did you expect? (The plot is not driven by game stuff though)
-A lot of fighting scenes and world-building. I was planning to write a RomCom at first but well... apparently I can't live without serious action.
-At least one chapter every week and around 2000 words each chapter.
Overall Score
Style Score
Story Score
Grammar Score
Character Score
Total Views :
3,369
Average Views :
337
Followers :
47
Favorites :
12
Ratings :
12
Pages :
70

I think it's safe to say that this story is full of tropes but that not to say that it's bad, I found myself enjoying the read for the most part.
I would have to say that there were parts where I think the sentences could have been worded a little better but the story is overall fun. I actually like the idea that he's playing with his sister and I am excited to see what the story has to offer in the future though.