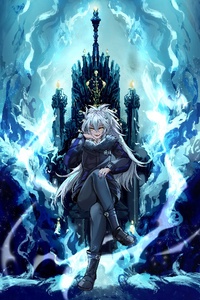 Salvos (A Monster Evolution LitRPG)
Warning
This fiction contains:
Gore
Traumatising content
Follow Salvos, a Demon girl with a penchant for making friends and punching jerks in their nether regions. It's a story about action, adventure, and evolution. It follows her journey from her birth and onwards as she grows and gains experience from encountering new things through the various lenses of her life.
It's a slow-paced but action-packed litrpg!
Join my subreddit!
Salvos Vol. 1 is now available as an eBook in these stores!
Salvos Vol. 1 is also available as an Audiobook on Audible!
Click here to read up to 20 chapters ahead on my patreon!
eBook cover art by Tsuurot
Copyright © 2020 MelasD
For business inquiries contact me at [email protected]
Overall Score
Style Score
Story Score
Grammar Score
Character Score
Total Views :
3,858,235
Average Views :
19,685
Followers :
9,309
Favorites :
2,388
Ratings :
2,646
Pages :
1,617

Salvos is not a groundbreaking masterpiece. It's not an exciting adventure the likes of which you've never seen before. You will not be bowled over with awe at its unrelenting magesty. But that's not what a story has to be in order to shine. Sometimes I just want to read something that gives me a goofy smile. Salvos is that story.
A lighthearted adventure about a demon trying to go home to see her friend, Salvos starts off a little dark but quickly progresses into an almost sitcom-style journey about a silly, dorky demon girl who likes to fight making friends with humans and repeatedly baffling them. The plot progresses smoothly and sensibly, the character motivations are simplistic but consistent, and Salvos's slow character progression, while occationally heavy-handed, is satisfying and enjoyable to read.

MelasD is a fantastic author with an excellent sense of grammar and flow. Chapters are snappy and I never found myself getting bored with the pacing or uninterested in the current objective. Past the beginning section, the story just feels fun. Tropes from similar stories are introduced with amusing twists, combat is snappy and interesting but never feels grim, and the constantly upbeat attitude of the main character is a joy to read.
To anyone looking for a simple fantasy romp to make you grin, I can't recommend this enough.

The main character is silly, adorable, and thoroughly fun to read about as she progresses from a 'demon larva' as innocently cute as a puppy into a 'midday demon,' an overpowered toddler bubbling over with enthusiasm and energy. Her adventures and interactions with the secondary characters are amusing and enliven the usual LitRPG setting and world. Grammar, spelling, and sentence structure are superior.

To keep it simple this story is really catchy, the vocabulary is varied and makes the reader's progression alongside the lines really smooth.
The narration doesn't have loopholes and the author is always here to clarify some questions that we may have.
Really a nice book to read !
With the premise of the title I already get caught, I always like to see a non-human protagonist with a good development.
A demon that is born, thinking, in a world where everything is interesting for the new being, will soon find others and will have to interact with them to survive. The first few chapters already show the kind of approach that MelasD, the author, wants to give to this adventure and action story, it is worth giving it a try.
I don't write reviews often, but this is such a great, easy-going story, about a fresh, naive mind, new places whilst making some fantastic friends and companions.
What makes Salvos so good, is the way MC interacts with the world, and how others react to that. Her relationship with Daniel and other humans is fantastic, bringing out more and more of Salvos as the story progresses. What starts out as a simple, single minded quest to return home, turns into battles for levels, friendship, growth and vengeance.
The growth during her journey is immense, both in the classical LitRPG sense, and emotionally and mentally. Her endearing yet clearly demonic nature makes her both loveable and interesting, showing a different side to what is out a classic demonic race.
The humour, light hearted nature, and cast come together to give a story well worth reading. Something easy to read, with more depth than you'd think, and characters you can't help but love. Give it a go (and Melas), you won't regret it!
Thank you, for making such a good story! And don't be disheartened, ignore the haters and tell reviews, you've got a green in your hands, polish it good and proper!

the story follows a battle-junkie demoness as she stumbles through life and meeting hardships such as losing friends, getting spirited away and adjusting to human society when people don't really get along with demons well in general. The characters are well-rounded and the writing style invites you to keep reading, I enjoyed it very much.
I will rate this a 4.5 since for the standards of this site it is top notch, but it is not a masterpiece yet.

I like this story. It follows a young demon learning about the world and gaining levels and evolving to different subspecies based on her experiences. During her story she meets a variety of different beings. Some are sympathetic, while others are less so. But her adventures and personal growth are engaging and sometimes even emotional. There is also some great artwork in some of the chapters.
The writing style fits in well with this type of story. The story contains typical but highly enjoyable aspects of gaining skills, levels and evolving to more powerful demon subspecies. Salvos starts off knowing very little of the world and how it functions. As she learns about it, so do we. She is not OP, but she is a survivor. She does not always win her fights and sometimes has to run away, but she grows more powerful over time and gains more skills.
In terms of story and pacing, the first volume is really great. The second volume starts expanding on the world but also loses a little of its focus and direction; as it seems more like the random wanderings of Salvos and her daily life. The first volume was where Salvos had a long-term goal and a short-term goal and the focus was on achieving these goals with the occasional interlude. The second volume reverses this in that it seems like the focus is on side quests with the occasional interlude mentioning the main long-term goal in passing. There is nothing wrong with this new approach, but it is sufficiently different from the first volume's to feel a little jarring.
If you enjoy this genre, this is still an entertaining story and you should at least try it out. Just note that the second volume is a little less focused on Salvos and more on the larger world and the side characters.
PS: As officially required for an advanced review, some details on the spelling and grammar: it is decent. There are some errors but it is not an unreadable mess. Unfortunately, time constraints seems to mean that suggestions in the later chapters are left unaddressed. However, on the plus side chapter releases are relatively frequent and if I had to pick between more chapters to more editing, I would prefer the former.
Hope this feedback both helps the author as well as potential new readers.
Originally written 10 Dec '20 (when Chapter 12 'Two of Us' was the latest chapter); latest update 12 April '21 (when Chapter 95.2 'Faith' was the latest chapter).

I'm a sucker for monster evolution stories, and this is a good addition ot the genre. Its a bit slower than I'm used to, replacing the dopemine rush of constant level/evolution ups with a more character heavy focus.

Frankly? I think it's a breath of fresh air. Salvos is a curious demon trying to understand a new world with no prior knowledge, and I find her struggles to define herself both emotionally and physically an interesting counterpoint to the usual blue screens and combat skills (which are still there).

The only downside is that its short. Well worth a read.

I love the story, it's really interesting.
the big bad side i have to pinpoint is : your chapters are so shorts xD always need more haha
More seriously, i'm feeling the azarinth healer inspiration here, and i can understand it, really love this one too.
Salvos is a reallynice character, maybe sometimes little dull, but it goes with the demon newborn stuff i guess.
On the story, i don't put perfect score because there are some imperfections but hey, it's still really great!
On the style, i like the kind of mix you did between azarinth and your own touch, even again if your chapters would deserve to be a little lengthier to develop more the system, the way its working, the universe around...
I hope Salvos will keep going on her empowerment and manage to go back to the Netherworld.
Maybe some more about the spirit realm too? Seems like unlogical that she cant go back when she could summon a demon and steel his necklace like Djinn had :p
SO to conclude : Congrats! Keep going like that! Make Salvos the Demon Queen of the Mortal Realm haha
Cant wait to discover the next arc and read what you will do with her!

There are parts which are painfully boring, overall a decent story.
The beginning is really good. It starts to slow down coming into the 2nd arc.
3rd arc picks back up and has some good character development in it.
World is not overly intresting of what I've read so far. Evolutions are pretty intresting but nothing out of the ordinary. Really what saves this story is its characters