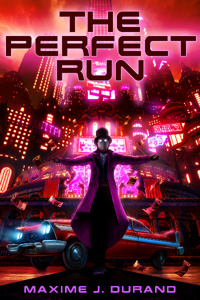 The Perfect Run is now available on Amazon Kindle.
Ryan "Quicksave" Romano is an eccentric adventurer with a strange power: he can create a save-point in time and redo his life whenever he dies. Arriving in New Rome, the glitzy capital of sin of a rebuilding Europe, he finds the city torn between mega-corporations, sponsored heroes, superpowered criminals, and true monsters. It's a time of chaos, where potions can grant the power to rule the world and dangers lurk everywhere.
Ryan only sees different routes; and from Hero to Villain, he has to try them all. Only then will he achieve his perfect ending... no matter how many loops it takes.
The Perfect Run updates on Tuesday and Saturday. Cover by Vitaly S. Alexius.
Overall Score
Style Score
Story Score
Grammar Score
Character Score
Total Views :
2,921,706
Average Views :
27,053
Followers :
10,980
Favorites :
3,491
Ratings :
2,926
Pages :
1,349

Just literally read this!!!
It's amazing and funny!
Well worth the rabbit hole madness that will capture your attention for the next couple of hour or minutes... depending on how far you let it take you!
The world and powers of this story are amazing and blend well with each other.
Please let the madness continue!
Thanks for the novel!!!!!
Time loops story? Not really, but close. First time looping story done right imho was Mother of Learning. That was good stuff, ranking high in this site. This story is beating it though. The story is engaging, the main character is absolutely hilarious, the supporting characters are all credible and deep. Each has his own issues, and each has his/her reedeeming points. The powers are hilarious too, at times (at least the way the MC describes them). There's nothing in the grammar I could notice. The style is incredible, even the flashbackes of a distant past are done in such a way that you don't think "ah, the story is on hold", instead of "wow, so THAT is what happened!".
The main character, even though having a really busted power, isn't as overpowered as one might think. He has weaknesses.
Even though he's so strong (and old. Spoilers. He's OLD, with capital letters), he's not an old geezer. He's like a child with some sense of humor. And sense of popcult reference, if that isn't a super sense, I don't know what is. Almost all chapters are a blast to read only for the puns he's making (I correct, the AUTHOR is making), and all the chapters contribute to a story that apparently already was planned from start to finish, making it a good read even without the jokes.
I have nothing else to say but this. Perfect score in everything. All hail Lightning Butt, Final Destination, Omae mou wa shindeiru and the main star, The Blower. If you want to know who those characters are, read this story!

If you like character-driven stories, time-travel and insanity, then there are few stories that can rival this one, on RR or otherwise.
Well fleshed-out characters that actually experience a lot of character development, an interesting story and great humor (for me at least).
Just beware that this story has several pretty dark phases to date and is pretty grim in general. But that makes the wholesome scenes just the more impactful.
I'm not the person that's good at writting reviews or just writting so i'll keep it short.
After reading summary of a story i didn't expect to keep me this hooked up as plot which revolves around MC reliving the same timeline over and over again seem kinda hard to keep fresh and interesting, but it has outdone all my expectations and i eagerly await every new chapter.
Was not expecting to like a time loop story but goddamn is it fun to read, author has outdone him/herself. I was dcared that the time loop part would be overpowered but there are complications and danger with it. Characters are fairly fun and there are a lot of strong powers, one thing this story doesnt have is weak powers used cleverly so they become strong, i oove seeing that and i feel it when it's missing from a "superhero" novel

Hey, Xschnickuelfritz here,
If this book were a person, I would marry it. Not the author, not the characters. The book.
It's that good.
Witty, irreverant, and with excellent timing, this book somehow manages to balance a ton of characters without me forgetting a single one. Seriously, usually with this many characters I have difficulty remebering their names but not here. And that's because each one, even the inhuman ones, are irrevoccably people. Even minor characters are flushed out fully and treated as the protagonists of their own story. Anything with that much respect for its characters deserves love.
Marry me, The Perfect Run.

In most time-travel stories I have seen in various platform, the hero usually have limited chance to redo everything, in most case, only one. It makes the stake much higher if they fail. This story threw that out of the window. The protagonist can redo as much as he like, for as long as he like. Now, you would think that there was no urgency in his action as well as making the consequences irrelevant. However, the clever writing brought the storyline way beyond your typical time-travel bullsh*t. It was like Re:zero but way better. The characters were brilliantly crafted. The MC humour made up for all the dark, sometimes depressing stuff in the story. The world building was impeccable. The gramma was solid. 11/10.

This review is up to chapter 24.
I love the story overall. The way it unfolds, the way small flashbacks help build the past, how everything is brought together and how it fits so well ! It is a lot of fun to read and follow.
Style-wise, the author's work is brought with a narrator that is often assimilated with the character. It brings a lot of fun to see the thoughts of the character followed.
Character-wise, the MC is strongly likeable and very much immortal for now. That doesn't mean he has no weaknesses, which are often made known. The insane-happy-go-lucky feeling used to cover his overall apathy is very relatable and justly brought about by the author.
Grammar-wise, the work is a solid and good piece of writing. Few to no mistakes whatsoever per chapters. Pleasing to the eye and soothing to the soul.
Overall, I started this story 2 days ago and now I'm all caught up. It is a fun read that nonetheless brings existencial questions on the table under the veil of snarky comments and dumb puns alike. I'd like to say it can be put as a post-apocalyptical intellectubrawl dramedy but I would be overstepping...
Anyway just go and read the heck out of it ! It's worth your time, notice, and review ! I guarrantee it !

Its like you combine Mother of learning with Neuromancer, and then add a little Hitchhikers guide to the galaxy type of humor.
So far the pacing is very quick and its all sunshine and potential. Hope the author can keep up the quality.
And since the site insists i waste your time with more words this....

Overall it's a nice read, dropped it around Ch. 46 though. There is not as much Character developement as there could be and the pacing aint for me.
Grammar and writingstyle is fine, though it kinda gets old real fast smh. If you have 4-5 hours, the first ~30 chapters are fun to read.