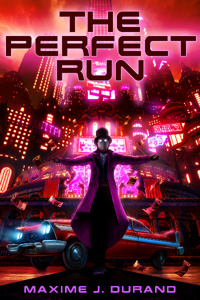 The Perfect Run is now available on Amazon Kindle.
Ryan "Quicksave" Romano is an eccentric adventurer with a strange power: he can create a save-point in time and redo his life whenever he dies. Arriving in New Rome, the glitzy capital of sin of a rebuilding Europe, he finds the city torn between mega-corporations, sponsored heroes, superpowered criminals, and true monsters. It's a time of chaos, where potions can grant the power to rule the world and dangers lurk everywhere.
Ryan only sees different routes; and from Hero to Villain, he has to try them all. Only then will he achieve his perfect ending... no matter how many loops it takes.
The Perfect Run updates on Tuesday and Saturday. Cover by Vitaly S. Alexius.
Overall Score
Style Score
Story Score
Grammar Score
Character Score
Total Views :
2,902,929
Average Views :
27,130
Followers :
10,966
Favorites :
3,477
Ratings :
2,913
Pages :
1,338

Voidey is getting better and better at this thing called writing. Characters feel so real and the power system/world building are a breath of fresh air. This is peak content on RR. Looking forward to the day this story completed but also sad as well. High IQ people will check out his patreon 😉
This is a really good story with lots of good moments. At least in my opinion, the story feels fresh and well-rounded. It has nice fun moments, as well as the ones that make you cry. You feel the pain of the characters when they suffer, and their joy when they have fun.
So, how can I not recommend "the perfect run". If I've enjoyed every chapter since the first one. I'm not saying this story is made for everyone, and there will for sure be people who won't like it. But at least, I think it deserves a try. Just reading the first chapters. And, if it's not made for you, you'll know for sure.
Generally, time loop stories do nothing for me, but this one is so good, creative, and above all funny, that I really love this story. It's about a courier of sorts newly arrived to New Rome, where various villainous and sometimes less villainous superpowered factions are facing off in a dystopian world. Our MCs power is over time, letting him stop it in combat, and more importantly, letting him "reload" and restart from a past save when he dies. So he is trying different approaches to meet his evolving personal goals and leave the city a better place.
I love the MCs manic energy, running rings around people because he knows them from past loops, alternately playing good guy, bad guy or just crazy guy to get that perfect loop where the day is saved. Love the dystopian post-superpowers setting. Finally, the many interesting side characters Quicksave is working around. His pandawan, an eldritch horror living in a stuffed rabbit, his Marxist undersea mad scientist foster sister, the costume designer, so many great characters.
Oh, as for those 4 categories, the characters and style are particularly linked in this one in my mind, and both get 5 stars. The strength of the story. Grammar should be folded into style, if anything, no one likes pedants. As for the story itself, it is good and continually engaging, but the characters, setting and especially the style are what make me like this book enough to leave an advanced review. And bonus, Ive got a new word of the day: leporiphobia. You too will come to share the fear of rabbits!
200 words?
This story is phenomenal, and you should seriously just read it. I tried picking up this story several times, but never made it past chapter six or so because I just couldn't imagine reading several hundred pages with this main character character archetype. The problem is that I've seen it done wrong so many times such as in Vaudevillian, so I subconsciously wasn't expecting any real character development to happen. I was expecting a static character that is put into at first new scenarios that quickly become repetitive as the story loses focus. The characters really grow on you in this story and Quicksave is no exception: he will grow on you and his character growth arc is great.

I great world built and lots of restarts in the same locations so the side characters get filled out. I look forward to when Quicksave moves on to a new town and then the ride starts over again. 😁 Blah Blah Blah Blah Blah Blah Blah Blah Blah Blah Blah Blah Blah Blah Blah Blah Blah Blah Blah Blah Blah Blah Blah Blah.

Just worth the read honestly, blew through this story fairly fast, and loved about everything of it, it is just so entertaining, the unusual premise helped a lot also, not often that you see a superhero 'timeloop' story, let alone this well written, by an already established author to boot! And then there is the MC, what an amazingly well written character he is!
I just love the MC Ryan and how he is written, he has just a such carefree attitude developed from his many reloads. He just fully embraced the absurdity and yet remains sane, even if it does not seem like it at first sight. He just keeps advertising what he can do, that killing him is futile, and keeps making those jokes and references, all just part of the greater personalia the MC has built.
The MC's power is just insanely strong, as one would expect from a power that allows you to set a save point AND also use time stop, though with clear limits, and he uses it to maximum efficiency to achieve the best possible result for him and those he cares about. But even with such a power, he still has to be careful because he is not truly invincible, he may be able to 'reload' his way out of any bodily harm, but cannot do the same for his mental wellbeing.
In my opinion, Void Herald has done a good job with the setting this story takes place in, even more so since its rather wildly different from his other stories, which were all LitRPG's. While this does take place in a dystopian Italy where you can get superpowers from using one of the rare Elixir's or their more common knock-offs which grant lesser powers.
Grammar is great in my opinion, some typos and inconsistencies do pop up, but not frequent enough to be of any hindrance to the reading experience.
This story reads amazingly well and is paced without even letting up, it just keeps going without slowing down and drags the reader just in the story from the very start. I really like the way information is delivered in this story, more than enough information to let readers become familiar with the characters and the setting, while at the same time also keeping up a sense of mystery, without even infodumping anything! There's also just the right kind of humour and comedy as one would expect from Void Herald.
Looking forward to what this story will become, I personally have high expectations due to the author's previous works, and the rather phenomal start this story has so far. The author is also very capable of writing quite different types stories and succeeded at it all, like demonstrated with this story.
Anyone interested in reading a good story with an interesting premise executed very well and fun MC, I recommend you this one. Oh also the author is one of the most reliable on this site, having completed multiple books already and in my opinion, this one is shaping up to be his best work so far. And if you loved his other stories, then of course you should start reading this one right now.

Phenomenal early chapters. Different tones of comedy from Vainqueur but it hits the spot. My brain needs nutrients of healthy stories and they're in short supply lately. And this? Is nothing else but entertainment. A top-class entertainment!
So there, I just shove a 5 star on you and you can't take it back!! And there's no return-to-sender allowed.
Good day, keep writing.

Somehow manages to combine Deadpool, cyberpunk, Fallout New Vegas, a little bit of bioshock, and the movie Palm Springs and makes it work really well. I recommend reading it if you like time loops or have an interest in any of the disparate blend of influences that makes up this story.
Great story, quirky vibes, good grammar, interesting characters. Once again, the author has created a great work with an interesting world. Only regret is that there isn't more, because the storyline is pretty gripping already. Rest assured that he isn't being stupid with making the character overpowered as often happens in Groundhog Day fictions, as it's well balanced.

Just literally read this!!!
It's amazing and funny!
Well worth the rabbit hole madness that will capture your attention for the next couple of hour or minutes... depending on how far you let it take you!
The world and powers of this story are amazing and blend well with each other.
Please let the madness continue!
Thanks for the novel!!!!!