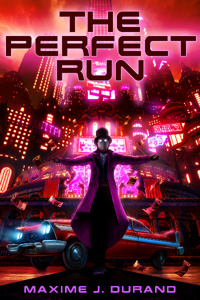 The Perfect Run is now available on Amazon Kindle.
Ryan "Quicksave" Romano is an eccentric adventurer with a strange power: he can create a save-point in time and redo his life whenever he dies. Arriving in New Rome, the glitzy capital of sin of a rebuilding Europe, he finds the city torn between mega-corporations, sponsored heroes, superpowered criminals, and true monsters. It's a time of chaos, where potions can grant the power to rule the world and dangers lurk everywhere.
Ryan only sees different routes; and from Hero to Villain, he has to try them all. Only then will he achieve his perfect ending... no matter how many loops it takes.
The Perfect Run updates on Tuesday and Saturday. Cover by Vitaly S. Alexius.
Overall Score
Style Score
Story Score
Grammar Score
Character Score
Total Views :
2,943,714
Average Views :
27,257
Followers :
11,001
Favorites :
3,509
Ratings :
2,930
Pages :
1,349

This has turned into one of, if not my favorite, story on RR.
My main interest in stories has always been big picture plot and character, and this story really delivers on both.
The characterization of both the MC and the side characters is probably the best on the site. Throughout the story so far, there has never been an instance where I thought character motivations, pov, or actions have been flat from a characterization perspective. That's not to say that I haven't disagreed with some stuff, but I'm happy to disagree with stuff if it's in character
The plot for 2/3 of the words written so far, is super tight and focused. The motivations of the MC are very clear, and that drives the story and the plot tightly for a good way, but then we hit the first "bump" in the road, and after that the MC's motivations and the direction of the story kind of fuzz out. We still know what his endgame is "The Perfect Run", but everything else goes out of focus. Who knows though, maybe this is part of the set up to deliver a plot punch coming up and it just seems that way right now.
For those who put a lot of stock in it, the grammar is basically flawless.
As far as style, this story is technically well written but really has an "it" factor that many others on this site lack. Even Vainqueur didn't really have it, although I enjoyed that one too. He has taken this story to a whole new level, and I'm glad he did.

Ryan is a quirky, whimsical protagonist with the power of resetting and freezing time. Ryan lives in a parallel reality where the world has been ravaged by nuclear war and rebuilt into a dark, dystopian version of itself, the city of New Rome ruled by corporations and gangs of superheroes. Super powers are bought and sold and supers are hired help for basic jobs like delivery [what Ryan does for fun] to pushing pollution out of richer areas to anything imaginable really.
The world of The Perfect Run is dangerous, deep and replete with excellent, tasty detail, experienced by the readers as Ryan goes through restarts, dying often.
The book is particularly brilliant due to its dark comedy value imbued into it by writing talents of Voidherald, which I personally greatly appreciate as quality comedy is hard to find. Books that make readers laugh at every page aren't an easy task, but Void manages it with every novel.
Ryan's super power forms/creates his core character flaws - the inability to die makes Ryan treat the world like a videogame and makes him an adrenaline junkie and the fact that time constantly resets makes him unable to truly connect with other people.
Readers can relate to Ryan because he is a bit out of this world - his power lets him experience a lot of life and thus he's a nerd with an appreciation for the lost art of video games and movies, while the antagonists in this book are busy struggling for power/wealth.
Stylistically, like the rest of Void's work this book is superbly written and without any grammatical errors. It's easy and fun to read as the narrative flows incredibly smoothly from one event to the other. Void is a writing wizard and I say, write more damn it! Void is one of the pillars which holds up Royal Road with work of consistent quality.
It's not often that I get to illustrate a book that I really love. Making a cover for The Perfect run was an easy task and a delight because I was already immersed in this universe.

From the get go, the story dives right into an action-packed narrative with witty dialogue and first-class characters.
The story's point of view is from Ryan Romano a.k.a. Quicksave, who, like the video game reference, is able to save and reset his life every time he dies. Part Ground Hog Day, part Deadpool, the Perfect Run explores a post-apocalyse superhero, supervillian Europe.
I particularly enjoyed how to author peels away layers in each chapter, revealing the MC's world that is well thought out and consistent, ticking off all three ingredients of world building - imaginary, alternate realities, and actual locations. With each loop, we learn more about the characters around him, their unique powers and stories.
A delightful read, satisfying at all angles.
Updated at Chapter 76 to complete an advanced review with no change in the overall rating.
Perfect Run keeps getting better and better with each chapter. The tension in the story is palpable and the pacing is relentless. The author keeps a good schedule of releases and has completed several novels which are also available on Royal Road, so you can expect a consistent reading pipeline. Sentences are well constructed and the writing is punchy and mostly error-free.

Considering it is from Void Herald, it would be strange, if this one didn't become a mastepiece as well.
In the first chapter, we already have got a slight sense of what kind of world were in. A world of crazy superpeople with crazy superpowers, it also seems to be on earth, though not on our earth, obviously. Whether this is a Litrpg remains to be seen. And while I would greatly appreciate it, if it were, there is nothing wrong with 'normal' superhero stories.
The MC seems to have some overpowered superpowers which reminded me of a certain manhua: Checkpoint. The MC of this story though certainly will be much stronger.

TL:DR version:- There are many emotional highs, lows, surprises and funny moments. I am thoroughly hooked. I read many stories on RR and other sites, but this one of the few where I read each chapter as soon as they come out.

Longer version:- The Perfect Run covers a Genome called Ryan "Quicksave" Romano who can temporarily stop time and go back to a 'save point' every time he dies. Like any good game with multiple story routes, there are several different ways things can play out depending on what action Ryan takes. However, he is not the only Genome and several of these beings have their own superpowers. A number of whom are at the command of a few different organisations with their own agendas. Using his Genome powers, other capabilities, and his gradually increasing knowledge of what is going on in New Rome and its surrounding area; Ryan undergoes an uphill struggle to strive to achieve his growing list of objectives to achieve in his 'perfect run'.
The story is interesting and is able to provide enough information to understand the plot, while still providing a sense of intriguing mystery about the story and the larger-than-life characters that seem to populate it. The worldbuilding is similarly revealed in a more natural manner, without feeling like a boring infodump.
The MC has a personality that may take some getting used to in the first few chapters, but is quite entertaining if you just roll with it. It also makes more sense when you learn more about his powers, its implications and his backstory. The other characters are not common stereotypes and the author is able to make them seem like real people, rather than puppets that revolve around the MC and drive the plot forward. They do help drive the plot forward, but they do so for believable in-character reasons, not because the plot forces them to. I especially like how the author is able to provide snippets of information about certain characters in an organic way that gives me enough information to be intrigued about them, without having to read an essay on them (e.g. Augustus and the Living Sun).
The style and grammar are decent. There are some spelling errors, but most of them seem to have been found and mentioned in the comments and corrected by the author. Being willing to read and act on these comments meant I gave the book an extra star on the style score.
Last, but not least, updates are regular and the author has finished multiple stories, rather than left them hanging.
As I am actively following this story, and it has regular and frequent uploads of new chapters, I will update this review as more chapters come in. This is a great story for anyone wanting to read something interesting by an author who has a track record of completing books that he writes.
Review Initially Created when there were only 18 chapters. Updated now that there are 72 chapters.

I am only two chapters in so far, but it has already caught my eye. Stories with a quicksave mechanic are difficult to do correctly. Oftentimes they just devolve into nonsensical adventures with no actual plot, but so far this one has checked all the boxes.
-The main character recognizes the absurdity of his life and is as carefree as you would expect, pretty much treating everything like a videogame (referring to smaller tasks as "side quests" and such, although so far there are no actual game mechanics which I'm fine with). However, there are already the beginnings of a larger plot brewing, so my hope is that he does not get too caught up in his side adventures.
-The world seems to be kind of cyberpunk but with superpowers, which is pretty cool as far as I'm concerned. Cyberpunk isn't exactly original, but there can be some pretty great stories set in it. Also, the author doesn't seem like he's going to take a completely traditional approach in regards to the genre.
-And of course, the MC's style is just impeccable. Just look at the cover.
We'll see how it goes, but I'm optimisic. Void Herald has proven he can write stories with a good balance of humor and seriousness before. Those skills will definitely come in handy for a concept like this. If this story is anything like his others them it will be an enjoyable time.

Voidey is getting better and better at this thing called writing. Characters feel so real and the power system/world building are a breath of fresh air. This is peak content on RR. Looking forward to the day this story completed but also sad as well. High IQ people will check out his patreon 😉

What? This story is unbelievably good. Like, what the hell?
I'll be honest, I didn't really like the author's prior works. The dragon one got off the rails all the time and was quite focused on weird sexual stuff. Not my kinda fiction.
The necromancer one just seemed a bit boring to me. No fault of the author's, just not to my taste.
This, though? This is freaking gold. I love this story so much, even more so since I know the author will finish it as he has done with his other stories.
More than worthy of full marks, in my opinion.

Ill be brief here, the story is fabulous and is very captivating,
I had my hesitance at first because of superheroes and all being a bit lame but this wiped me off the floor.
The plot pulls and PULLS, if you dont like the writing youll still love the plot.
4.8/5
Ranks top 2 for me (i'm sure you all know what top 1 is).

Just worth the read honestly, blew through this story fairly fast, and loved about everything of it, it is just so entertaining, the unusual premise helped a lot also, not often that you see a superhero 'timeloop' story, let alone this well written, by an already established author to boot! And then there is the MC, what an amazingly well written character he is!
I just love the MC Ryan and how he is written, he has just a such carefree attitude developed from his many reloads. He just fully embraced the absurdity and yet remains sane, even if it does not seem like it at first sight. He just keeps advertising what he can do, that killing him is futile, and keeps making those jokes and references, all just part of the greater personalia the MC has built.
The MC's power is just insanely strong, as one would expect from a power that allows you to set a save point AND also use time stop, though with clear limits, and he uses it to maximum efficiency to achieve the best possible result for him and those he cares about. But even with such a power, he still has to be careful because he is not truly invincible, he may be able to 'reload' his way out of any bodily harm, but cannot do the same for his mental wellbeing.
In my opinion, Void Herald has done a good job with the setting this story takes place in, even more so since its rather wildly different from his other stories, which were all LitRPG's. While this does take place in a dystopian Italy where you can get superpowers from using one of the rare Elixir's or their more common knock-offs which grant lesser powers.
Grammar is great in my opinion, some typos and inconsistencies do pop up, but not frequent enough to be of any hindrance to the reading experience.
This story reads amazingly well and is paced without even letting up, it just keeps going without slowing down and drags the reader just in the story from the very start. I really like the way information is delivered in this story, more than enough information to let readers become familiar with the characters and the setting, while at the same time also keeping up a sense of mystery, without even infodumping anything! There's also just the right kind of humour and comedy as one would expect from Void Herald.
Looking forward to what this story will become, I personally have high expectations due to the author's previous works, and the rather phenomal start this story has so far. The author is also very capable of writing quite different types stories and succeeded at it all, like demonstrated with this story.
Anyone interested in reading a good story with an interesting premise executed very well and fun MC, I recommend you this one. Oh also the author is one of the most reliable on this site, having completed multiple books already and in my opinion, this one is shaping up to be his best work so far. And if you loved his other stories, then of course you should start reading this one right now.