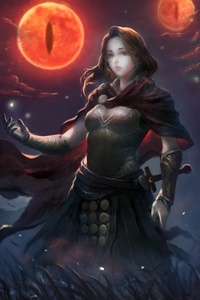 Beneath the Dragoneye Moons
Warning
This fiction contains:
Gore
Profanity
Sexual Content
Traumatising content
Elaine is ripped from this world to Pallos, a land of unlimited possibilities made real by a grand System governing classes, skills, and magic.
An ideal society? What is this, a fantasy novel?
Adventures? Right this way!
A Grand quest? Nah.
Friends and loot? Heck yes!
Humans are the top dog? Nope, dinosaur food.
Healing and fighting? Well, everything is trying to eat her.
Join Elaine as she travels around Pallos, discovering all the wonders and mysteries of the world, trying to find a place where she belongs, hunting those elusive mangos, all while the ominous Dragoneye Moons watch her every move.
---
Hey! Beneath the Dragoneye Moons is my first writing effort, so please be kind, but don't hesitate to point out the flaws.
The story starts off slowly, more like a slice of life than action-adventure, but it gets there!
I'm going to be posting M-W-F
I do know how the story ends, and I promise if it ever gets dropped, or I stop doing this, I will post the ending. There will be no random "this is the last chapter" out of the blue.
---
Cover art by Lee Kent: https://www.artstation.com/leekent
This story is being published on Royal Road, Tapas, and Scribblehub.
[participant in the Royal Road Writathon challenge]
Overall Score
Style Score
Story Score
Grammar Score
Character Score
Total Views :
4,138,629
Average Views :
19,614
Followers :
8,560
Favorites :
2,551
Ratings :
2,908
Pages :
2,067

What prompted me to write this review that the Author blocked me from commenting with no warning. I don't particularly care but the fact that I can't even provide suggestions to the text for corrections or even say 'thanks for the chapter' annoys my brain. Not me personally, just my brain. I'm not fond of sudden change is all.

Besides the new release, I have read to the latest chapter and if memory serves me correctly, I only skipped a few chapters that were dull.

Let's start off with the Main Character.

She's...annoying and naive.


Elaine was reincarnated and in the latest chapter still acts like an immature child. The author addresses this by giving the character ADHD or rather saying she has it, but from my experience, it doesn't make someone immature and childish to this extent.

When Elaine is in a meeting, she can barely pay attention. At younger ages, ADHD can definitely make paying attention difficult especially if the subject is boring but remember that Elaine reincarnated and thus has more years to her than in reality.

When picking her classes, Healing is a top priority, no problem for me since I enjoy it. However, what she wants from her second class is stupid. Her requirements are "fireball" and "flight" which means that the class has to have the ability to gain those skills or evolve into another class that can or has those skills.

This shows her immaturity by filtering out all classes that do not get those two things. Other characters call her out on this and guess what she does when evolving that class? Same requirements of "fireball" and "flight".

She has a skill that restricts her from harming someone first but in exchange boosts her healing abilities to crazy amounts. She had this skill since she was 7, 8? So, she wanted a combat class that would give her a fireball skill despite the oath and it was a fire-class at that! Fire in this novel has low-stopping power so anyone attacking Elaine(which would allow her to defend herself without breaking the oath) wouldn't be stopped when blasted with fire.

Anyways, fast forward and she got her flight skill. You might say that's good, but it isn't. It's terrible. She can only fly during the day and in direct sunlight so if a cloud blocks the sun then she can't fly. Amazing, right? No. It's terrible.

Elaine tends to hide her Authority and Status from others that aren't already aware so she doesn't have the spotlight. Yet, when she does this, it usually causes problems which brings up another problem I'll address later. Either way, when this happens, Elaine will then have to reveal her Status as a sentinel making the entire effort to hide a waste of time because everything would've been done faster if she didn't hide it.
Other characters.

I like them a lot and I actually like most characters more than the main character herself.
If Elaine suddenly disappeared and we were left with the other Sentinels, I would probably enjoy that just as much as when Elaine is present. She doesn't bring that much enjoyment when reading.

Now, onto a world-building point. There is sexism in this world that has a System and it makes no sense. There is currently nothing enforcing this idea that women are inferior and every relevant male character isn't sexist and if they are, it's for only a few lines and then never brought up again.

The sexism seen so far can be labeled as "annoying" and "tedious". If I recall correctly, husbands can beat their wives freely and along with the fact that women aren't citizens, there's not much sexism.
Elaine says that this new world is much freer for Women than Earth is which makes no sense at all.

The story is fine. It's nothing special, but not bad either. Of course, I'm not great at analyzing the flaws and strengths of a story but I've enjoyed it so far which is amazing for someone like me who has ADHD and finds themselves bored very easily.

The LitRPG aspects are interesting and I like seeing Elaine's class-up.

I barely saw any issues with grammar and when I pointed some out in an early chapter, the Author responded and corrected them!

Final Words:

If you're fine ignoring an emotional, immature for their age MC, some issues with the world Elaine is in then give it a read. I suggest skipping to chapter 21 to avoid some boring stuff.

If you're not fine ignoring the flaws I listed then it isn't recommended you read this story because these flaws aren't going away soon.
This is my first review so sorry if its unreadable or just outright confusing. Skip to the end if you want the short version of the review.
Let's start with the positive parts of this story, from my perspective.
The world itself is very interesting from what I have read. There is a war in the background that seems to be a threat that will come into focus later on in the story, but for now we only know that it seems to be a war with another species. The focus so far have been more on the nation and cities rather than the whole world/continent. There seems to be hints that there exists more nations with humans in them but so far we are only aware of the main nation and it's allied nation, which if I remember correctly was hinted to be more of a city-state.
What this story does very well is give off the feeling that humans are not the dominant species who rules everything. There are many stories around where the author has stated that humans are weak but have later on had problems following through on that and allowed humans to be nigh-unbeatable. In this story you will not find this flaw, as the author stated in the summary humans are not the top dog and every time the protagonist goes outside the city walls you can feel the untamed wilderness around them with dangers hidden in the surrounding. Of course there are dangers lurking in the shadows of the cities aswell.
Overall the author does a great job in conveying and really making you feel as if this is a proper world with many dangers. This is in my opinion the best part of the novel and I can barely get enough of it.
Now the negative parts.
Sexism without reason, read the review of Ziggy, unearned sexism from poor world building, I aggressive with what he is saying. Also remember this is a litrpg world where you can upgrade your stats and gain skills, classes and levels.
The characters. I do not like nor believe in perfect character, flaws are what makes characters go from archetypes to someone you wish was real so you could befriend or just chat with them, they are a necessary part in making character feel less like puppets following the authors demands and more of creatures who make their own decisions. The problem comes when the flaws are so many or so big that they overshadow everything else that the character is suppose to be, to the point one can only see the flaws in them. Another problem is when the flaws are directly opposed to the characters background and story.
Let me give you an example, someone in this world elite military unit has just gotten a direct order from their captain to protect another member of their team, this other member is extremely weak and has just spent the day healing people and by doing so essentially become a target for any slavers who could sell them at a high price or any other person desperate enough to try rob/kidnapp them. Now what should this elite member do?
Should they?
A: protect the healer and escort them back to the rest of the team or any other safe spot like a guard station, and then go out in town to play around.
B: Ask some guards(or someone they can trust) to guide the healer to a safe spot, and after doing this go out to play around.
C: Abandon their duty to play around and let the healer walk home by themselves in the middle of the night while knowing full well that some people can hide from their perception skills.
I will give you a hint in what they choose to do. Let just say that the person in question does not seem to have had any sort of training to suppress their desires.
That was just a example of flaws but the most infuriating person is actually the protagonist who no matter what happens does not seem to grow up. When I made this review I had just read chapter 60. 60 chapters of very little real character growth for the protagonist does not make the future look bright for them.
I will now tell of two major problems that I have with the protagonist, other than that she never grows up.
First problem is in how she acts to counter herself. She dreams of becoming a healer and after an unfortunate accident she vows to never hurt anyone and help everyone she can. This gives her a unique skill which makes her healing much better compared to others her level. But remember this is a dangerous world where she does not only have to protect herself from monster but people too, well I'm sure you see where the problem shows up. Not only does this limit it also hinders her teammates because she might need to heal their enemies, suddenly she is a very real hinderance in human fights. But she loves her freedom meaning she does not want to be restricted and she also wants to travel with them, so not only is she hindering herself she is also a huge liability to her teammates but she never questions if she should throw away the skill. As a side not, it's kinda hilarious how she wants to be completely free but she can't because of her skills restrictions.
The other problem comes into focus when she gains the chance to get another class. Instead of choosing something that compliments her healing making it more powerful or choosing something that negates her incredible weak self-defense. Because of her childishness she forces the system to give her a class that will be able to give her two abilities in the future even after being warned that it's not a suitable class for her. Ability one, the ability to fly. Ability two, the ability to throw fireballs (remember, she is sworn to do no harm). This puts into focus her childishness and her inability to grow up, as a note, this is after she has been put in danger many times already and she has lamented her own weakness.
I have already dragged out this review so my final sentence will be the following. With the exception of the baseless sexism, the setting and the authors ability to potrey it is amazing but it is unfortunately wasted on the character to the point of making me incredible sad after almost every chapter.

This story is... alright, I guess. Solidly average, from what I've read. I'm just not sure I can take it seriously.
It doesn't help that so far, everyone introduced is fairly dislikable. That's a pretty subjective fault, though. Maybe others will tolerate the characters better.
The thing that really gets me is how melodramatic the first arc is. I just finished it, and when the 'chekov's sniper rifle' (author's words) hit, I just burst out laughing. Then the after-chapter note compared it to Game of Thrones and I nearly rolled my eyes out of my head.
Killing characters doesn't make a story better, or more dramatic, or 'darker'. Only killing characters people care about can do that. Redshirts don't count. I honestly didn't give a fig about the best friend. We'd gotten two-ish chapters, I think, with her in them, and her relationship with the MC was almost painfully one-sided. G.R.R.M. gets reactions because he writes complex, charismatic, interesting characters who are put in difficult situations where, in most fiction, that investment would demand they survive - and then they don't.
Incidental tragic backstory in fantasy fiction, though? Bog-standard. 'Killing the happy ones' is the way to get a character out on an adventure. Not that it's neccesarily bad (it's good enough for Batman, Luke Skywalker, and Eragon) but, if selling the tragedy is important, - instead of just using it for backstory - then introducing the character as more than a convenient plot device is important, too. There was just no weight there, so the way it was treated as a twist, some sort of defining character moment, just... entirely failed to land with me.
It would have been better if the author notes weren't so dead-set on explaining it. Or didn't do as much explaining in general. There's a slim chance I'd have been surprised by the 'twist' without the blatant exposition after the chapters. More than that, I'm not interested in reading the author's recap on what just happened. If important content isn't clearly in the chapter, the chapter should be re-written to include it. If it is in the chapter, then why repeat it in the afterwards? Only put unimportant things in the afterwards; don't write the chapter, then write an explanation later. It just weakens the narrative.
I dunno. On the whole, this story is fairly decent for a first stab at writing fiction. There's a lot to like here, as well as a lot to dislike, but at least it's not bland. Ridiculous is still better than boring. If I liked the MC a bit more I'd probably keep reading... as-is, there's a pretty good chance I'll get annoyed and stop pushing forwards.
If I do read on, and the story improves dramatically, I may return to update this review.
Beneath the Dragoneye Moons is a story that I really really want to like, but that I am finding harder and harder to do as it goes along. This is for one reason: the main character.
She frequently acts like a moron and seems incapable of learning from her previous mistakes. There seems to be little if any character growth; she demonstrates the same lack of wisdom as a late teenager as she does as a preteen. The author states that the MC has ADHD and feels/acts appropriate to the disorder; I believe that - it doesn't make the MC any more likeable. At least for me. She is socially inept on a scale that makes my own social difficulties look like a water drop in the ocean. Any one of these things wouldn't be a bother, but the combination of her character traits create at irritation level that far exceeds what the individual ones alone would. She reminds me of having a sharp stone in one's shoe; that sharp nagging pain that never goes away and gradually grinds away your resistance against it.
Other than that, the writing is excellent. There are few if any grammer/spelling errors, the magic/gamer system has some interesting unique elements, the setting feels well fleshed out with interesting characters. It is a story well worth reading... as long as you can get past the MC. I'm not sure if I can.

This is obviously a first story and it shows in the writing. The MC is empty-headed a lot of the time for moments that she deems boring or uninteresting. Which, unfortunately, means that she misses out on important information.
But all is not lost! The author's writing is improving and the MC growing out of being a whiny child mentally (she's taking her sweet time, though).
Grammar is good with only a minimal amount of errors that I've seen the author fix.
Overall, I'm excited to see the story progress and I can't wait for the MC to mature.
on chapter 10.
Honestly the story itself is nice and I like the MC.
What irks me is the blatant sexism in the story that seems to be there for no reason? What purpose does sexism have in a magical new world where women can obtain power to call lightning down from the sky or shoot fire balls from their fingertips? What even is the point? Why is *half* of the population marginalized for no apparent reason other than the author wanting it so? It makes no sense
If women and men have access to the system there's no plausible reason as to why women should be marginalized when they can get the same powers as their male counterparts?
And the last thing is this "women can't be citizens" thing? What on earth...remus...whatever is even that? How are you born into a nation but not able to be a citizen of said nation?
I'm not saying sexism can't play a role in this magical world, but if it's there and it's gonna be so oppressively blatant, the least the author could do is give us a reason. Because honestly atm it just seems like poor world building
Heavy info dumps in the first few chapters and the transition from arc 1 to arc 2 was a little rough due to having a bunch of status changes that are implied but not explained until the later.
Very solid everywhere else. Grammar and spelling in particular are praise worthy compared to the vast majority of web serials.

In a genre dominated by male protagonists, this is one of the rare examples of a competent female lead. Like in most LitRPGs, Elaine experiences a serious spike in power shortly after embarking on her own. Fortunately, it's not due to a rare class or a magic item, but a decision she made early on in the story that turned out to have far reaching consequences: a magical oath.
Her oath is her greatest strength, but also her greatest weakness. She struggles to work with and around it, lending additional tension to conflicts she could otherwise resolve with a thought. She is physically weak with a niche power set, and her restrictions serve to prevent the power creep that so much of the genre suffers from.
Now for the negatives. Elaine can be annoying. Her total age across two lifetimes is 38 at the time of this review, but she still acts like and has the internal voice of a teenager. She's flightly and naive, and seems determined to remain that way no matter her bounding advancements in other areas.
Some of the other characters don't have a unique voice. They are distinctive enough in appearance and personality to stand out from each other, but the speaking lines themselves are muddled, especially when they're packed close together. For example (and I'm paraphrasing), a wizened old man might say "My endeavors have been most worthwhile.", but then two lines later say "Yeah, that kinda makes sense."
Elaine doesn't have a clear goal aside from being a healer. The conflicts that spurred her journey in the first place have all been resolved, and there aren't yet any new ones to take their place. She's just existing in the world and reacting to challenges as they come. One of them needs to go somewhere fast before the story drifts too much further.
Lastly, this is not a critique of the story itself, but a message to the author (who I hope is going to read this). Spoilers within.
You presented the Republic as an inherently sexist society, where women have few to no rights that aren't granted by proxy of their fathers or husbands. Elaine has mostly been spared from this with the exception of a few rude remarks and constant marriage proposals, which you play for laughs.
Your biggest opportunity to make that sexism a major part of your story was the Ranger Academy arc. She was the only girl in an all male class, under consideration to become a Sentinel. I was expecting her to have a horrible time, especially when she started doing Sparring Overwatch instead of Sparring itself (yes, there was a reason, but all the other students can see is that the pretty girl doesn't have to fight). That arc was ripe for abuse not only from her peers, but her instructors.
I think you've forgotten, in your efforts to make these characters likeable, that Elaine is the only character in this book who was raised in a society where women had individual rights. In Remus, that idea is criminal. That's the entire reason she got offered the Revolutionary class, right?
You've done a good job normalizing slavery. Elaine is the only person who thinks it's wrong. The same should be true for the sexism. Elaine should have to prove herself at turn. She should have to earn the respect of characters who would respect her by virtue of her powers alone if she were a man. She should be running into walls such as, for example, not becoming a Sentinel because she would be expected to travel the realm alone, and perish the thought of a woman travelling alone.
So here's my advice. It's too late to change the way everyone has treated her up until now, but she can still hit that wall. Have some Senators challenge her right to be a Sentinel. Give that challenge a lot of support. Have even her allies struggle to reconcile what they know about Elaine with their deeply ingrained prejudices about women. Have someone she trusts tell her she's the exception, not the rule, and have her blow up in their face.
Obviouslty, you don't have to do any of those specific things, but the point is, you need to do something. You can't have this vague sexism sitting in the background until suddenly everything works out because Elaine is such an inspiration. That's insulting to your readers and to women in general. If you do that, I will dramatically throw my phone into the ocean and burn your house down*.
*(I will not actually burn your house down, but I will be thinking about it.)

As the title said, this is an ok isekai fantasy that's pretty serviceable if you don't have high expectations and just wants to read something. But man, a lot of things feels forced. Like, I get that the MC starts off as a literal child, but she has zero agency whatsoever. The plot just has people bring her to places so stuff can happen, then people tell her to do this so stuff can happen. Not sure if this is how it goes on, but man it's such a drag in the beginning.
Also, the sexism shit keeps gwtting brought up again and again, and it's pretty on the nose tbh. Not just in the story, even in the author's notes and their comments it keeps popping up, there's clearly an agenda or a message trying to be shoe horned in. It could have been a bit subtler about it, but as it is now it's very in our faces.
And man, the MC can be pretty annoying. I get what the author was going for, being a child likely affected the MC's psyche and she acts more like a child, but it could have been written better. Her thoughts just flits from one thing to another, having the attention span of grasshopper, and she's so unnecessarily emotional. Like again, being a kid and all, but it's annoying to read. And she's so inconsistent too.
Anyway, tl;dr it's ok but it's nothing special.
Litrpg that's lots of fun. I'm a sucker for the type of class the MC picks, so that gets bonus points from me.
The beginning is just okay. The "reincarnated as a baby but retaining all my memories" trope is nearly impossible to pull off well. Thankfully the author doesn't drag it out forever and uses some judicious time-skips to establish some character and world building while still getting us to the meat of the story relatively quickly. Once that gets going, the quality continues to improve with each subsequent chapter.
Style is good. First person POV of the MC. The System is logical and makes sense while having it's own unique twists over the standard litrpg system. I like it a lot.
Story starts off 'fine' and has made it to 'really good'. Like I said earlier, early childhood stuff is hard to do well, but the author does a good job of getting through it while still making it impactful to the MCs development and decisions. Nothing in the plot is revolutionary, but it's all handled well.
Grammar is great, no issues there.
Characters are pretty good. The MC can be easily distracted and impulsive, which can get a tad annoying sometimes, but that just makes her feel more real. Supporting characters are fleshed out more or less depending on how important they are to the MC
All in all, an enjoyable read that just keeps getting better. I definitely recommend.