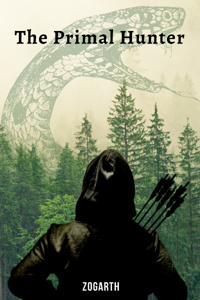 Warning
This fiction contains:
Gore
Profanity
Sexual Content
Traumatising content
On just another normal Monday, the world changed. The universe had reached a threshold humanity didn't even know existed, and it was time to finally be integrated into the vast multiverse. A world where power is the only thing that one can truly rely on.
Jake, a seemingly average office worker, finds himself thrust into this new world. Into a tutorial filled with dangers and opportunities. In a world that should breed fear and concern, an environment that makes his fellow coworkers falter, Jake instead finds himself thriving.
Perhaps… Jake was born for this kind of world, to begin with.
Release Schedule:
5 chapters a week.
Average chapter length: 2500
Tags and content warnings are mainly to give me creative freedom later on. This is my first novel ever, and English isn't my native language, so go easy on me chaps. Any feedback is more than welcome, of course.
Overall Score
Style Score
Story Score
Grammar Score
Character Score
Total Views :
8,104,936
Average Views :
33,912
Followers :
13,696
Favorites :
4,652
Ratings :
4,910
Pages :
2,416

First of all, and one of the main reasons I love this novel: the "classes" the MC has. I read like dozens of novels and none had this particular combo, which paired with quite an interesting and somewhat balanced system makes it worth a read alone.
As regarding to the plot as it is I like it, I fear what awaits when the world will be explained further but I believe in the Author's skills.
I've lurked for years, and its always nice to stumble along a hidden gem. I found this just casually browsing, and really wasn't expecting too much, but so far, the plot and lore have been interesting, the characters have good depth, although a little bit of plot armour, but the story is fantastic and has been a really engaging read. This is the reason why i search through royal road for novels

Weirdly, I have fallen in love with the game like system of this genre ... and been binging them none stop, but LIKE isekai's most of them are UTTER garbage... like I have phone in fantasy land or whatever more BS concept is out there. What I have found that The Author loves to go somewhat deep into emotional understanding of our being... which a lot of book/show/movies try to bring into their fould but fail at miserably because they shy away from being truly gritty... and showing how most humans are pieces of shits and how to find those they may not resamble those pieces so much.

What I have found in PH has, great MC though process (IN CERTAIN certain scenarios), intressting concept behind the whole game system that LITrpg have, some TRULLY great side characters, great description of scenes, but leaving a lot to your imagination still so not be over descriptive... as I have found online a lot of people find it weirdly irrateting?

the stuff that could have some improvment:
-Fights.... I love them in someways but.... maybe it is that MC's can't die thus my enjoyment of Jake's figts are ... quite limited I don't know why but in this book those fights are NOT stale... but without a flare it may be done to so several factor or only one but I couldn't tell you what it is...

-Not nearly enough for shadowed stuff.... it's OOOWH so satisfying to remember a small detail that was ONCE or twice mentioned and feeling like you are a benevolent god in the universe of the story and watch it with intrest instead of a reader of it.... (this may be redone later as to I'm only at 100 chpt )
-I KNOW it's really hard but I'm quite afraid of some kind of power crep of happening in the story that turns me of... where the MC gets a power as an acheivment for something that he done and it becomes a main part of him... this could be nice in some cases and it hasn't happened so far but I'm just saying I'd love to say "Well I was wrong, nice power scaling"

this is all I had for today.... go home now

Brub i swear I'm hooked on this like AHHHHHHH. Jake literally the protagonist I've been looking forrrrr. He's suicidal, first off, because he likes fighting life or death battles because it "isn't fun if there's no danger of dying" and the way he interacts with other people isn't annoying. He has morals, but he also lacks the common sense other people have and its funny reading about him not understanding the mentality of other people 🤣. Also, there's no romance (and personally I prefer it that way) so if you're looking for or are into that I'll have to disappoint you. Could go on, but ill spare you (because fr we could be here all day :P)

There are so many good things about this series! But you can read about that in dozens of other reviews. I'm going to talk about one tiny tiny thing that amazed me when I read it.
One (of many) applicaitions of the MC's power is a type of Spider-man-esque Spidey Sense.
Have you ever read a Spider-man comic and seen him use his Spidey Sense to dodge some attacks but not others? How about when he detects crime by being nearby?
There are no rules to Spidey Sense. It's a narrative device used by writers to create plot or increase dramatic tension.
Zogarth (the author) must have sat down one day and said to himself, "This is dumb. How is this supposed to work in reality? What can and can't it do? How would you actually get around it to kill Spider-man?"
The MC of Primal Hunter tests his ability, discovers the rules, and the author sticks to that unwaveringly. It is not used as a lazy-writer Macguffin.
I finished the parts where the MC figured all this out and was floored. It makes SO much sense!! Spider-man is ruined forever for me because compared to Primal Hunter, the comic book writers are lazy hacks!
Such a small detail. But it's indiciative of the intelligent thought put into the world-building of this novel.
Now go read the story!

Good novel! Uses the system apocalypse trope well and is unique enough that it doesn't feel like a copy of another novel. The grammar and spelling is good with very few, if any, mistakes. The chapters are long enough to progress the story but they leave you wanting more. Overall this book quickly climbed my favorites list and is in the top 3. Would recommend.

This is a really great read, and I recommend you check it out.
There is a proper flow to the story, the characters have proper growth and dont do random shit, Its interesting, has proper grammar and structure, all in all just a great read.
While the main character does have an op advantage, its not the be all end all kind of thing. There is still tension, he could still die, it isn't like he can suddenly just do anything and solve anything. This story does it right.
To begin with, I do like the story and the world the author introduces. The class system seems interesting and the MC is a character I like.

That said I will not continue reading this story, even though I enjoyed my time with it for the most part (well, until I decided enough is enough)

If you enjoy very detailed descriptions of actions performed in combat scenes and of reasoning behind choices made, then by all means give this story a try.
Though if those points raise some concerns do continue reading this review, where I'll point out what I disliked about this story.

An often noted issue people have with this story is the heavy focus on characters that are not very likeable and even though I agree, this is NOT the reason for why I have to drop this.

It is the very detailed description of every little thing the MC does, his reasoning for his choices, his actions in combat, just everything is detailed out at every given point in time.
Every now and then, especially for important choices or strong enemies I appreciate a detailed description of what is going on, but reading every combat encounter in detail gets tedious and I do not see the point of giving a long reasoning for all his skill choices every time they occur.
A few important skills, difficult choices between two or similar skills, sure that's welcome, but not ALL and for sure not every time.
Not only is it tedious reading everything happening with the MC in such detail it also reduces the pacing of the story to a snails crawl whenever the chapter has the focus on the MC.
As such, I actually welcomed the chapters focusing on sidecharacters because it usually means that there will be some progression at the point we switch back to the MC.

I would have liked if instead the pacing was faster and thus we would be further in the story, or focus more on the psychological side of what is happening to the people in the tutorial and how they come to the drastic decisions they make just days in the tutorial.
I mean, they kill each other just DAYS in the tutorial GUESSING that the tutorial gives better rewards for fewer survivors (it's only stated that it is based on the amount of survivors).
Instead this is sadly brushed aside and we only get insight into one particularly unlikeable character (we all know who I am referring to).

Now, the focus on the psychological side is only a suggestion for what could have been done with the freed up space form increasing the pacing on MC's chapters and would have required the author to do further research regarding this, so it only stands as a suggestion and not as critique.
By far one of my most favorite stories on here. There's always going to be people that hate the book but I have always believed that the book is primarily a function of the author not the reader. If you like the story then you can write it and anyone else can shut up. I think it's exceptional and can't wait to see jake throw down with the best of them, whether it's a smack down or drawn out brawl! Long live the primal hunter!!
Reviewed at Ch 25. Some core stuff worth reading here, but the social and character dynamics are holding it back to feeling like another by-the-numbers power growth fantasy with too little character work.
A main character issue is the protag/antagonists themselves. Not sure I'm a fan of William on a meta level. Doesn't seem to add much, even if intended to just make the MC seem less antisocial/edgy by contrast, provide a cleaner bad guy opposite to MC than Richard. TBH, makes me want to see more from others like Jacob or Shield Guy Who Is Good #1. Give me someone to root for with agency and motivations.
Openly but irrationally sociopathic William (no reason to kill the trio, more to gain from connecting them to Richard's group and 'letting then grow') vs MC being neurotically, selfishly, myopically asocial vs Richard as social-but-Bad... the contrast is being set up but somehow they all scan as overly similar or at least equally hard to root for, with only Richard at least showing rational forethought (if scummily/clumsily). The MC isn't actively scummy to others, but neglecting/ignoring others isn't a big enough contrast to "sleazy but so far it's working to keep others safe and alive" to mark one as protag and one as antag.
Three levels of social dependency (Richard>William>MC) and social maladaption doesn't make for interesting commentary YET. William sucks, but he understands others can be useful. The MC is one moment of NOT having plot armor away from disaster with no acknowledgement of it.
No challenge has been presented that requires teaming for MC, but becoming an alchemist that can make potions or poisons for others is a synergy that'd be awesome to see explored. "Ooh, interesting, poisons are risky to experiment with and could require healing support or gatherers to help- oh, Got Skills For That, nvm, carry on."
Things so far are just a bit too tidy. MC rolls Archer class which has limitations, shows benefit of teaming with a good front liner and healer, gets enough vitality to not need anyone. K. Dungeon Challenges are a thing, but requirements are perfectly aligned to (so far) solely the MC. K. 1 dimensional awful destructive selfish nihilist DarGonz exists and MC is on the same path of strength for its own sake? K. Jacob says MC is his friend, K, but how shown in either direction?
Cool to see SOME agency, challenge (nameless workers trying to unlock profession at camp) and/or collaboration (early fights with Jacob group), but the three main driving characters are coming across pretty shallow or frustrating. MC: "oh I can make mana potions! yay stat points from discovery!" not " wonder if the healers (including that token love interest girl I forgot about) would need these/I could barter to have them help me search for other materials or items from chests."
Lotta good stuff here but the social and character dynamics so far are making it rougher going for me as a reader.