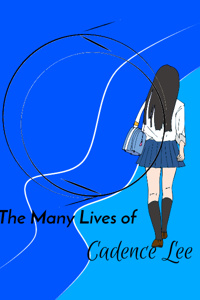 The Many Lives of Cadence Lee
Warning
This fiction contains:
Gore
Profanity
Sexual Content
Traumatising content
Cadence Lee thought she was a normal girl, perhaps a little well to do, but not exceptionally so. She had her college classes, she had her job that her uncle gave her, and she had a nice boyfriend who was sweet if a little awkward.
Except, when a mugger accosts Cadence and her boyfriend attempts to wrestle a gun away from the criminal, Cadence ends up shot. A normal girl, with the kind of wound Cadence had, would die. Cadence managed to do that part. But a normal girl wouldn't then open her eyes again and learn that death is not as permanant for her as it is for other people. She can be reborn again, and again. Each time stronger and with new abilities.
The catch? Any world she is born into, she can never return to. She has infinite lives, but only one life for each.
So begins The Many Lives of Cadence Lee.
[participant in the Royal Road Writathon challenge]
Overall Score
Style Score
Story Score
Grammar Score
Character Score
Total Views :
1,072,829
Average Views :
22,351
Followers :
7,355
Favorites :
1,996
Ratings :
2,117
Pages :
556

I really like this! It's like getting a bit of every version of the litrpg genre. The author obviously has a clear line of sight for the story line and is not afraid to kill off the MC to progress to a new aspect of the story (lol).
I am most excited to see what the baseline System is and how it affects Candece's choices.
All hail Podi! All hail Podi!

Mad respect to the Author. It is really hard to write a story based in one world, but so far, we have gotten 4. I would have lost myself in Worldbuildersyndrome with the third at least.
The MC´s birth world is good old earth. She dies and gets a chance at visiting other worlds. (The speculation in the comments are glorious.) At the moment she can only go to worlds with Stats and Skills, as they are easier to progress in.
The second world is a classic medieval based one. She doesn't do much here, but that is by design. She still grieves over the loss of her first world and hasn't accepted her new situation. Quite realistic, I think. She doesn't use her knowledge of technology and is contend with going with the flow. She learns to fight and has her hands full, keeping her friend, the baron's daughter, save in a civil war.
In the third world she realizes how passive she has been and strives to change herself. As the princess she is expected to challenge her siblings for the throne, but is stunning everyone by instead learning how to read and write, as well as leveling classes other than [Imperial Princess]. She pushes for peace, changing the entire course of the world.
I really enjoyed the third world, as old Egypt and Mesopotamia are not that often seen in these types of stories. I would have loved to see more, but Cadence seems to be cursed to live very short lives. I enjoyed the Extra´s, showing how the world sees her achievements thousands of years after her time.
The fourth world throws a wrench in her plans. She has finally gained a goal, that now seems entirely out of reach. We haven't seen that much yet, but I think that is about to change.
The Grammar is good, no problems here.
The Characters are a bit shallow, but that is to be expected when we see so little of them. Despite having very few interactions, they still feel like distinct people. Tropes and clichés are used to further their character, giving the reader a better idea of them, bevor changing things up.

I didn't expect to like this as much as I did. I wasn't expecting much, but the setting gives an infinite number of options, and it seems like the author will make great use of them. There are tons of settings that, while interesting, can't be made into a long web serial. This story has the perfect opportunity to take advantage of them.

I have to say I'm really enjoying this story and am excited to see where it goes!! this is definitely worth the read and I would encourage anyone who likes fantasy to read this story.
so if you are still reading this review then just go and read the story right now.

This is an interesting story that everyone should read! It's good and I can't wait to read more of it. I do feel like the author is hurrying a bit too much because he has a grander plan and can't wait to reach the juicy bits if the story but I personally would enjoy reading a more in detail story about each life. Take your time and let us enjoy each part of the story properly.

Since this is a basic review I'll keep it short and sweet.

First two chapters are setup for the system and if you don't particularly care I recommend skimming them and moving on.

As for the rest of the story I find that the author implements this idea of serial reincarnating very well and pulls off believable worlds and characters. And while you go in knowing that the world will be overlooked (because the MC is gonna get KIA at some point), you also leave wishing that the setting became permenant. Which indicates a pretty decent setup in my eyes.

The Many Lives of Cadence Lee is a novel that doesn't dither about for twenty chapters about Cadence growing up. To me, the novel flows very well and written very well. I don't feel like writing an Advanced Review, but there were no major errors, I could spot and the minor ones were fixed promptly.
Simply put, I love it, and so around 790 of your fellow Readers.
TMLCD shares many tropes with other world-hopping stories, but it gives them enough of a twist to distinguish itself from the crowd. The pacing is quick, but it never feels like it skimps on details. I do believe some 'lives' would benefit if they were fleshed out more, But it's thanks to those lives being concise that the story doesn't feel bogged down.
The grammar is near impeccable, barring the occasional spelling error.
The story has continuity, so it does not feel episodic. Candance doesn't simply forget her past, as some isekai protagonists do. Her experiences in various worlds have noticeably shaped and developed her character.
Also, she carries with her some 'perks' and stats from her former incarnations.
Except for the protagonist, other characters feel anemic; this isn't to say they're not interesting. To me, it feels that side characters don't have enough 'screen time' to shine, though, in a world-hopping kind of story, that is a given.
If you're not exhausted with isekai stories, and you're willing to try one more, then give this one a go. It's fun, and as of chapter thirty, it doesn't feel monotones, nor did it make the mistake of burying the reader with unnecessary information.

the idea itself is pretty basic, every wannabee writer in the reincarnation-gameworld-genre has had a similar idea. Then promptly given up when they realized that it was a project WAY above their comfort zone. BUT... THIS SERIES ACTUALLY DID IT! This is a story that a lot of people has wanted for quite a while, and it's suprisingly enough very well written. I wait anxtiously for how this will continue!
It's a good one.
Skip the first chapter and give the second a short read to understand the system then the rest of the story is a real gem.
Extra word so it reach 50. Asus moac dk jung di non chap ă nikon nixon nemư roma nu gande juxe cho joe for nđ kê cent nđ út