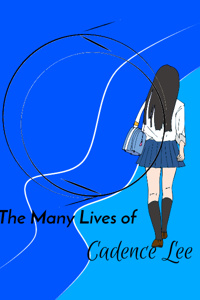 The Many Lives of Cadence Lee
Warning
This fiction contains:
Gore
Profanity
Sexual Content
Traumatising content
Cadence Lee thought she was a normal girl, perhaps a little well to do, but not exceptionally so. She had her college classes, she had her job that her uncle gave her, and she had a nice boyfriend who was sweet if a little awkward.
Except, when a mugger accosts Cadence and her boyfriend attempts to wrestle a gun away from the criminal, Cadence ends up shot. A normal girl, with the kind of wound Cadence had, would die. Cadence managed to do that part. But a normal girl wouldn't then open her eyes again and learn that death is not as permanant for her as it is for other people. She can be reborn again, and again. Each time stronger and with new abilities.
The catch? Any world she is born into, she can never return to. She has infinite lives, but only one life for each.
So begins The Many Lives of Cadence Lee.
[participant in the Royal Road Writathon challenge]
Overall Score
Style Score
Story Score
Grammar Score
Character Score
Total Views :
1,070,364
Average Views :
22,299
Followers :
7,348
Favorites :
1,992
Ratings :
2,116
Pages :
556
I really enjoy the premise of this story. It is a about a girl who incarnates into an original world each time she dies with the implict command to live a glorious life or else cease being incarnated. It reminds me of jumpchain stories, except jumpchains are almost universally bad. This story is not. The main character, Cadence, isn't given ludicrous powers for no effort. While she can unlock and purchase abilities and stat increases to carry over between lives, it is clear that she is going to have work hard for every single one.
The overall story seems to be heading toward becoming an anthology of short stories with a reoccurring main character. I like seeing the different settlings for each life and how Cadence's character grows and changes in response. It will be challenging for the author to make each story interesting as well as contributing to the whole narative; though, I have seen a similar story done well, so I have high hopes for this one.
Writing style, grammar and characters are all good. Side characters could be fleshed out a bit more, but I understand it could be difficult. When making an entire life time into a short story, each paragraph needs to contribute and not everything can make it in without affecting the pacing. Simply, as it is, a lack of character interaction and development means a lack of emotional impact.
One last note, I have seen others recomend that the title be changed and I disagree with them. I can think of two published works with similar titles off the top of my head. Regardless, the title fits the essence of the story. I'd keep ot as is.

I started out wanting to write a more negative review after reading the first reincarnation, but the next couple lives have been better.
The author has plotted themselves into a corner somewhat as it's a story about lives but it's hard to flesh them out meaningfully without getting extremely long.
The story is at its best when zoomed in on exciting things happening day-to-day. In that mode it can be fun and exciting.
When the author is bored of a character or just wants time to pass it's not nearly as fun. I'm talking 'so anyway I stayed at home and didn't go out until I was 10' levels of fun.
The lives can feel pretty hollow, like original Candace is just glimpsing a movie from time to time rather than actually living for decades.
Having spent more time reincarnated than in her original life, she still very much seems like the American girl playing a video game or something.
Either the author realized this or is just more interested in subsequent lives, because the story does zoom in more and get more engaging, although not totally alleviating the issue.
Side characters tend to be very flat, usually just a name or a one dimensional personality. We haven't seen her really make meaningful friends or socialize in decades. I question if this is possible for someone without going crazy.
The reincarnator points and skills system as it is now feels basically meaningless. She has very few points to spend and impactful things have astronomical costs. It hasn't affected any of lives at all so far but the latest one is looking like it may change that slightly. So basically you will read walls of text about achievements, stats, and skills only for it not to impact the actual plot at all, which is disappointing.
Candace herself is pretty flat, very every-girl who basically tries to be a decent person and stay alive. I would challenge the author to think about 5 things that make her unique and 5 things the would make readers want to root for her over someone else.
I think if the author continues to build on making each life more explored and meaningful, making the reincarnator side actually relevant, and growing Candace as a character we will have a great story on our hands.

This story is briliant, 10/10 would want to forget and read again.
Also, the title is fine imo.
The style is great, we don't go too deep into the successive worlds Cadence live in but it's perfectly sensible because she herself doesn't know much of what happens beyond her immediate surroundings.
The pacing is very well done, you'd expect a story that goes various lives would take a while, but the timeskips go over large stretches of time without giving us a feeling that we're missing on important stuff.
My only complaint here is that while they are cool and a bit fun, the first two chapters are still massive infodumps of a pile of various achievements and skills that aren't really very relevant.
Character interactions are on point, descriptions are efficient and sometimes fun.
The Story is great. The stories of each life are extremely well crafted, and the Story of someone relatively average who reincarnates in various worlds is also consistently engaging.
The verious system(s) are well presented, and while MC hasnt done much with the reincarnator system yet, her abuse of local systems is on point, while not giving the feeling that the worlds are full of idiots incapable of properly using the gifts of the system.
Grammar and English are both perfect as far as I can tell.
The side characters are all quite believable and really match the worlds they evolve in.
Cadence herself is quite likable, but more than that, she constantly does some really interesting stuff, and keeps us always wanting to see what's her next move.
This is a jumpchain story in all but name. The author does many things well: the writing is good, the main character is interesting enough (for now) and best of all, it isn't an insane power trip as so many stories of this genre have proven to be.
Yet it also carries all the downsides of the genre and they are even exacerbated here. That's not really the author's fault, but merely the natural conclusion from using original worlds/universes and being more restrictive than most of the jumpchains I've read.
When the protagonist jumps from one fictional world to another in a traditional jumpchain, it's easy as a reader to immerse themselves into these worlds, because they're familiar and beloved already. Replace them with original settings however and the author has to hit a difficult balance between constantly using (too much) exposition or leaving the world blank and full of holes.
The same applies to characters in all those worlds: how much time should be invested into making them real to the reader? Is that effort even worth it when they'll be forgotten about five chapters later? I guess I'm having a hard time finding the motivation to care about those characters, when I know that none of them matter in the grand scheme of things.
This looks to become a series of stories centered around a single protagonist and not the coherent whole I had hoped for. There are plenty of book or TV series that deal with the downsides of their episodic nature by keeping to a small but tight main cast amidst the dozens of guest characters, but this sense of familiarity is lacking here.
For these reasons I know that I'll grow bored of the story some day soon, but until then I'll take all the enjoyment I can.

I rated this high as unlike a lot of rebirth stories I find myself checking back all the time to see if it has updated. The characters are shortlived , yet still memorable in their own way, and the MC flitting from life to life makes them feel all thr briefewr, helping you understand her feelings about it more each time. The only constants are the returns and podi's deadpan snark.

The premise of the story is fairly basic: the main character dies and wakes up in a fantasy world with RPG mechanics. Stats and Skills dominate life, society is stratified with the rich and powerful living almost like gods compared to the lower classes, and the main character needs to fight their way to the top.
Until they die again, and have to start over.
This is a story that rewards proactive character who try to make a difference in the world, but who can't wave their hand to get their way. The protagonist needs to think and act rationally across different time periods and worlds. The more they live (and die) the more they grow.
The worlds are interesting and diverse. The author is inspired from real-world history, which leads to settings that feel real.
The characters are interesting, though unfortunately the nature of the story means that we don't see other characters aside from the main one really grow as people.
The writing is well done. No real issues with spelling/grammar. e: Since I wrote this review, I've noticed the writing has some issues. I'm not sure if the author changed their style, or if I just didn't notice, but it's going to take some points off.
All said, I give this story a 4/5. It's a very good read that I think anyone would like, not just those who are fans of litRPGs.

The Many Lives of Cadence Lee is an interesting story concept executed well so far.
The basic premise of the stories is that a girl dies, and discovers that she is able to reincarnate into a new world for each lifetime, and to gain improvments based on her achievements.
The premise itself is good, but what makes this story so strong is an aspect of its style, that it takes its time in multiple ways. It takes its time with worldbuilding in each of the lives so far, It lets the MC grow up slowly to flesh out her character and path in each life, and it has so far not rushed into giving her powerful improvements. Many stories with the general premise of reincarnations with perks/improvments/bonuses focus on rapid accumulations of perks and power, rushing through lives for an overarching plot. This story has focused on the main character's journey in each of the very differents worlds she has lived lives in so far. It makes good use of time jumps but also feels like it has hit the important moments for the character.
The story and character have both been well handled so far, but it is slightly early to make any definitive statements on either point. In the characters lives so far, the main story in each life and the characters experiences have done a good job changing her character, but how the story holds up long-term will heavily depend on the plot/challenges in each life and how they impact the MC. This story's style choice means that if the author has a solid plan for the story and the MCs progression it can be excellent.
The weak points of the story are that the first two chapters function as a large info-dump that could be off-putting, and that the grammar and editing could be slightly better.
Overall, I would strongly recommend this story, since it has done a great job with its premise and has a lot of potential.
(Review as of Chapter 23)
This story is, again, too new to fully evaluate, as it is still below even a hundred chapters. But I'm feeling fairly optimistic, and the author himself admits this is more a first draft than the polished story.
Grammar: Decent, but there are many of typos. Just enough to occasionally be annoyed at the spellchecking program that overlooked them. What is most annoying is the occasional tense-flip, where people switch between past and present tense.
Style: Very good narrating. There are lots of fast-forwarding scenes, but that is bare necessity with a story that already covers 50+ years. Most of that time is just narrated, but the focus is on the showing of the more cool scenes.
Which leads to Story: Each reincarnation is its own story. In almost 50 chapters, we are currently in the 3.5-th life of the heroine. The first two lifes are, imo, write-offs. Lots of plotholes and not polished like the two that come after. The third is excellently written, having done fairly lots of historical research for a fantasy world. Kudos. The fourth... I'm currently having a hang-up on it. Truth to be told, I would have expected it to be done already.
Because, here we go to the last category: Side-characters are distracting this story. I get it: as a writer to see this awesome character concept, and just can't leave it alone. BUT the main story has only a single heroine, and she can't take the side characters of her lifes with her. We now got many chapters detailing the life and backstories of those side characters. Lots of emotional investment that is slated to go down the drain once Cadence Lee inevitably moves on. In a true show-not-tell fashion, the author writes excellent sidestories on them, but I think those sidestories will barely add more to the main story. At least not more than a short summary of their lifes in a single paragraph; as long as that paragrap is woven int the story instead of being an infodump, that would have been fine. On the other hand I honestly expect the current life to last again as long as it already is - yet it's getting tedious. We all have seen the final outcome telegraphed by now, it's not a surprise twist anymore!
I think the third life had the best balance in that regard of story+character balance; but really, each life is actually a wholly different progression-story.
Summing it up, my overall score is higher than the average of the detail scores, because I think the sum is better than the individual elements.
The eventsand the lives presented kn this story are interesting. Sl are the positions a decisions of the MC. However, all lives up to now are way too short. The side characters, even wheb interesting, are never present long enough to become endearing. The most disturbing thing in ly opinion is how little the MC actually changes across each life. True there is this short period when she deals with grief and such, but she's able to bounce right back to herself each time, with no effect on the character we know.
Overall it's an interesting read, but not an immersive one.

An all-around enjoyable read. While I originally found the idea of rapidly changing settings off-putting, the good main character, well-built worlds, and enthralling story quickly changed my mind.
The main character finds herself shunted into fantasy realms, complete with the generic 'system', but that is not the focus of the story. Generally, the story is focused on how the main character interacts with these different realms, and what she accomplishes through her time spent there. Seeing how her actions affected the different worlds far into the future keeps me going chapter to chapter. While the first realm might seem generic, it does a good job setting up the MC's development, leading into a beautiful second realm where she makes good decisions (though not perfect, thankfully) and confronts the ancient land anew.
Both the style and story are well put together for a serial of this type, and the characters are relatable, and period-accurate. As the story can feel un-planned as the periods change I gave it less than 5 stars, but they are assembled well, and each individual experience feels planned.
The grammar leaves nothing to be desired, so five stars there.
If you have the time, give it a read!