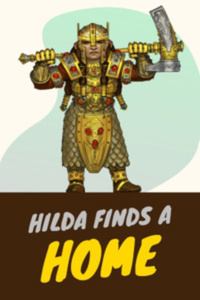 Warning
This fiction contains:
Gore
Profanity
Sexual Content
Hilda is a small paladin with a small dream. A home of her own where no one will wake her up at sunrise to do the dishes. Her path to glory will include a lot of dead rats and copper pieces. At least that's that plan. Who knows though? Maybe at some point something cool will happen to her. Unlikely. Nothing cool ever happens to poor Hilda... but who knows?
Updates on Mondays and Thursdays.
---
This is an ongoing series that currently includes:
Book 1: Hilda Finds a home (Complete)
Interlude: How a Sad Giant Became Red (Complete)
Overall Score
Style Score
Story Score
Grammar Score
Character Score
Total Views :
26,640
Average Views :
567
Followers :
194
Favorites :
66
Ratings :
79
Pages :
238
First couple of chapters and this had my curiosity peaked.
Hilda and the rest of the characters are so entertaining and the way their personalities clash is really amusing and the commentary got me laughing more than i should.
Lovely stylistic quips and gaming lingo really gives you the atmosphere of a world where the characters are aware of their stats, skill trees and levels and it makes real the gamification of the story. The technical inner monologues about rules and skill choices really drive it home.
The characters are also very unique and have a twist of Irony and delight in the way they are portrayed, this is far from cliché and yet feels familiar. I love the talk of ethics and Hilda's perspective on the subject is amusing and really refreshing .
Really enjoying this one and moving on to the next chapter :)
What moves this novel is the great characterization and the author's occasional witty remarks. It stands out in the litRPG field by being inspired by old school tabletop RPGs, even board games, instead of computer games and as such has less level advancement and skill trees and the like than what you'd expect. I'm old anyhow, so this works just fine for me.
Since it's mostly based on a board game, the plot is quite simple without many twists or changes (though the last chapter did introduce a serious change to the direction of story and I'm very curious to see where the author is taking it). However, I found myself returning to this story again and again because the characters are so great. They feel like real people and you really want to know what happens to them. They aren't Mary Sues either and whatever they win, they win the hard way -- and they don't always win! The author really makes you feel what's usually just a cardboard cutout or a little plastic figurine...

I found the story to be interesting enough to hold my attention for the hour it took me to read it.
The style is different to me, as it's one of the RPG Lits, but at the same time the writer has a fun style that makes it something fun to read. The author isn't up his own butt about his story and obviously wrote it to entertain the reader rather than lecture them, which is nice. I liked the style and found it pleasant.
Grammar, there's a few little things here and there, but not bad. A few tense problems, but not enough to throw me out.
Story-wise, it's got good foreshadowing that you get a hint of the protagonist's final decision. It feels like a prologue, or an origin story, but it's still fun and self contained. There's enough sexual innuendo and tension to keep it a little fun there, but it isn't blatant, and the reasoning makes sense later. I enjoyed the story, just felt it had a couple little problems.
Now the characters. That's where the fun was. It's entirely character driven, some of the decisions the characters made had me smiling.
All in all, this is a good story, a good hour's read for a commute. You won't regret it.
Instantly hilarious, properly disrespectful to everyone equally, and just a blast to read! Between the brass dragon preaching Ayn Rand to the elf princess comments, I couldn't put this book down. I'm a huge fan of LitRPG and this did not disappoint.
~Ernie Laurence, Jr.
Founder, Hero's Guild Publications
Author: Islands of Loar series.
Hilda Finds a Home is a fun and light read. Uri writes very well. It is well worth the time. I am sure you will enjoy it. The characters are consistent and interesting. The grammer is fine. The writing style is fun. The story is about a small minded Paladin trying to get enough money from a dungeon to buy a home
I absolutely loved "Hilda finds a home". The story and writing style kept my interest throughout. The author successfully injects this fantasy adventure with their own brand of humor, obviously intended for an audience of gamers familiar with D&D. Hilda the dwarven Paladin did indeed find a home....in my heart. Bravo!
I was recomended this by a friend, said it wouldn't disappoint. So I nabbed it and started reading on my phone during my lunch at work. Its damn good and easy to follow. I look forward to finishing it up and seeing what else this author has as this story has not disapointed me at all. The characters are interesting and the story is written well.
This is quite entertaining and clever. I had never thought about it before, because it's never discussed in movies, but dwarves and other non-human beings are a bit earthier than I had imagined. I actually love it when people imagine things I never would have, so this is fairly cool. It's much better than R. A. Salvatore's stuff.
Just from the concept I'm hooked! I've been waiting for a while for a good Interpretation for the genre and this light reading and whimsical characters is really doing it for me. I'm a bit early in the game but this looks very promising. I like Hilda and her quirks and the way she thinks about life.
Treasure hunting for a new home! What a cute concept!
There are very few stories with dwarf protaganists, there are even fewer with female dwarf protaganists. Actually, I can't think of any! So it's been really cool to find this story about a dwarf female.